January 29, 2014
A Social Media Engagement Checklist For Your Ecommerce Business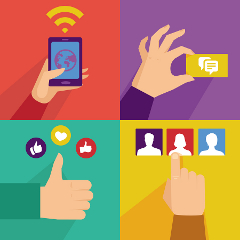 We all know that content is king, but did you know that engagement is queen?
Queen Engagement plays a critical role in social media marketing and is especially important for ecommerce businesses who have limited exposure to their customers and prospects. In order to help you give the Queen all the respect she deserves, we've compiled a social media engagement checklist for you to follow.
"Dress to Impress" with Your Cover Image and Profile Photos
On many social platforms, you have the power to add a profile picture and some type of cover image. Your profile picture should be your logo, and is unlikely to change very often. The cover image is a whole different story.
How many days in a row do you wear the same shirt? Unless you happen to be a college student, your answer was probably, "One." The cover image is your ecommerce business's 'clothing' and it needs to be kept fresh and appealing. In addition to creating a new one every few months, keep these things in mind when creating a cover image:
The image should feature your products.
The image should always be kept up-to-date (no products you're no longer carrying or out-of-date holiday references)
All of the pictures included should be clean, simple and of high quality
One additional note: Be sure not to include props in your product pictures. You don't want to get people excited about that great watch in your cover photo when what you're actually selling are the gloves the model's wearing.
Mario Badescu Skin Care does a great job of showcasing its products: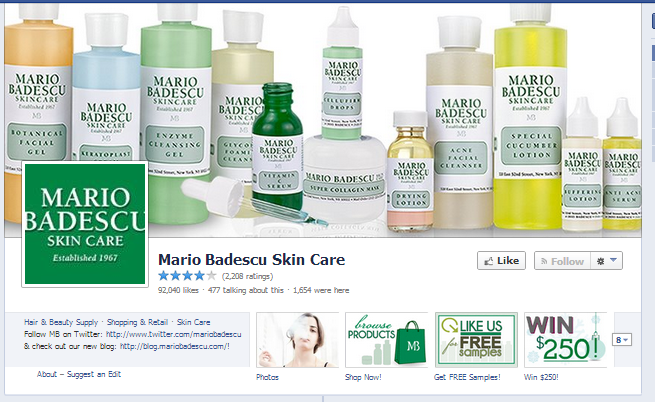 Bow & Drape's cover photo was very appropriate and timely for the holidays, while still remaining clean and simple: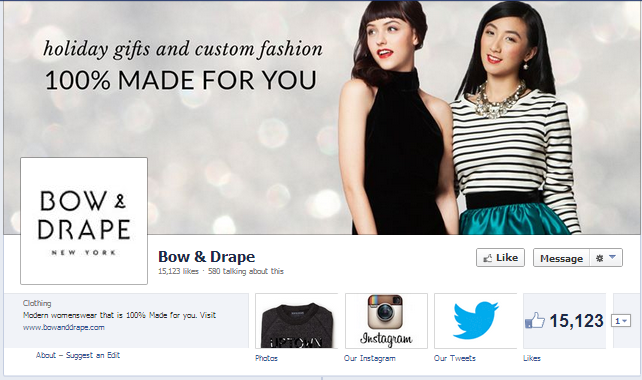 Rignite Insight: On Facebook, fans are alerted when you update your cover photo. This is a fantastic time to showcase specials or promotions by incorporating them into your cover photo. Just be sure to switch that picture out as soon as the promotion is over.
Reward Your Followers
Keeping your followers engaged is a matter of give and take – and we do literally mean "give." By giving incentives to your followers, you encourage engagement, keep your brand top of mind and reward their loyalty. These ideas will help you create great incentives (and they don't all have to cost money either):
Give your patrons an exclusive sneak peek at a new product you'll be offering.
Offer coupons, discount codes or free shipping options
Include your fans in your decision making – let them give you input on a new product color or even an item to have a featured sale on
Here is a great example of how to reward followers with a discount code from Coffee Joulie's: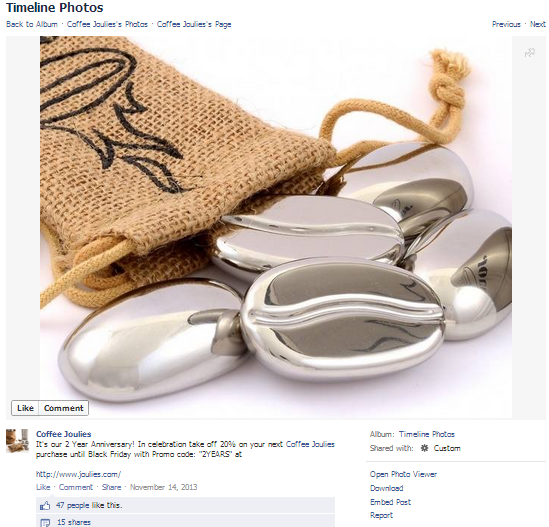 Fun and Games
Here's a newsflash: People like to do things that are fun. So, make it fun to engage with your brand on social media through interactive campaigns, sweepstakes and giveaways. In addition to encouraging engagement, they'll grow your fan base and increase brand advocacy. The best part? You don't have to spend a ton of time or money to get them done:
A weekly trivia question will drive engagement (through comments) and have a very low overhead.
A funny caption contest ("Caption this photo") can get you two kinds of engagement: the captions as comments and likes as votes.
Ask your fans to post a creative picture of your product and then have them all vote on a favorite. You'll get 3 kinds of engagement, and you don't even have to create the imagery yourself.
Here is a great example of a poll from Threadless, which received high engagement: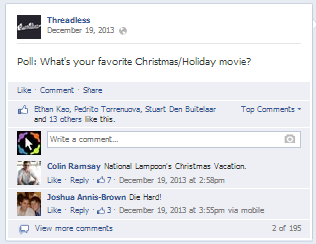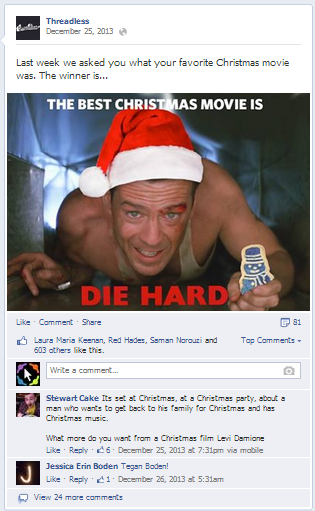 Be Where Your Customers Are
There are a lot of social media channels out there and it can take a considerable effort to keep them all active and engaged. If you don't have a social media team, you can easily outstretch your capabilities, leaving your channels inactive. Instead, focus on the channels where your target audience is most engaged so that you can get the biggest effect for your social media efforts.
Of course, you can amplify your social media efforts with great social media management software, like Rignite, that allow you to keep more channels engaged and reach a larger audience.
Engagement is one of the most important elements of your social media strategy. By making sure that your social media is interactive and, well, social, you'll maintain both sides of the social marketing monarchy. And that's the right way to build your marketing kingdom.
Rignite Insight: Find the best times to post on Facebook and schedule your posts at the times that drive the most engagement.
If you'd like some help engaging with a larger audience, check out how Rignite can help you turn a "one man" social media show into a collaborative team effort.
E-commerce Social Media Engagement Checklist:
1) Profile photos and cover images should:

Be updated regularly


Promote your products


Be high-quality, simple and memorable


Showcase specials and/or promotions


Not include props
2) Incentives should:

Encourage customer engagement


Keep your brand top of mind


Include exclusives, coupons, discount codes, free shipping and other offers


Involve your audience in decision-making
3) Sweepstakes & contests should be:

Designed to grow your fan base, encourage engagement, build your email list, and increase brand advocacy


Kept simple and inexpensive


Fun—trivia contests, photo captioning and fan photo posts are excellent examples
4) Know your customers:

Be where your customers are active


Focus on the channels you can keep active


Explore social media management software as a way to manage more channels
Tell us: What tips would you add to this checklist?