August 9, 2014
7 Recurring Facebook Campaign Ideas to Boost Engagement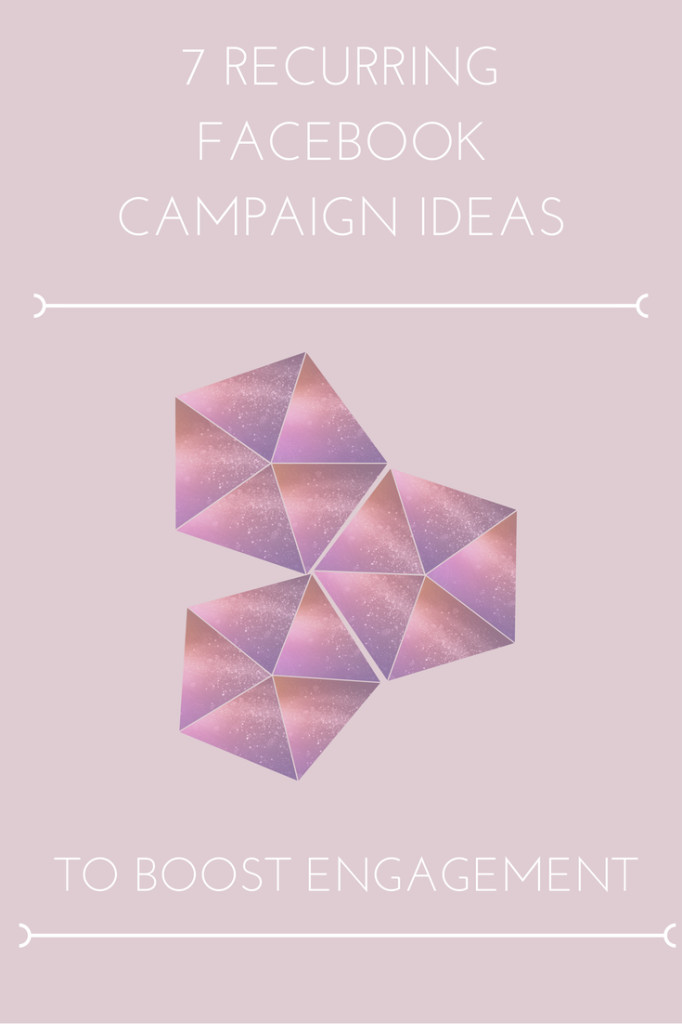 Do you feel like Facebook campaigns are too time consuming and aren't worth the energy it takes to create, set up, and manage?
Running a Facebook giveaway, contest, or sales promotion doesn't have to be a one-time thing.  In fact, sporadically running contests can give a flurry of engagement that quickly dies away.
The best way to get the lasting effects from Facebook campaigns is to create a recurring series or theme.
Why It's a Good Idea to Run Recurring Facebook Campaigns
It's a time saver.
You don't have to reinvent the wheel with a new Facebook campaign idea every week, or every time you want to boost your engagement.
You can schedule your recurring campaign well in advance as a series of posts, so you don't have to set up a bunch of smaller campaigns one at a time.
Your Facebook followers become conditioned for it.
They come to expect it, look for it, and they jump at the chance to participate…again.
If you've felt the blow of Facebook's organic reach decline, giving your followers a reason to…
(a) visit your page directly, and
(b) engage with your posts
…is just the signal you need to send Facebook in order to get your posts in front of those followers in the future.
It's enticing to potential new followers.
When potential new followers land on your page and see all the fun, engaging giveaways and contests near the top of your feed, they'll see why following you will be a good time.
You can set it and forget it.
Well, except for the fun part of engaging back with your participants.  Rignite already makes setting up Facebook campaigns a breeze, but even better is setting up 6 months of a recurring campaign series in the same breeze.
That's about as close as it gets to "set it and forget it" in social media.
Here Are Some Recurring Facebook Campaign Ideas
It doesn't have to be complicated.  In fact, the simpler the campaign idea the better.  Why? Because it's easy for you to execute.  And more importantly, it's easy for your followers to participate.
Keeping your idea simple reduces friction so you can get the most out of your efforts to boost engagement.
Secret Tip: It doesn't always require a prize.  Some people just like to be acknowledged.  A little pat on the back can go a long way to inspire people to take action.
Campaign Idea 1: Trivia Tuesday
Ok, it doesn't really have to be done on Tuesdays.  But you get the gist. This is a themed giveaway that sets your followers' expectations that every week you'll ask them some type of trivia.
Example
I love this example by DSW.  Shoe lovers around the world will flock to the call of "FREE SHOESDAY."  And given that the trivia question is always something along the line of "what brand and model" is this shoe, they'll attract the true enSHOESiasts – those stylish people whose networks will take notice when they see their friend commenting on a picture of DSW's beautiful shoes.  It's an easy way to increase exposure by getting images of your product in front of people whose friends are engaging with you.  And to really amp up participation, DSW awards the prize to 30 winners! How can you not comment with those odds?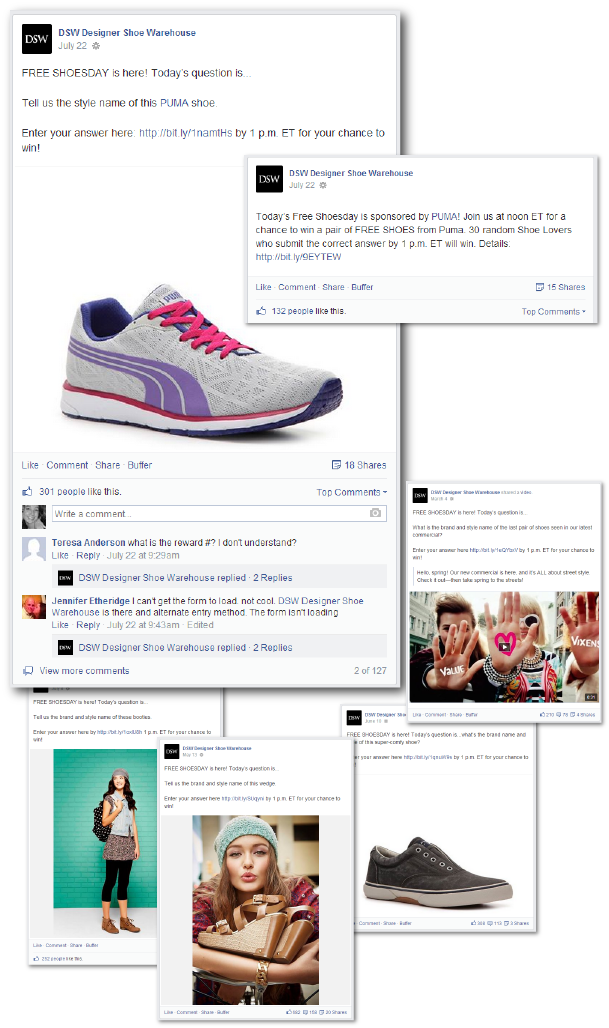 How to make it work:
Give it a branded name, using a hashtag
Make it relevant to your followers' interests
Tie in your brand or product
Give it a short entry period to increase urgency
Include a visual element – either a picture or graphic
Award more than 1 winner
Campaign Idea 2: Ask questions with an A/B, Yes/No, Agree/Disagree, True/False, This/That answer
The Oreo's Cookies or Cream? debate on social media is a classic example that spurred engagement because of its tug on people's strong preferences for the cookie or for the cream.  When people see things in black and white (literally, in this case) it takes no energy or second thought to spout out their opinion.  That makes this social media tactic an easy one to stir up engagement.
Example
Dot and Bo does this campaign type well by showing a few different styles of one of their products.  The call to action is to comment which one is your favorite style.  Here's the crazy part.  There is no prize.  The followers simply get to share their opinion—something most people love to do…with or without incentives.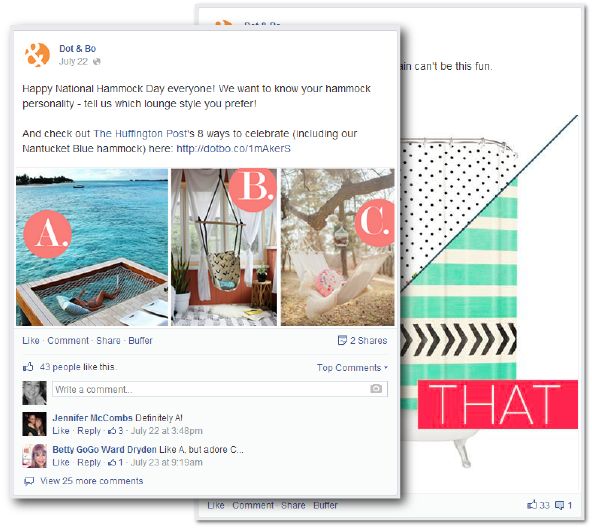 How to make it work:
Pose a very polarizing question
Specify the answer options very clearly with no "shades of gray"
Use an image to convey the very clear and contrasting differences between the options
Tie it to your product
Campaign Idea 3: Daily Product Giveaway
Have an entire category of product you'd like to get eyeballs on? Here's a Facebook campaign idea that will get a new product in front of your followers' followers day-after-day.   Running this type of giveaway as a daily (or weekly) series will create a snowball effect of awareness of not only your campaign, but also your product line.  People really interested in your product will come back day in and day out to get another chance to win
Example
This #31DaysOfWatchGiveaways by Touch of Modern is a great example of a giveaway series that builds momentum with its daily offering.  31 chances to win feels like the odds are in your favor.  This is a great way to get people visiting your Facebook page daily for another chance to win.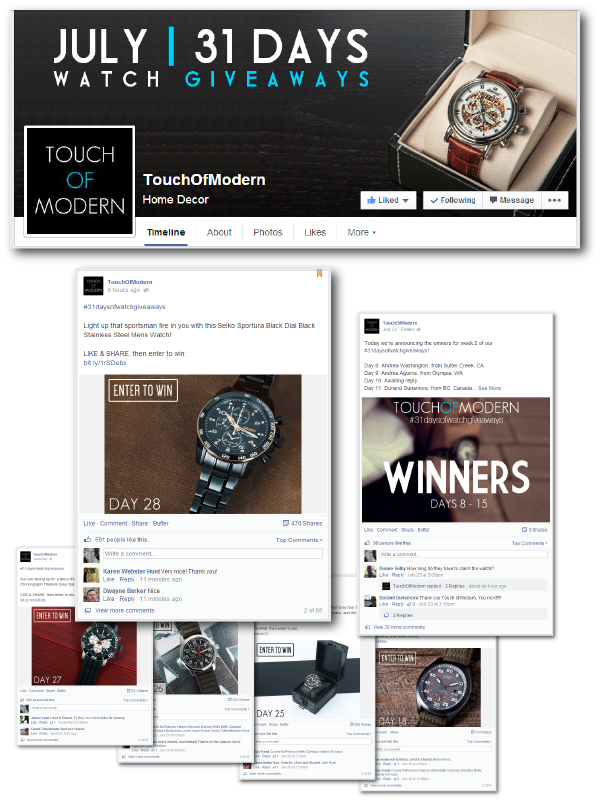 Caution: We don't recommend asking for a Share as an entry requirement as Touch of Modern does. This goes against Facebook's rules for running promotions.  However, it's a great idea to require a post like and comment to be entered.
How to make it work:
Make it centered around the product
Make them beg for it.  Well, not really, but include a call to action to "comment on this post telling us why you love this ___

[insert product name here]

__"
Include a hero shot of your product
Make the frequency short (i.e. daily or weekly)
Promote it with a custom cover photo about it
Cross promote it on Twitter
Campaign Idea 4: Partner Giveaways
Even better than giving your followers freebies is giving those freebies for free yourself.  Tongue tied now? Find a business that you can collaborate with who serves a common interest as your business. Then partner up by offering a giveaway of their product or service to your audience.  You get to boost engagement with your audience at no cost to you.  And your partner gets exposure to a new audience.
Side note: This can work in the reverse as well.  You can offer a prize of your product to another business to share with their Facebook audience to increase your reach to a new audience.
Example
Conexus is a credit union in Canada that corrals the community and the local stores that serve them with their #FreeStyleFridays.  By being the "connector" they get exposure to the loyal patrons of the local stores while their followers have fun finding out where the next freebie will be every Friday.  And to ensure that Conexus gets the brand exposure they need to make these weekly campaigns worth it, they've named the series after their main product offering – the Free Style No-Fee Checking account.
To build anticipation about their Friday giveaways, they also post about the series every Thursday to remind people to check back the following day.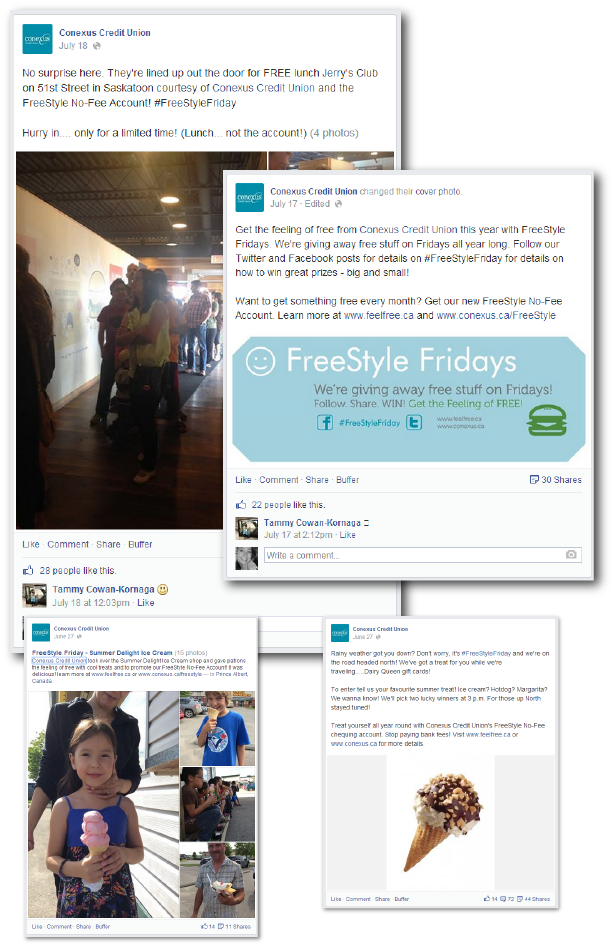 How to Make it Work:
Make it aligned to the common interest of your audience
Focus on creating a win-win value for your audience and your partner
Do it regularly with different businesses/products to keep the offer fresh and new each time
Give it a branded hashtag to keep people reminded that these freebies are thanks to you
Campaign Idea 5: Quick Win Wednesday
The idea for this Facebook campaign series is to share an easy-to-do, quick tip.  Something that takes your followers only a moment to digest but has a valuable takeaway.
Example
Zaggora helps their followers get into tip top shape with their #lunchtimelunges series.  They share a single lunge move that can be done during lunch, easily fitting into their followers' daily routine, and helping them accomplish their fitness goals for summer.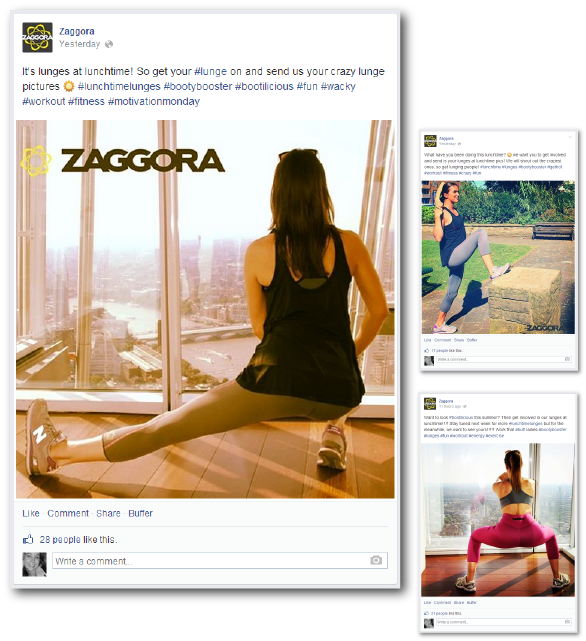 How to Make it Work
Make it short and to the point
Make it a tip that helps them accomplish a goal that is relevant to your business
Give advice that is easy to execute in 10-20 minutes
Campaign Idea 6: Fill in the __

blank

__.
Have you ever caught yourself finishing people's sentences?  For better or worse, it's something we all do from time to time and seems to be human nature.   Get your followers thinking by starting a thought, and letting them finish it.  Put them on track with a specific topic and let them share their perspectives on it.  This Facebook campaign idea can work particularly well when you are trying to provoke people to share their passions and desires.
Example
We (Rignite) run fill in the blank campaigns that get people to share what and who inspires them, and we tie the statement to a current event.  For example, on New Year's Day we asked what our followers' New Year Resolution was.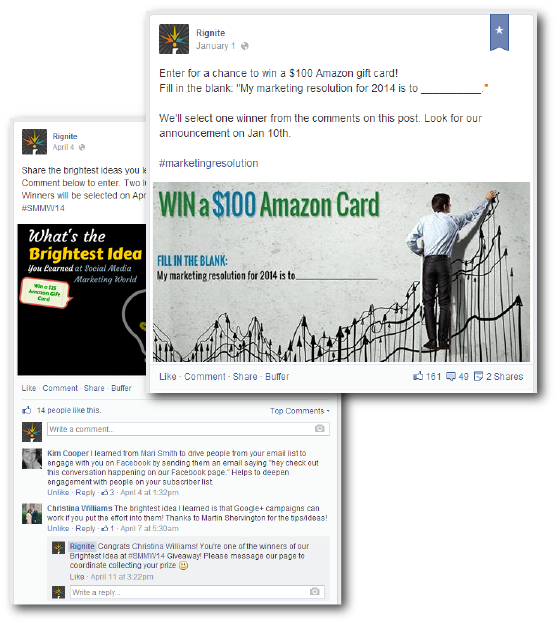 How to Make it Work
Pose a statement that could be completed in 1-5 words so it's easy to answer
Make the sentence something that provokes inspiration, aspiration, and wants
Include a graphic that includes the fill in the blank statement so it's hard to miss in their newsfeeds.
Campaign Idea 7: Saturday Saver
This is a straight up sales driving campaign.  If you are keeping your followers engaged on a regular basis, you'll have earned the right to promote a coupon campaign to drive sales.  And better yet, if you do it on a regular occasion, your following will come to expect it and look forward to it.  In other words, they won't automatically tune you out when you have a promotion to run.
Example
Bonobos is a great brand to follow when it comes to coupon campaigns.  They're really creative at tying their brand image into their offerings and keeping it fun and engaging, even though it's ultimately a sales push.
In their Summer Fridays coupon series they share a 20-25% discount each week on a different categories of clothing.  One week was suits with a clever code name of SUITUP25, followed by KNEEDEEP25 for shorts, and GOINGPLACES25 for their discount on travel pants—a very timely promotion for summer travelers.
How to Make it Work
Give it a branded hashtag name
Make it clear how often / when to expect the coupon (i.e. Saturday Saver, Summer Fridays, etc)
Keep things fresh by offering deals on different product lines each time
Have fun with the coupon code
Use an eye catching graphic with oomph
Conclusion
Queue up 2-3 of these recurring Facebook campaign ideas in Rignite and you'll have a steady flow of content on your profile that will drive engagement.  You can still be spontaneous and post your team lunch gathering, or share your thoughts on the latest buzz in the news, or curate thought provoking articles.  But a few of these recurring campaigns will give you a good base of posts to have flexibility during those times when you are just too busy running your business to put energy into rallying engagement.
Bonus tip: Find out the best times to post on Facebook for driving engagement. If varies from business to business and industry to industry. So do the analysis and schedule your campaigns to run at optimal times.
Easily Run Facebook Campaigns Using Rignite
Rignite is a software solution that makes it easy to run campaigns on your Facebook timeline. With Rignite you can:
Boost engagement by requiring post likes or comments for entry
Reward more than one winner to attract more participation
Cross promote on Twitter with a series of posts
Get campaign level reports showing which posts were most effective
Sign up for a free trial today!