June 9, 2014
3 Great Twitter Giveaway Ideas To Follow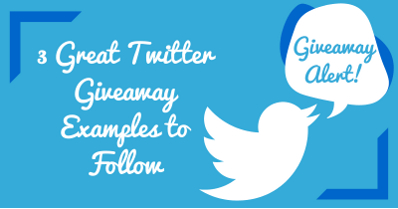 You've got to give to get, right?
Giveaways have long been used as a way to introduce new products and get prospects to sample your value.
And now, the Internet has made it easy for small businesses to run social media campaigns to get in on the giveaway game.
Twitter giveaways (as well as Facebook giveaways) are easy to run, and the results are easy to track. What's more, they can help you achieve specific business and marketing objectives:
Drive sales

Boost engagement

Grow your following
Stuck for ideas? Get some inspiration from 3 of our favorite Twitter giveaway campaigns:
1

Great Twitter Giveaway #1: Mario Badescu Skin Care

Goal: Grow Following, Boost Engagement
Social Channel(s): Twitter

About the Business: An online retailer of skin care products, Mario Badescu has nearly 13,000 followers on Twitter.

About the Giveaway: Mario Badescu's giveaway campaign selected a random winner from all entrants that followed them on Twitter and re-tweeted their contest announcement tweet.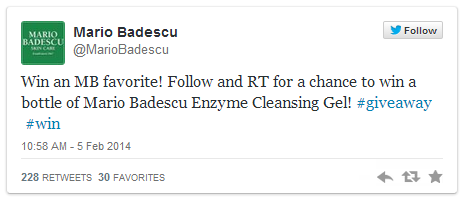 What We Like About This Campaign:
Concept & Simplicity – The entry method is easy to understand and simple to execute.
Perceived Value – The value of the prize is considerable when compared to the simple entry requirements.
Two Goals with One Giveaway – This giveaway does double duty: It encourages growth of the brand's Twitter following as well as offering an opportunity for increased engagement with the retweet component.
Exclusivity – The brand offers similar (yet separate) giveaways on Facebook. This encourages people to follow Mario Badescu on both platforms to maximize their chances of winning a variety of prizes/products.
Use of Popular Hashtags – Since one of the campaign's goals was to grow Mario Badescu's Twitter following, use of a non-branded hashtag that gets a high volume of traffic proved to be a smart move. Those hashtags put the brand in front of people who might not already know them.
For Even Better Results:
Include a Picture – Tweets that include a graphic see more engagement. A picture of the prize would bring more attention to their giveaway and alert followers more dramatically on what they could actually win.
Make It a Series – Mario Badescu could have built this campaign around a series of tweets, with each one giving away a different product. More giveaways = more brand exposure = more opportunities for engagement.
2

Great Twitter Giveaway #2: Comply Foam

Goal: Boost Engagement
Social Channel(s): Twitter, Facebook

About the Business: Comply Foam sells premium ear phone tip replacements. The brand has 2,300 followers on Twitter.

About the Giveaway: Comply Foam ran a hashtag photo contest that required entrants to post a picture of their Comply Foam Tips and tag it with the hashtag #ComplyEverywhere. Random entries were drawn to receive a free product giveaway.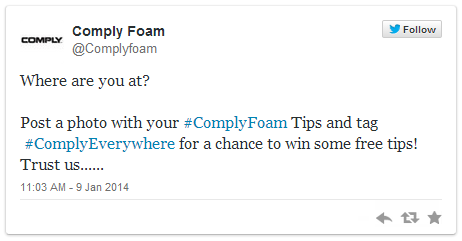 What We Like About This Campaign:
Simplicity – The giveaway was easy to understand and simple for participants to join in.
Method of Entry – Having people post photos of their products was a great way to promote the brand as well as to reach an extended audience through participants' own Twitter followers and Facebook fans.
For Even Better Results:
Differentiate Posts – The brand could have composed separate messages for its Twitter and Facebook posts. With different character limits, the brand could have kept a Twitter post brief (so that it was not cut off) and then posted a more detailed message on Facebook.
Hashtag Clarification – The two hashtags used in this giveaway, #ComplyFoam and #ComplyEverywhere, were too similar and could easily confuse participants. The brand could have differentiated these more to avoid any confusion, or just used one.
3

Great Twitter Giveaway #3: Rocket Dog Shoes

Goal: Grow Following, Boost Engagement
Social Channel(s): Twitter, Facebook

About the Business: Rocket Dog Brands is an online women's footwear retailer with over 44,000 Twitter followers.

About the Giveaway: By following Rocket Dog's Twitter account and retweeting the contest announcement, followers were entered for a chance to win a (truly awesome) pair of silk flats.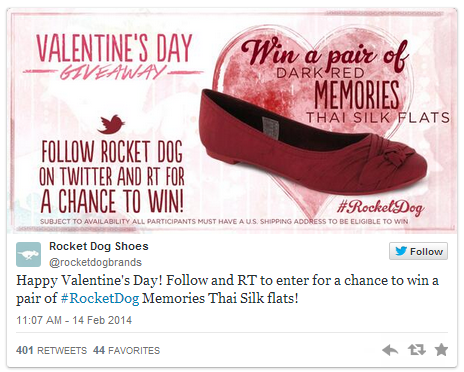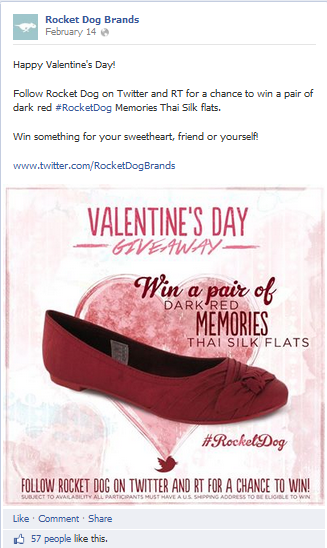 What We Like About This Campaign:
Timing – The giveaway was hosted in honor of Valentine's Day. The prize and promotion were themed accordingly and captured people who were in the spirit of the holiday.
Cross Promotion – Rocket Dog promoted its Twitter giveaway on Facebook, which increased the promotion's reach and encouraged Facebook fans to follow the brand on Twitter as well.
Prize – The prize was very appropriate for the shoe company and the color tied in nicely to the Valentine's Day theme.
For Even Better Results:
Increase Number of Winners As Participation Increases – Rocket Dog could have enticed more people to enter if the number of winners increased along with an increase in RTs. For example, they could have set thresholds where more winners would be included (i.e. "for every 50 RTs we'll add another winner.")
Twitter Giveaways: Identifying Best Practices
Running Twitter giveaways is pretty easy, but successfully achieving your goals is a bit more difficult. Remember these best practices to take your giveaway campaigns to the next level:
Compelling offers make it more likely that people will enter, then share the opportunity with others.

Getting your giveaway to become active quickly requires that you build in a

sense of urgency

– let people know when the contest will end.

Simplify the entry process by providing a

clear call to action

so people know exactly what you want them to do.

An

appropriate prize with a high perceived value

is crucial to getting people to follow your steps. You're essentially asking them to promote your brand, so be sure they'll feel properly compensated if they win.

A tie-in to a popular hashtag will help your brand and campaign stay on-trend and relevant. Sometimes that might be a holiday or current event, other times it might be a trending conversation in your space.
Strong visual imagery that's relevant to your brand and products will catch people's eye and better draw them in.

Especially on Twitter (with the 140 character limit), it's important to

simplify the entry process and provide a clear call to action

that is concise and easy to follow so people can take action quickly and without confusion.
Bonus Resource: Check out our mega guide: How to Get Twitter Followers – 47 Tips to Attract Followers
Any of these Twitter giveaway ideas sound like something you'd like to try?