August 11, 2014
How To Run A Photo Contest on Twitter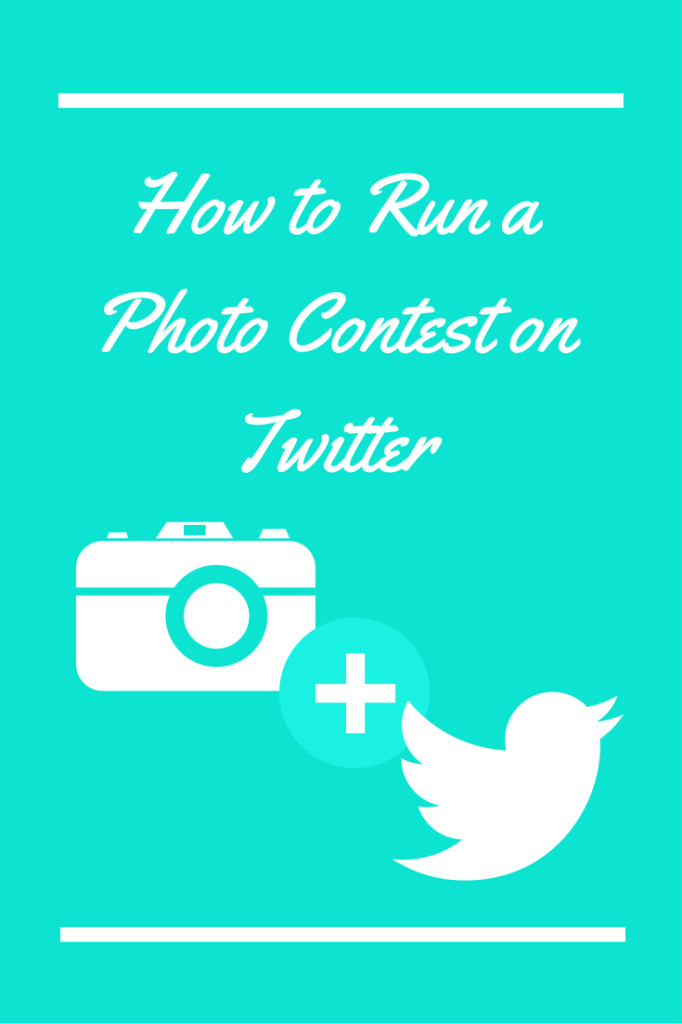 Is boosting engagement on Twitter a top priority for you? Do you want your followers and customers to spread the word about your products?
A hashtag photo contest might be just the trick to help you accomplish both of those goals.
The best part though, is that these photo contests are both fun and easy, for you and your followers. It's a win-win, and then a real win for one lucky photo snapper.
And with Rignite, it's a breeze to set up your photo contest, collect entries, engage with your participants, and award winners.
Here Are 3 Tips on How to Run a Photo Contest
1

How to Choose The Right Prize For Your Photo Contest

There are two main considerations:

Make it affordable. You don't need to break the bank to encourage people to enter your contest.

Make it relevant. Your goal should be to engage with people who might do business with you one day.

Rignite Tip: Don't make your prize an iPad, or an iPhone, or a Kindle. That doesn't distinguish you from all the other social media contests out there. The best prize is often a product giveaway. Giving away your own product or service will attract the right people—people who want your product (thus they are potential prospects for you).

Examples:
A specific item from your store. (Hint: It helps if it's a popular item)
Gift cards to your store
Mystery box full of your products
A new product you just launched

Bonus: This can be a great way to generate buzz about it to spread the word

A free consultation
A free product by a brand that is complimentary to yours

Bonus: The partnership with the other brand can extend your reach to a new audience
Choose a contest prize with a value to your followers that's greater than the cost to you. That's an all-around social media win! << click to tweet >>
2

Decide What Type of Photo You Want People to Post

Here are couple of photo themes to consider:

Make it about your business. If you want to generate awareness, you might ask people to tweet a picture that shows off your product in some capacity.

Make it fun. Get people excited about participating in your photo contest. Give them a reason to be funny, or to brag, or to show off their creative talents, or to show some love to their friends and family.

Rignite Tip: People love to share their opinions and passions. Consider what emotion might trigger them to share.

Examples:
3

How to Promote Your Photo Contest on Twitter

Make it visual. You are asking for photo submissions after all. Set the tone for your photo contest by including a beautiful photo or graphic in your contest promotion tweets. It's a great way to convey what you are looking for and to get your participants' creative juices thinking along the right lines.

Make it hard to miss. Don't be shy about tweeting about your photo contests 4-5-6+ times per day. Of course, you should create variations of your tweets to make sure Twitter doesn't reject your posts for being duplicates. But, it's fair game on Twitter to post about the same thing multiple times per day. The culture there is very fast paced, with only a small fraction of your followers online at any given time.

So be that squeaky bird that gets the tweets. Get your promotion seen by scheduling a bunch of posts. << click to tweet >>

And don't forget to cross promote it on Facebook, and email your list about it.

Make the entry requirements crystal clear. You have 140 characters to explain your entry requirements to your contestants. Or more like 115 if you include a photo in your tweet. Photos take up about 23 characters.

Rignite Tip: These are the main elements to include in your tweet:
What they'll win
What the photo should be of
#Hashtag to include in their tweet – You'll want people to include a hashtag in your tweet for two reasons. (1) It makes it possible for you to track entries. (2) Using a hashtag will help you generate a buzz around the contest. Choose a popular hashtag if you'd like to get discovered by people who follow that hashtag. Choose a unique hashtag if you'd like to build an image of your brand.
Whether to @mention your brand – This will help you track entries if you choose to use a popular hashtag. Otherwise you won't be able to distinguish people talking about that hashtag from the people participating in your photo contest.
Your beautiful image – As mentioned above, it sets the tone for the photos you'd like people to post.
And if you still have characters to spare:

How many will win – The more winners, the more compelling it is to participate
When you'll announce the winners
Now, Here's How to Run A Photo Contest Easily Using Rignite
Now that you are armed with the best practices for running photo contests on Twitter, you need to know the play-by-play on how to run your photo contest using Rignite.
Rignite is a solution that makes it crazy simple to run a photo contest on Twitter. In just a few steps, you'll set up your entry requirements, schedule a series of posts, and sit back and enjoy the fun times while Rignite does the hard work of collecting entries.
1

Setting up Your Photo Contest in Rignite

Using our Campaign module, we'll walk you through the steps to get your contest up and running.

You'll set the duration of your Campaign.
You'll define the prize and set the number of winners.
Tip: Low cost prizes should award more winners. High cost prizes should probably award only 1 winner.
Then you'll specify the requirements for entering your photo contest—what they should tweet a photo of, what hashtag to include, whether they should @mention you.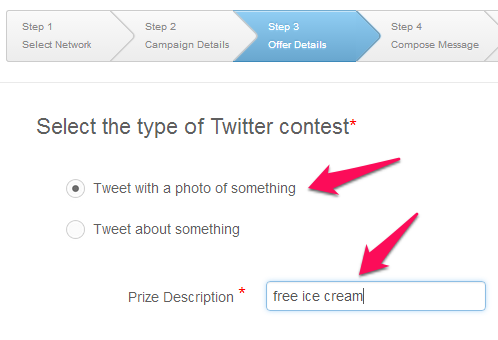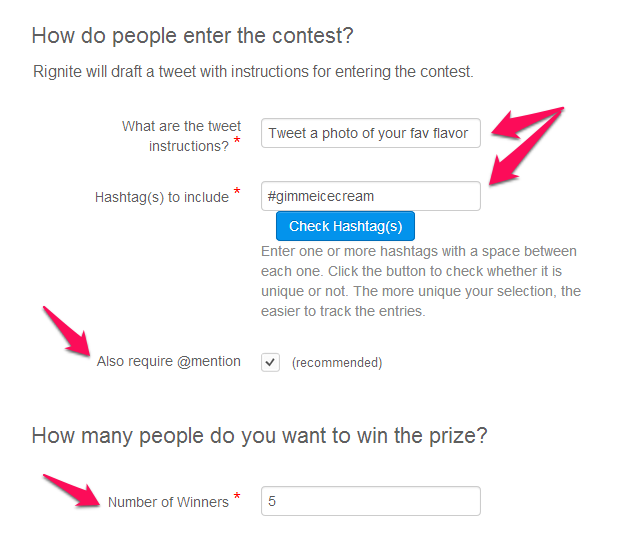 2

Promoting Your Photo Contest Using Rignite

The next steps in Rignite's Campaign feature will walk you through scheduling a series of posts to promote your photo contest.

You can't tweet about it once or twice and expect good results. So Rignite makes it easy to schedule a whole bunch of posts in just a few clicks.

You'll create up to 3 variations of tweets about your giveaway. Then you'll set a frequency for how often you'd like to post. For example, let's say your campaign will run for 1 month and you'd like to post a tweet about it 3 times per day during the campaign. We'll fill up the calendar with all those 90 or so posts in one go! That's some serious efficiency!

Bonus: Rignite also makes it easy to cross promote your contest on Facebook. You probably have fans there that don't already follow you on Twitter. So make sure they know about the photo contest too by posting about it there.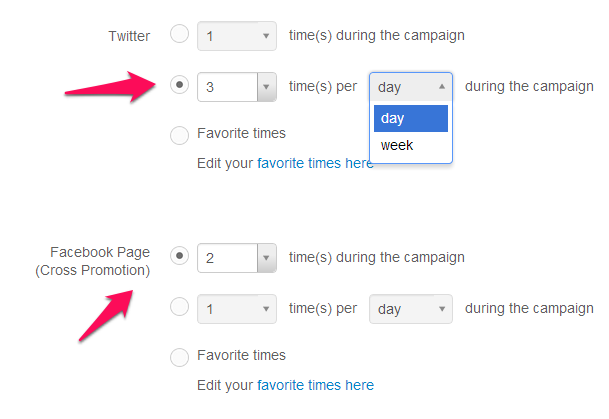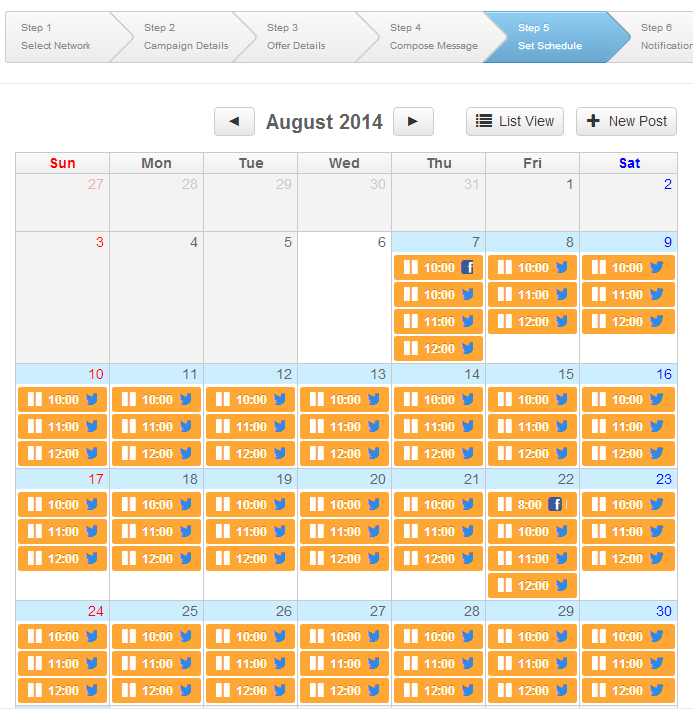 3

Kickoff and let it go on auto-pilot

Finally, you'll review your campaign and kick it off.

As people participate in your photo contests, Rignite will collect all the entries that meet the requirements that you set up on step 1. Once the contest is over, you'll choose the winners from the gallery of entries we've collected, and we'll automatically notify those winners.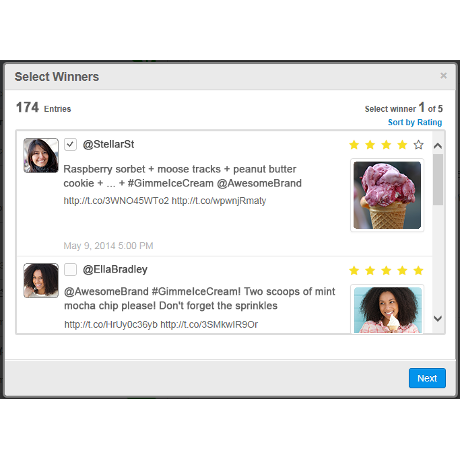 4

Measure Results of Your Twitter Photo Contest

Rignite will collect all the engagement and link click metrics across all campaign related posts and present you with a campaign level analytics dashboard.  Now you can compare different campaigns to each other at a high level to determine which ones are most effective.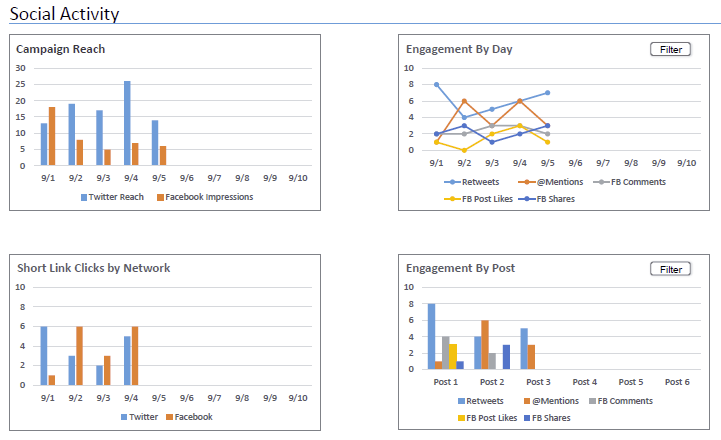 5

Do it again. And do it often.

Running photo contests are great. Make it a regular part of your social media content strategy. Find a way to make it a formula with only small tweaks each time to either the prize or the type of photo you ask them to tweet. That will help you minimize the effort it takes to run while maximizing engagement by giving your following something dependable to look forward to and fun ways to constantly engage with you.
Easily Run Twitter Photo Contests Using Rignite
Rignite is a software solution that makes it easy to run photo contests on Twitter. With Rignite you can:
Boost engagement by requiring participants to include a hashtag and/or @mention you to be entered
Reward more than one winner to attract more participation
Easily schedule a series of posts to promote your photo contest
Get campaign level reports showing how effective your campaign was as a whole, including engagement and clicks on all campaign related posts
Sign up for a free trial today!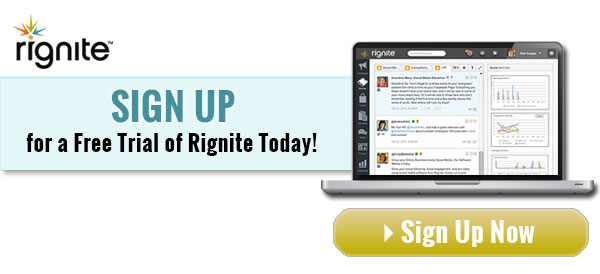 More Giveaway Advice