Our
Blog
May 27, 2014
Rignite News & Tips
Today we launched an integration between our Rignite social media marketing solution and the Shopify ecommerce platform for online stores.
Track ROI for Social Media Promotions
Rignite customers who use Shopify for their ecommerce platform will now be able to measure social media ROI in the form of sales and coupon redemptions from social promotions they manage through Rignite. By comparing results of social campaigns across social networks, Rignite customers can easily see which social campaigns generate …

No Comments
March 10, 2014
Rignite News & Tips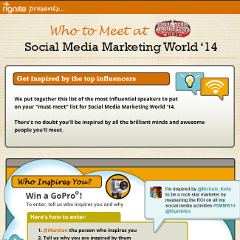 Are you going to Social Media Marketing World? With the impressive line-up of some of the top thought leaders in social media, you will have plenty of opportunities to meet great people, get inspired and find some new tricks to put into practice and improve your social media marketing.
To help you get started and make the most of your time at #SMMW14, we've put together this infographic of "must meet" influencers.
Bonus: We're giving away a …

7 Comments
January 29, 2014
Tips & How To's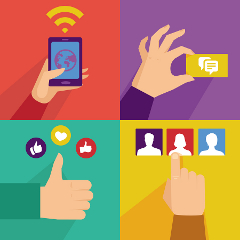 We all know that content is king, but did you know that engagement is queen?
Queen Engagement plays a critical role in social media marketing and is especially important for ecommerce businesses who have limited exposure to their customers and prospects. In order to help you give the Queen all the respect she deserves, we've compiled a social media engagement checklist for you to follow.
"Dress to Impress" with Your Cover Image and Profile Photos
On many social …

2 Comments