March 31, 2014
Case Studies and Tips to Make Your Facebook Contest a Winner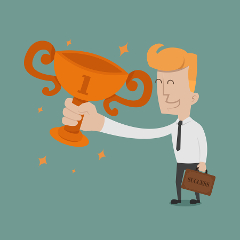 A Facebook page can be an essential element to a business's social media marketing success (especially for an e-commerce business), but simply creating your account isn't enough. "If you build it, they will come" might sound great in baseball movies, but in the real world such an approach can leave your business floundering well under the league average. Creating real success on Facebook requires that you give people a reason to visit, follow and interact with your page – and that's where Facebook contests come in.
The Advantage of Contests
The benefits of contests for your fans are pretty clear (After all, who doesn't like free stuff? – nobody, that's who!), but Facebook contests and sweepstakes are also good for your brand and marketing.
Facebook contests increase engagement. Not only that, but with increased engagement you'll also likely boost your fan base, collect useful information like email addresses, and potentially gather user-generated content.
They're easy to run. Whereas Facebook used to require all contests to be conducted through an app, that policy is no longer in effect. In addition, now users who want to enter a contest can simply post on a page or comment on a post, or even just "like" it.
Contest Case Studies: Learn from Other Brands' Hits and Misses
Facebook contests are almost infinitely versatile: How you want to conduct your Facebook contest will essentially be limited only by your imagination. Take a look at these two examples for inspiration (and guidance on how to make your contest even better).
1

Facebook Contest Case Study #1: RuMe

Goal: Boost engagement
Social channel(s): Facebook

About the business: RuMe, a popular Denver-based lifestyle brand that sells reusable bags and other products, has gained over 32,000 Facebook fans since starting its page in June 2010.

About the contest: To encourage user engagement on its Facebook page, RuMe displayed a partial image of a popular celebrity holding one of the company's products, then challenged fans to identify who the person was.
What we like:
Short copy and colorful image – The colorful image, with the product on display, catches your attention, and the copy is short and simple.
Speed – The winner was the first person to respond correctly, so there was not a long waiting period.
Celebrity endorsement – Using somebody recognizable — like former model and "Top Chef" host Padma Lakshmi — catches people's attention and entices them to participate. What's more, the image of a celebrity here did double duty to promote both the contest AND the company's products.
For even better results:
Offer prizes – From what we can tell, no prize was offered for this contest. That's like inviting folks to a barbecue, then only serving coleslaw — there's something missing. While engaging people's natural inclination to compete was a good start, RuMe should have attached a prize to encourage and reward participation.
Try this type of Facebook contest in Rignite

Easily Create Contests on Facebook and Twitter Using Rignite

Rignite is a software solution that makes it easy to run and track giveaway and contest campaigns on social media.
2

Facebook Contest Case Study #2: Zaggora

Goal: Build an email list, Boost engagement
Social channel(s): Facebook, Twitter, Instagram

About the business: Zaggora is an activewear and sportswear company with over 500,000 Facebook followers.

About the contest: Timed to coincide with people pursuing New Year's resolutions to improve their health, for the month of January the company invited users to "take the new Zaggora Challenge." By sharing the contest post, fans and followers qualified to win full Zaggora outfits, which were given away every day of the month.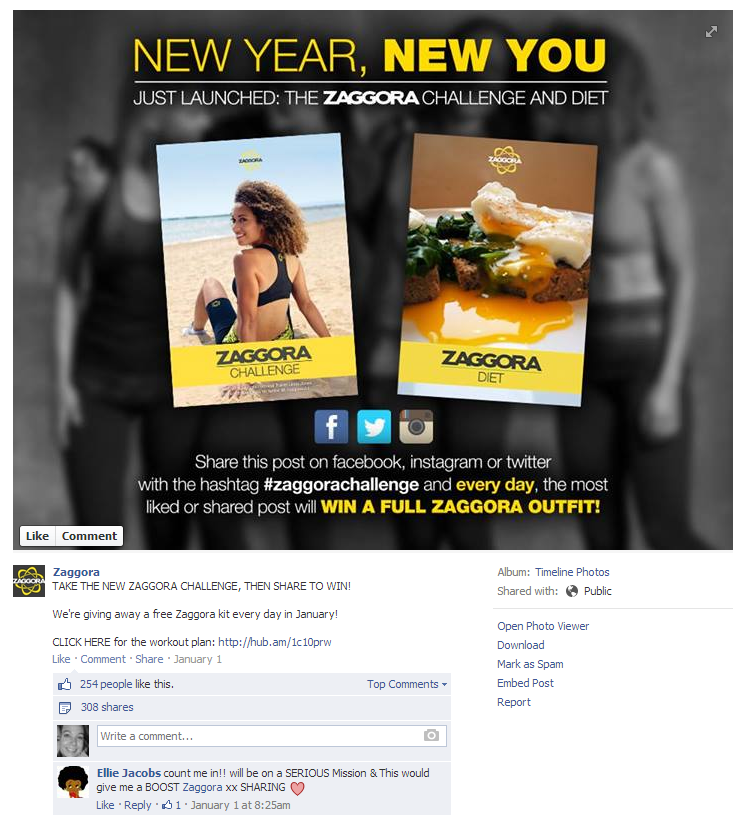 What we like:
Multi-channel – By integrating the contest throughout several social channels, Zaggora was able to reach all of its fans and followers.
Goals – The contest was designed with clear goals in mind: Help grow the company's mailing list, and boost engagement with a hashtag photo contest by asking people to share their photo and include a hashtag.
Series – Selecting a daily winner allowed Zaggora an extended amount of time to meet its goals without the campaign getting old.
Uniformity – From the initial announcement to the posting of the winners, the image accompanying the copy remained the same — which is smart. Also, each winner announcement included a call to action and link to encourage other people to enter.
Sharing – By requiring people to share the post in order to qualify, the company encouraged followers to spread the word about Zaggora's Contest and generate more awareness….But…requiring participants to share a post on Facebook is a "no-no" because it's against their terms of service.  It is, however, acceptable to ask for the share on Twitter and Instagram.
For even better results:
Add a custom Facebook page – Instead of housing all of the contest information on its own page, Zaggora could have built a custom Facebook page for the task. The page could have provided contest information and an entry form, and also have been used to showcase all the winners.
Boost the post with advertising – To get more visibility and entries into the contest, Zaggora should have boosted the contest announcement post by using Facebook's native advertising platform.
Winner, Winner, Chicken Dinner
Through a (potentially) inexpensive and (definitely) easy-to-craft contest campaign, you can get
• better engagement
• more email contacts
• increased fans and followers
• production of user-generated content
• enhanced word-of-mouth exposure
And that's the paradoxical beauty of Facebook contests: Regardless of which fan(s) win(s)… you always do.
Facebook Contest Best Practices
As effective as contests are, there are a few things to keep in mind to make them even better. Make the most of your company's Facebook contest with these best practices:
• Before designing the contest, establish clear goals for what you want to achieve. A goal of increasing your email list might require different contest mechanics than, say, wanting to encourage engagement.
• Provide a compelling offer to make the contest worth your fans' time and effort.
• In order to encourage activity, establish a sense of urgency with your contest. If, for example, the winner is the first (or 10th or 20th) to do something, fans will be more likely to participate right away.
• As with any social media campaign, be sure to communicate a clear call to action.
• To enhance emotional appeal and topicality, see if you can connect your contest with a current event or holiday. Think of the added relevance Zaggora's contest had by being synced up with the New Year, when people were more actively pursuing activities that would require use of the company's products.
• Make sure to use strong visual imagery that's relevant to your brand and products. A good picture may be worth a thousand likes.
• To encourage participation, opt for concise text with easy-to-follow instructions. Even loyal fans aren't likely to enter a contest if doing so feels akin to retaking their college entrance exams.
• For optimal results, schedule your posts at the best time to post on Facebook for your audience. It varies from business to business, so do a little homework first to determine what is your best time.
Tell us: What types of contests have you run? What do you think is a compelling prize?
Easily Run Facebook Campaigns Using Rignite
Rignite is a software solution that makes it easy to run campaigns on your Facebook timeline. With Rignite you can:
Boost engagement by requiring post likes or comments for entry
Reward more than one winner to attract more participation
Cross promote on Twitter with a series of posts
Get campaign level reports showing which posts were most effective
Sign up for a free trial today!