January 2, 2014
8 Resolutions for 2014 to Enhance Your Social Media Marketing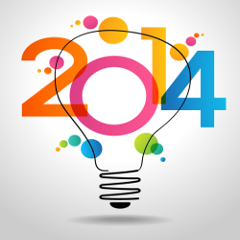 Admitted: The very concept of making New Year's resolutions is a cliché. And, more often than not, an exercise in futility as well. How many times can you resolve — unsuccessfully — to (fill in the blank____________): lose ten pounds, cut down on vanilla vodka, quit smoking or exercise more?
But, with a pristine New Year beckoning on the horizon, it really seems that this one might be different, and that all things are possible. You, business pro craving to get a better handle on your social media marketing, can actually succeed in keeping the following resolutions because they are eminently do-able.
They don't require major feats of willpower, or great personal sacrifice. They are actually quite simple, and really can lead to a stronger social media presence for your brand.
So, in honor of the dawn of 2014, here are 8 resolutions to help you make the most of social media.
Number 1: Resolve to Schedule Posts at Least 2 Weeks in Advance
This is a no-brainer and it's easy. Scheduling posts well in advance means that you won't be scrambling to come up with last-minute content. And it will ensure a steady flow of content on your social accounts, as you won't drop the ball on finding content in favor of the demand of your daily workload. Two weeks is a good buffer time to always have a certain amount of content ready to share, freeing you to interact spontaneously on emerging material.
Number 2: Resolve to Run Giveaways and Contest to Liven Things Up For Your Followers
Nothing triggers followers to engage – and attracts new ones – like the promise of some sweet swag. Use contests, sweepstakes, promotions and introductory offers to reward them with incentives that are high-value for your client base, and don't forget to cross-promote your campaign on as many channels as you can. This means tweeting about a contest that is held on your Facebook page, or using Facebook to promote a contest involving Instagram. You should also identify and reward particularly loyal fans and followers. Consider establishing a "Fan of the Week" program.
Number 3: Resolve to Find, Follow and Engage Influencers in Your Industry
Identify and work with industry influencers, such as popular and trusted bloggers, to garner reviews, endorsements and recommendations—the all-important "earned media" in which positive word-of-mouth and "buzz" spreads exponentially. Nothing builds a positive relationship with an influencer more than consistently showing genuine interest. Look for opportunities where you can show you're there, paying attention and happy to help in whatever way you can.
Number 4: Resolve to Respond to Questions, Comments and New Followers within 24 Hours
It is important that at least one member of your team regularly monitors your social profiles to make sure they catch comments quickly. Then tag team it to make sure you jump on those responses fast, within 24 hours and with no comment allowed to fall through the cracks.
Number 5: Resolve to Track and Measure Your Social Media Results
Take advantage of data that can help you gauge exactly how effective your social media campaigns are, and analyze it regularly. Facebook offers an insights page, which gives information about your followers' demographics and helps you determine which types of post are most effective at engaging your audience. Better yet, tag the links you post to your site with UTM parameters so you can see in Google Analytics which social efforts are driving the most traffic to your site and conversions.
Number 6: Get the Whole Team Involved on Social
Staying on top of social media platforms – posting, monitoring, and responding to comments — is easier with a committed team. But that doesn't necessarily mean you need to staff up. You don't always need an employee dedicated solely to social media. Instead you could delegate tasks among your existing team. Employees who are comfortable with the ins and outs of social media, who have a strong hold on your company's area of expertise, who are great communicators, or have shown a creative flair for finding and sharing great content — are all good candidates. If your budget allows, you may want to hire an outside consultant to fill any gaps wherever you have missing strengths or lack of time.
Number 7: Resolve to Keep a Content Calendar
A content calendar is your life vest in the stormy seas of content sharing and creation. It can help you schedule and frame campaigns and communications around holidays, traditional occurrences, and seasonal conditions. But remember to leave room for unexpected, creative impulses for campaigns such as surprise sweepstakes, contests and giveaways.
Number 8: Resolve to Follow the 80/20 Rule
With the 80/20 rule, you ensure that four fifths — the great majority of your content – is valuable, entertaining and informative. Weighting the material towards value helps you build trust with followers, thus giving you a window of opportunity (known as the "20") for self-promotion when it's permissible to promote your business, publicize your brand, and – discreetly – toot your own horn. Although it may seem counter-intuitive to devote so little space to promotion, you really do have to give to get sometimes. This type of restraint can pay off with engaged, committed followers.
What are your 2014 social marketing resolutions?