November 17, 2016
5 Christmas Contest Ideas for Social Media Campaigns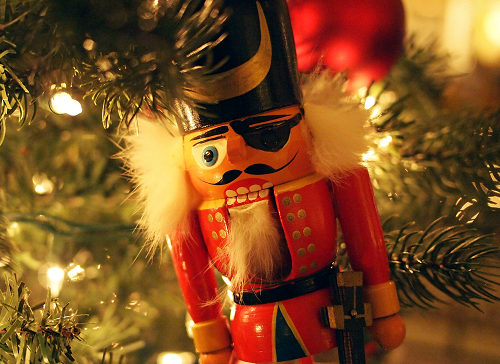 Christmas  social media campaigns are starting earlier and earlier each year, and it's becoming harder to be heard on social media. Now is the time to think of exciting Christmas contest ideas to grab your share of attention on social media.
Even while you're planning and running your Thanksgiving, Black Friday, Cyber Monday, and Hanukkah campaigns, you should already have planning in progress for your Christmas campaigns.
Here are 5 Christmas contest ideas for social media campaigns that will increase your fan base, generate engagement, and produce holiday sales:
1

Christmas Contest Idea #1: Facebook Comment Giveaway

One of the easiest Christmas campaign ideas to run is a comment giveaway. It's easy for people to enter and for you to track entries, like this one: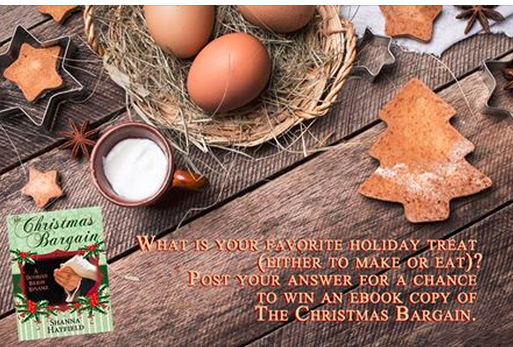 This campaign has a lot to like about it:
It's a simple question: What's your favorite holiday treat?
The picture is eye-catching and very well staged.
The instructions and the prize are on the photo itself.
The photo provides everything that is needed for the promotion, making it useful to re-purpose on other social networks such as Instagram. Keep these things in mind when designing your own Christmas campaign.
2

Christmas Contest Idea #2: Twitter Follow & Retweet Giveaway

It's always good to include attractive photo's in promotions, especially for sales, contests, and giveaways. This is true even for a simple Twitter Retweet and Follow campaign, like this from Rule One: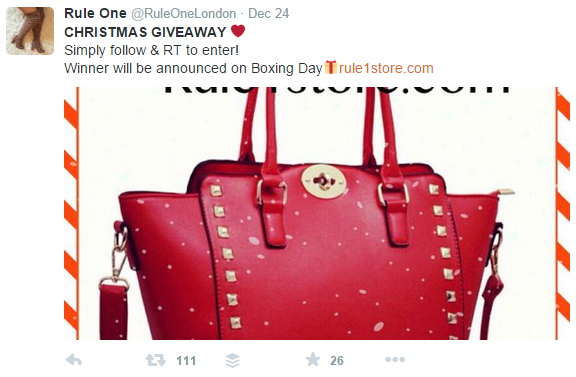 And here's another one from Sarah Parkes: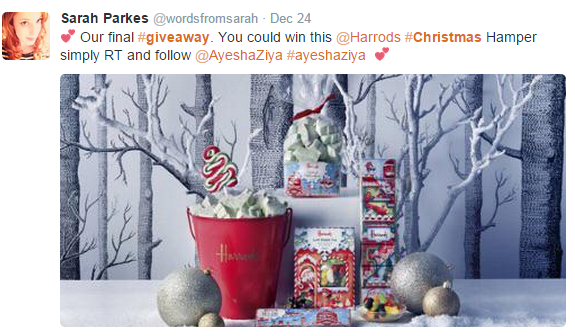 Asking for a Retweet makes it possible that your promotion will reach even more people. And asking for a Follow means that you'll be able to keep in touch through your tweets and be able to contact them through a direct message.
If you have a really valuable prize or want people to work a little harder to enter, you can ask them to tweet about something like a favorite holiday memory or food, and even ask for a photo. Be sure to require them to use one or two hashtags to enable you to easily track entries.
3

Christmas Contest Idea #3: Instagram Repost Giveaway

Instagram provides an awesome visual way to catch the eye of people. Asking people to repost your photo can be a great way to spread the word for your brand's giveaway, like this from @madewithlove63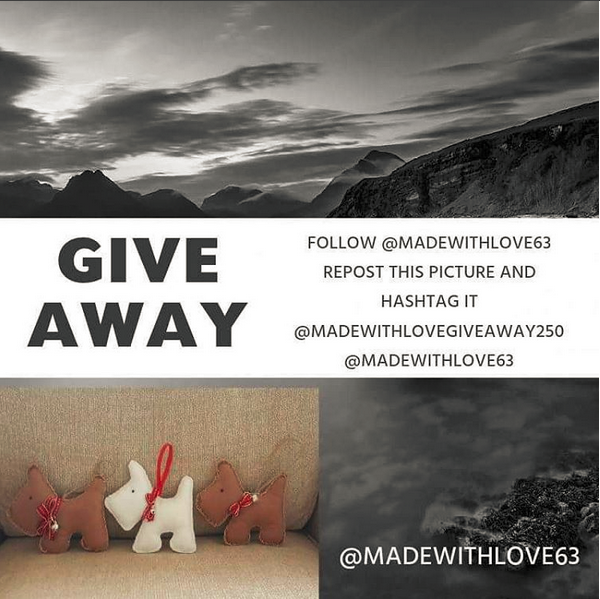 The instructions are on the photo, so when it is re-posted, others know how to enter. Asking for several actions such as a follow, repost, and tag are common, especially on Instagram. Here's another one: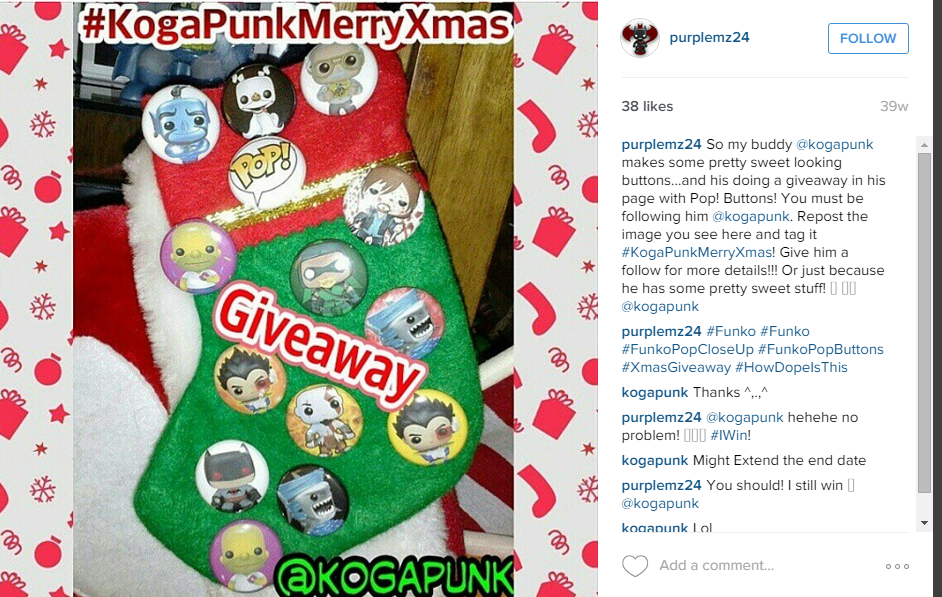 This one from @kogapunk has the instructions buried in the text description so it's harder to enter. But if you have a prize that is unique, fun, or valuable, people will figure out how to enter.
Other options include asking people to like or comment on your post to enter. These are very simple to run and track.
4

Christmas Contest Idea #4: YouTube Comment Giveaway

We haven't seen too many giveaways and promotions on YouTube, but these can be successful too, like this one from MinerzFilmz: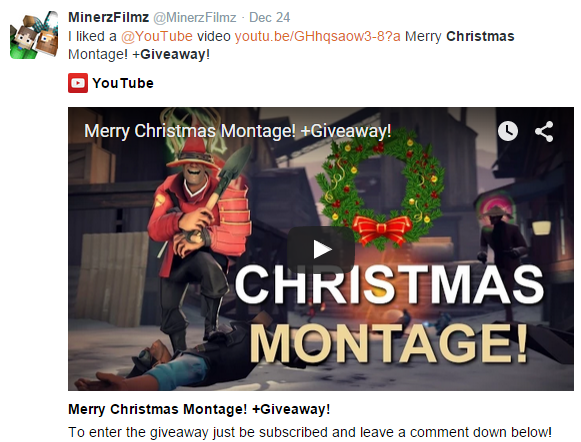 Although it might require more effort to produce a Christmas video, it can be much more engaging than a photo or text post. Asking for people to subscribe and comment is a simple way to boost subscribers and engagement at the same time.
To make sure people who enter watch your video, especially if it contains any branding or promotions, let them know that instructions on what their comment should be about is contained in the video.
5

Christmas Idea #5: Enticing Sales Promotions

Of course, with Christmas being the biggest buying season of the year, you'll want to get fans to buy.
Whether you're promoting on Facebook, Twitter, Instagram or all your social networks, there's so many ways to attract buyers:
Early bird, one day only, limited quantity sales
Free shipping, BOGO – Buy one get one free offers
Site-wide discounts, special purchase items, category discounts
Rignite Insight:
For all of your holiday campaigns, make sure you create of steady drumbeat of social media posts to attract as many fans as possible. Don't assume they'll see your one post in a sea of holiday posts. And don't forget to cross-promote your campaign on your other social networks with a link to your promotion post. You can do these tasks easily in a software platform like Rignite.
Your Christmas social media campaigns are important to reach new fans, increase engagement, and generate holiday sales. Be sure to have a campaign or two for each of your main holiday season goals.
Easily Run Christmas Social Media Campaigns on Using Rignite
Rignite is a software solution that makes it easy to run Christmas social media campaigns to promote your business. With Rignite you can:
Boost engagement by requiring social actions for entry–post likes or comments, tweets with a photo and hashtag
Reward more than one winner to attract more participation
Cross promote across both Facebook and Twitter with a series of posts
Get campaign level reports showing which posts were most effective
Sign up for a free trial today!