October 3, 2015
7 Black Friday Ideas for Social Media Campaigns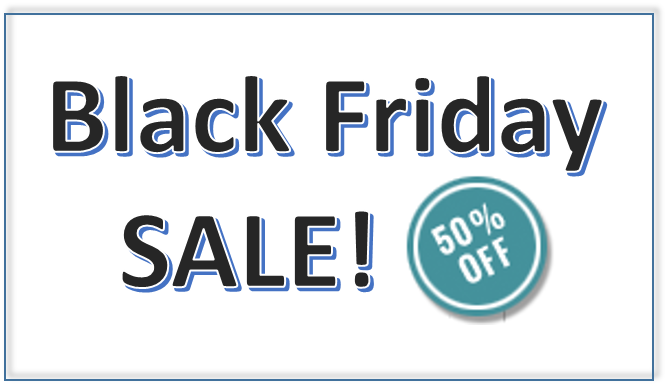 For many retail and consumer businesses the busiest shopping season kicks off with a Black Friday sale. These days, promotions can start even earlier so be sure to come up with your Black Friday ideas early so you don't miss all the buzz leading up to it. You might even start your holiday campaign series with an introductory Thanksgiving social media campaign that'll warm up your audience for all the fun times to come and get the holiday season started, including your soon to follow Cyber Monday, Hanukkah, and Christmas campaigns.
Of course, you should plan for the usual discounts, promotions, sales, and BOGO offers, but don't forget you can also run cool Black Friday social media campaigns like giveaways to get your fans engaged and increase your reach before the real shopping begins.
Here are 7 Black Friday ideas for campaigns that'll help build your brand on social media while having some holiday fun:
1

Black Friday Idea #1: Facebook Like or Comment Giveaway

Let's start off the ideas with a simple, easy to run and manage Facebook Like or Comment giveaway. You simply ask fans to do one (or both) to be entered.

Here's one from Speedway: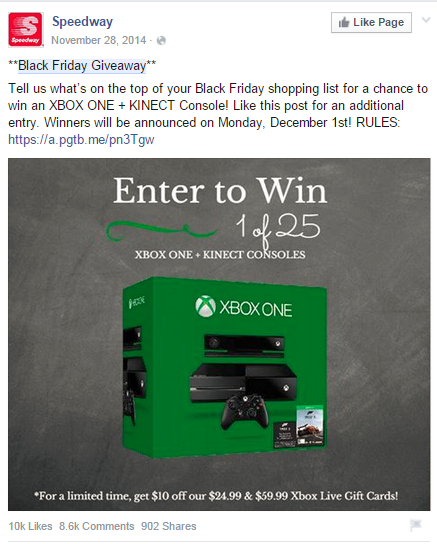 It's got clear instructions – just 'Like this post' – and a valuable cool prize. This simplicity helped it get over 10,000 likes!
We've seen a lot of giveaways that also ask for Page Likes and post Shares too. But remember, these are not allowed by Facebook for promotions.
2

Black Friday Idea #2: Twitter Retweet Giveaway

The simplest Twitter giveaway and easiest for fans to enter is one that asks for a Retweet to enter, like this one from Charnos: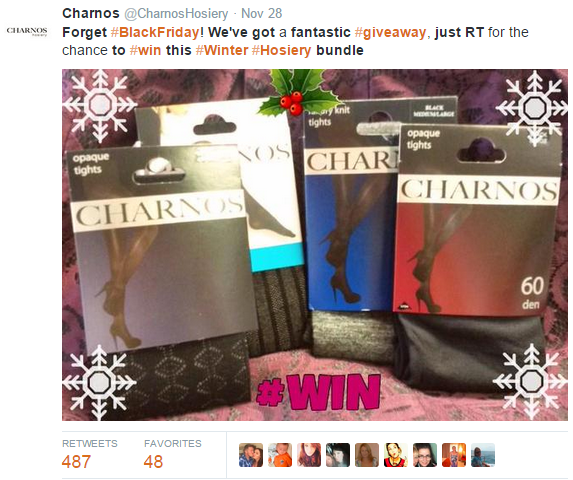 Other 'asks' could include asking for a Mention (Tag), Follow or Tweet with hashtag. If you create a unique hashtag or combination of hashtags, then it's easy to search for entries to keep track of them. In this case #blackfriday #giveaway #winter #hosiery would be easy to track.
3

Black Friday Idea #3: Instagram Hashtag Giveaway

Instagram is one of the best social networks for building a brand and reaching new fans. One of the best ways to get people to spread the word is to run a hashtag photo contest on Instagram, like this one for PharmaFreaks: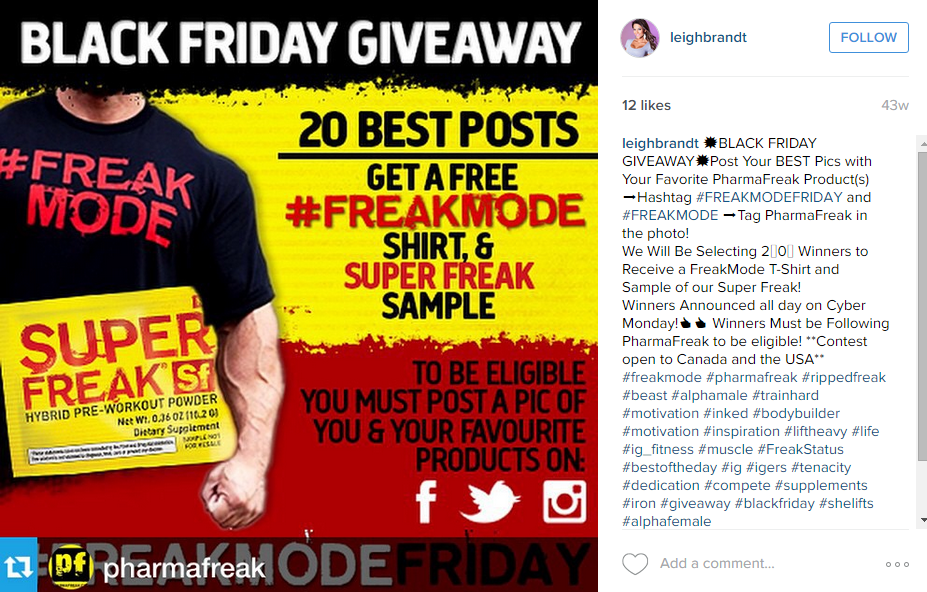 This one requires a post of a picture with your favorite PharmaFreak product, as well as two hashtags to enter. Note that the instructions are in the photo itself as well as the description on the right. Also note that entries can be on Instagram, Twitter, or Facebook.
On Instagram, make sure at least one of the hashtags is unique to enable easy searching for entries. This giveaway also asks for people to follow, and other 'asks' could include tagging or commenting.
4

Black Friday Idea #4: Instagram Free Shipping Promo

You don't have to run a Black Friday giveaway or contest if you want to get a jump on holiday sales. You can simply post your special offers on your social networks, like this one from Hollister: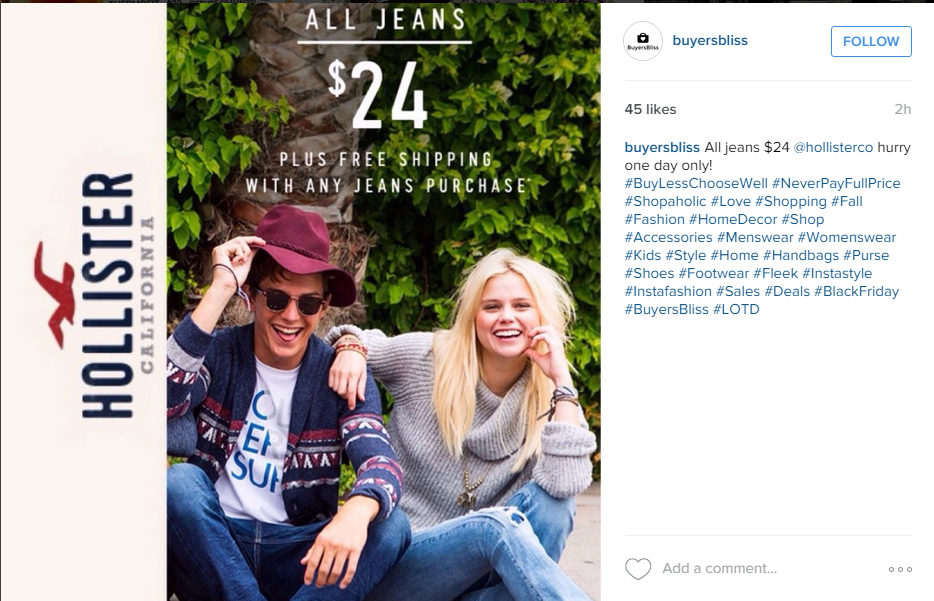 Whether it's free shipping, a storewide discount, or coupon code, if you have a large following your promotion can give your sales a boost. It also helps to create a sense of urgency with a 'one day only' promotion like this one.
Even if your promotional pricing will run on one day only – Black Friday – you can build anticipation for it by promoting it before the day, and even tying a giveaway in to ask fans to Repost the news.
5

Black Friday Idea #5: Twitter Follow with a Threshold

If increasing your follower base on Twitter is a priority, consider a promotion that kicks in when you reach a certain number of new followers.

Here's an example from ReQ eSports:

Whether you're trying to get 200 or 2,000 new followers, a giveaway with a threshold can be effective if your prize is desirable. To be really effective, you'll want fans to Retweet the promotion to increase its reach. In the promotion above, the 'RT' at the end may not be noticed, so try including something like 'Retweet and Follow' in your tweet. And hopefully fans will know what the prize 'KF' is!
6

Black Friday Idea #6: Offer Bonus Entries on Instagram

The giveaway ideas above ask for some type of action to enter. But to make your giveaway more fun and ask people to do more, consider offering a bonus for additional actions, like 'thebluebarn' does below: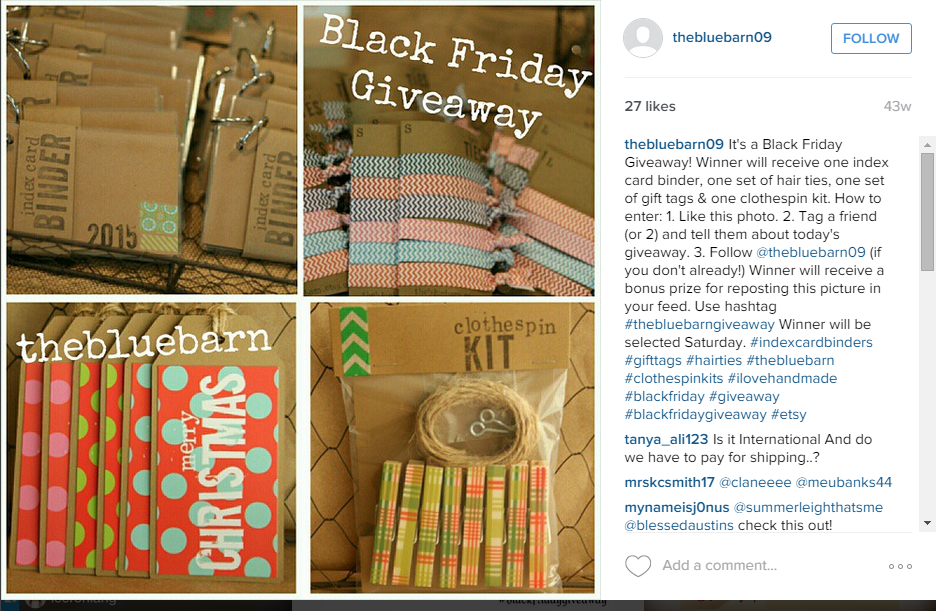 They ask for people to like, tag a friend, and follow to enter. And the winner will receive a bonus prize IF they also Reposted the picture. This provides an incentive for everyone to repost it, giving thebluebarn some nice brand exposure.
Another way to offer a bonus for additional actions is to offer additional entries for each action. For example, like the photo for one entry, and comment for an additional entry.
7

Black Friday Idea #7: Offer Bonus Entries on Twitter

You can ask people to do multiple actions to enter your giveaway, as long as you can track their actions, like Josephs Clothiers does: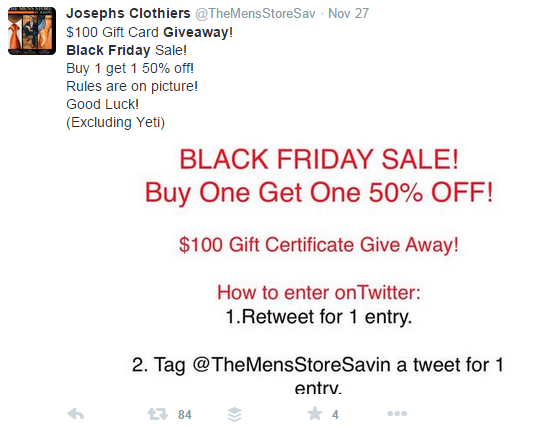 A Retweet gets one entry and an additional entry for tagging (mentioning) them in a tweet. One suggestion we'd have for them is to ask for the tweet to tag them and include a #hashtag, so they can track who is responding to the BOGO giveaway. Otherwise, they won't know if someone just happens to be mentioning them for some other reason than to enter the giveaway.
Rignite Insight:
For all of your holiday campaigns, make sure you create of steady drumbeat of social media posts to attract as many fans as possible. Don't assume they'll see your one post in a sea of holiday posts. And don't forget to cross-promote your campaign on your other social networks with a link to your promotion post. You can do these tasks easily in a software platform like Rignite.
Black Friday represents the official start to the crazy holiday buying season. Be sure to warm up your fans and reach new ones with engaging, enticing images, giveaways, contests, and good old sales. You'll then be prepared to get the most from your promotions throughout the holiday season.
Easily Run Black Friday Campaigns on Social Media Using Rignite
Rignite is a software solution that makes it easy to run social media campaigns to promote your business for Black Friday. With Rignite you can:
Boost engagement by requiring social actions for entry–post likes or comments, tweets with a photo and hashtag
Reward more than one winner to attract more participation
Cross promote across both Facebook and Twitter with a series of posts
Get campaign level reports showing which posts were most effective
Sign up for a free trial today!