October 2, 2015
6 Ideas for Thanksgiving Social Media Campaigns
Thanksgiving brings us images of turkeys and family gatherings with big feasts. But is it also a good time for a Thanksgiving campaign on social media? Perhaps a promotion, giveaway or contest?
The answer is a resounding YES! As people prepare for the holiday buying season that starts with Black Friday the day after Thanksgiving, they are open to engaging offers that get them into the swing of things. In fact, while you're thinking of Thanksgiving campaigns, you might as well check out these Black Friday ideas for social media campaigns, as well as these great Cyber Monday campaigns.
That means this is a great time to market your products and services, even if you aren't selling turkeys. But you may need to focus your Thanksgiving social media campaign on fun engagement rather than purchases in order to warm people up to you. If you're not sure how to create a unique, Thanksgiving campaign on social media, read on.
Here are 6 Thanksgiving campaign ideas which will help build your brand on social media while having some holiday fun:
1

Thanksgiving Campaign Idea #1: Facebook Like or Comment Giveaway

A simple but effective way to get fans engaged on Facebook is a Like or Comment giveaway. You simply ask fans to do one (or both) to be entered.

Here's one from Wicked Gourmet: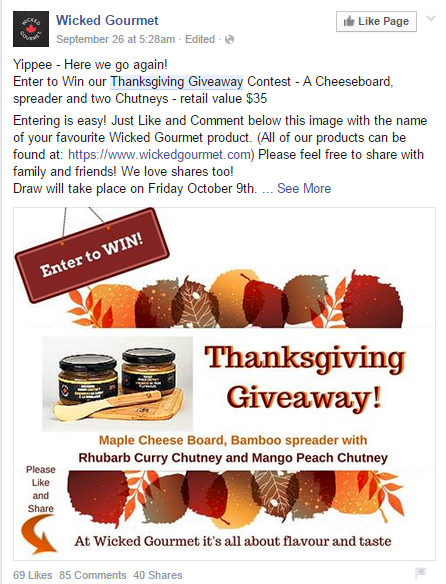 It has clear instructions, a picture of the prize, and warm fall colors. With a fan base of about 1,000 at the time of the giveaway and 85 comments this promotion was a big success with an 8.5% engagement rate.
You can even promote (a.k.a. boost) your post with Facebook ad budget to increase the reach of your post. Reach a greater percentage of your fans or target specific audiences if you have the budget.
2

Thanksgiving Campaign Idea #2: Instagram Hashtag Giveaway

Thanksgiving and Jewelry are great visual opportunities, and Instagram is a perfect network for a #hashtag giveaway. @IKANDYHAWAII ran a jewelry giveaway with simple instructions in the photo itself.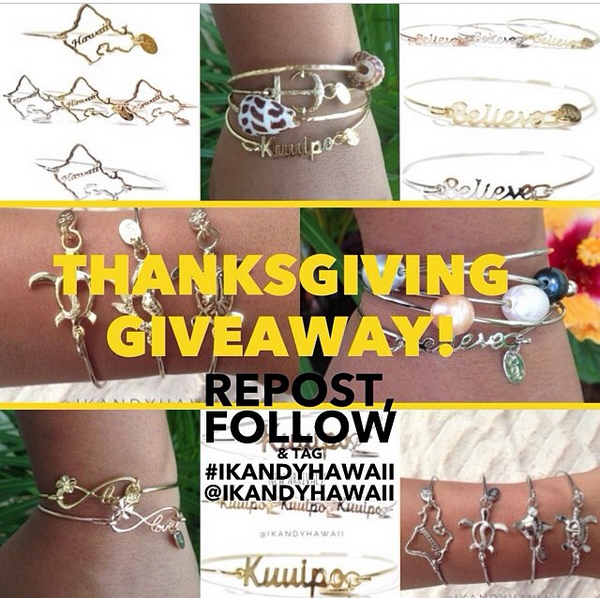 This type of giveaway asks people to Repost it, thus increasing its reach. With clear instructions on the photo itself, there's no need to worry about crambing instructions into the description/comment fields. Other 'asks' often include a Follow, and Tag in addition to using a hashtag for tracking purposes.
3

Thanksgiving Campaign Idea #3: Twitter Hashtag Giveaway

Giveaways on Twitter can get great reach quickly. A common one is to require a tweet about something using a hashtag. It's easy to create and for people to enter.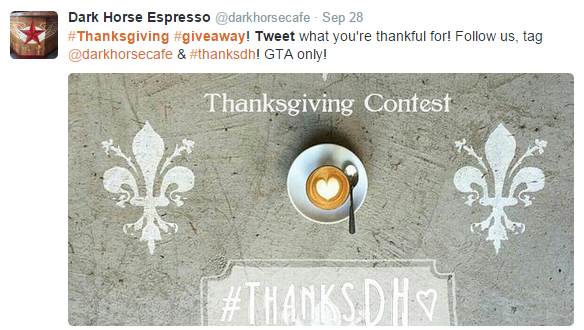 Other 'asks' include asking for a Mention (Tag), Follow or Retweet. One problem with the promotion above was that it's not clear what is being given away, so this may have decreased its appeal. We assume it's coffee related!
If you create a unique hashtag, then it's easy to search for entries. If it's not unique, then you'll want people to @mention you in addition to using the hashtag in order to enter.
4

Thanksgiving Campaign Idea #4: Instagram Discount Promo

You don't have to run a Thanksgiving giveaway or contest if you want to get a jump on holiday sales. You can simply post your promotion with a store-wide, site-wide, or coupon code sale. If you're posting on Instagram like Shopessyli.com below, be sure to include details on the photo so it attracts more attention.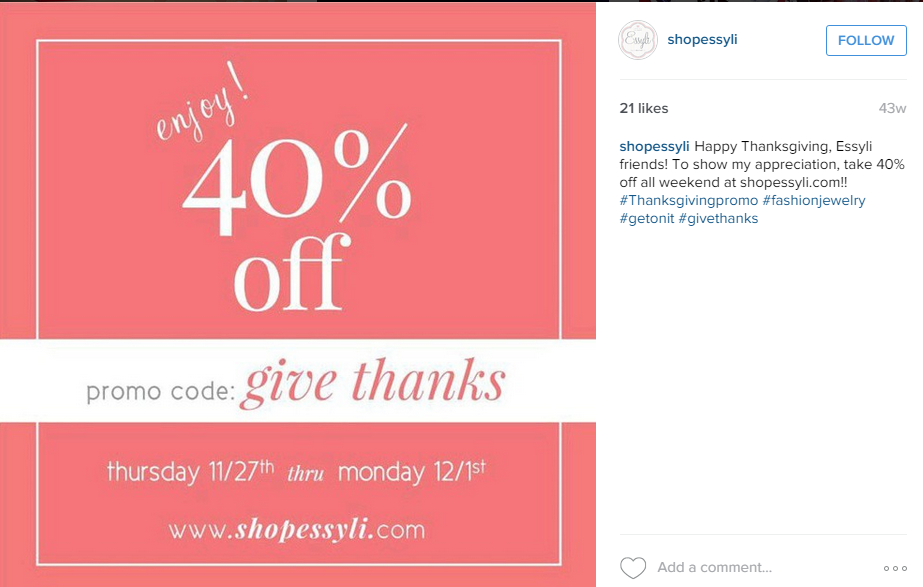 That way if it's Reposted by others, the promotion will clearly stand out.
5

Thanksgiving Campaign Idea #5: Twitter Photo Contest With a Sense of Urgency

For greater visual appeal and attractiveness to others, consider a hashtag photo contest on Twitter, which requires people to post an original picture. And as your campaign is nearing its end or deadline be sure to create a sense of urgency.

Georgia Power got a ton of great pictures from which to select the winner, below.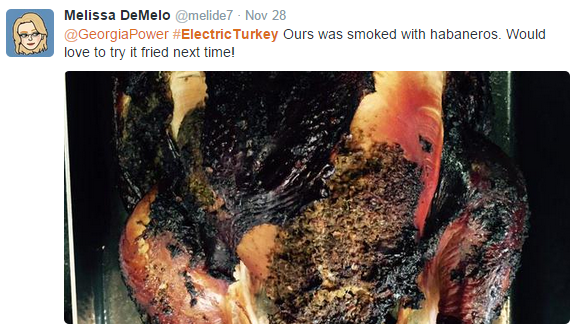 This Thanksgiving campaign got great emotional response and captured the visual opportunity of the holiday!
6

Thanksgiving Campaign Idea #6: Create a Challenge

If you've got a large audience or a more valuable, desirable prize, you can try to make your audience work a little harder to get it. In this Instagram Thanksgiving campaign, Innovative Percussion asks for a lot!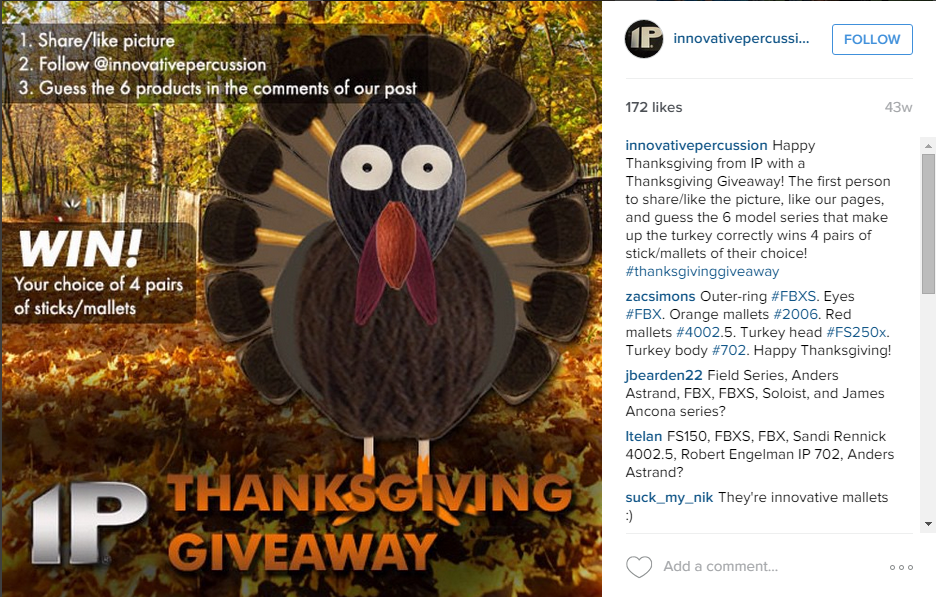 They ask for people to share, like, follow, and comment to enter to win 4 pairs of sticks/mallets. The hard part is the comment – you need to guess the 6 product model series that make up the turkey picture! Whew, that takes some dedication to research all that.
Rignite Insight:
For all of your holiday campaigns, make sure you create of steady drumbeat of social media posts to attract as many fans as possible. Don't assume they'll see your one post in a sea of holiday posts. And don't forget to cross-promote your campaign on your other social networks with a link to your promotion post. You can do these tasks easily in a software platform like Rignite.
Thanksgiving is a great holiday to warm up your fans for the buying and gifting season. It's filled with warm emotions that offer many opportunities for you to tap into these feelings with visuals and exciting giveaways. This year, get a jump on the holiday buying season as a creative marketer!
Up Next
Black Friday social media campaign ideas
Cyber Monday social media campaign ideas
Hanukkah ideas for social media campaigns
Easily Run Thanksgiving Campaigns on Social Media Using Rignite
Rignite is a software solution that makes it easy to run social media campaigns to promote your business during the Thanksgiving season. With Rignite you can:
Boost engagement by requiring social actions for entry–post likes or comments, tweets with a photo and hashtag
Reward more than one winner to attract more participation
Cross promote across both Facebook and Twitter with a series of posts
Get campaign level reports showing which posts were most effective
Sign up for a free trial today!