January 22, 2014
How to Build a Social Media Following on a Budget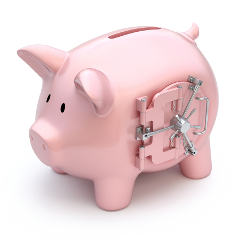 Although you may be an ambitious, world-conquering business person, we realize that you don't have all the advantages of the big brands. Your budgets aren't limitless and that can create some unique challenges – like building your social media following.
Challenging doesn't mean impossible, however. We've got your roadmap for building a social media following (and "spend a whole lot of money" isn't anywhere on it):
Follow best practices
First things first – prepare your profiles for all the new onlookers you'll be attracting. Take the time to build your social media presence the right way and update them regularly. That means always keeping your profiles active with engaging content that resonates with your audience.
Perfect the basics
Ancient Chinese social media philosophers say, "You have to crawl before you can use the advanced features of social platforms," and who are we to disagree with ancient philosophers of any kind? Follow these basics as first steps:
Include a link to follow, like, connect, circle, etc… within employee email signatures, all brand communications and on your website.
Include your social media info on your business cards.
If you have physical stores, print the info on in-store signage.
Don't just say, "Like us on Facebook" or "Follow us on Twitter," etc… Include your social profile's URL or give them a hyperlink to click on. (You want to make it as easy as possible to follow you.)
Promote your social profiles to your email list. Beyond just mentioning the channels in normal emails, run a specific campaign that gives people an incentive to follow your channel.
It may seem odd, but inviting friends on your personal account to like your page/profile is an excellent way to get a jump start for your following.
Post a link to all your social profiles from all your other profiles – if people follow you in one place, it's likely they will want to follow you in others too.
Building Your Facebook Following
Building a following on Facebook isn't as tough as it may seem, because Facebook offers you features and tools to do just that.
Use promoted posts – spending even $10 can dramatically boost the reach of your posts.
Host a contest that incentivizes fans to share your post and like your page.
Study Facebook Insights to understand what is working for your audience and what is not (and then, of course, do more of what is working). Pay particular attention to the time of day – timing has a big impact on your posts' reach.
Like-Gate an exclusive offer. Offering incentives such as coupons, exclusive offers and valuable content to anyone who likes your page is a great way to gain likes and drive sales at the same time.
Run "page like" ads using a compelling cover photo image. You can specify whatever budget you have to spend, and even a limited budget can grow your fans slowly and steadily.
Rignite Insight: NEVER buy "likes" from services that claim to be able to get you "500-5,000 likes in just a few days!" These companies use bots to create multiple automated accounts and they are not potential customers. Having them in your following will interfere when you promote a post to people who like your page and their friends.
Building Your Twitter Following
A little bird told us that growing your Twitter followers isn't so hard to come by, when you know a few tricks and tips to get the most out of your tweeting.
Host a contest that encourages retweets and new followers.
Pay to promote your profile for a while. Tell us if you've heard this one before, but even a small spend can have good returns.
If you run them, target your Twitter ads to make sure you reach the most relevant audience (instead of broadcasting to everyone).
Use hashtags when you post about topics that your target audience is likely to be interested in. They're checking the hashtags already, make sure you show up.
Find and follow people in your target audience. Many times they will follow you back. Keep in mind that Twitter limits the number of people you can follow based on your follower/following ratio – use 3rd party tools to watch and manage this ratio for you.
Stay engaged with influencers. Keep them on a watch list and take any opportunity you see to retweet their posts, engage them in direct conversation or help them out if there's something that they need. (Of course, be sure it's something you can actually help them with – under-delivering is a real turn off.)
Building Your Instagram Following
Probably the newest of the major social platforms, Instagram, provides its own unique challenges when building a following. The good news is, challenges are just opportunities in disguise (yep, those Ancient philosophers again).
Use hashtags so that people looking for photos like yours can find you easily.
Geotag your photos – not unlike the hashtags, geotags will help people looking for photos in your area, find you.
Take the time to post quality, valuable, engaging images that align with your brand – blurry selfies need not apply.
Follow potential customers to raise awareness of your business and take advantage of the 'follow-back' instinct.
Leverage the "suggested friends" tool to find people who might enjoy your account and follow your business.
Keep your account public – it kind of goes without saying (until we say it anyway) that if people can't see your profile, they're not likely to follow you.
Building Your Pinterest Following
Pins and Shares and Likes – Oh my. The darling social media platform of 2012 has become a giant cog in the social media marketing world. If your target audience matches the Pinterest demographic (namely, female), then building a Pinterest following is probably not optional.
Gain followers by following people. Ok, that seems obvious, but specifically watch out for potential followers that are:

People who are popular in the same space as your brand
Regularly pinning interesting, high-quality and relevant pins
Someone you would like to follow you

Include relevant keywords in your pins so that you get SEO benefits that make it easier to find you.
Create niche boards for a more specialized feel that will ring true with people who are very passionate, thus more likely to follow you. Keep these boards active and current.
Consider promoted pins – this is Pinterest's newest advertising offering and should help you connect with new followers.
Don't let a limited budget be your excuse for not having a large audience on your social media. Create great content and use some specialized techniques to make building your following just one more hurdle you surpassed. (Go you! Sorry… we're done now.)
Tell us: Do you have any favorite tips for growing your social media following?
Easily Grow Your Following On A Budget Using Rignite
Rignite is a software solution that makes it easy to run campaigns that'll grow your following. With Rignite you can:
Attract new followers with a coupon offer
Encourage followers to share your offer with their networks, by setting a threshold number of new followers required before the coupon gets shared
Win sales from coupon redemptions
Get campaign level reports showing which posts were most effective
Sign up for a free trial today!