September 26, 2013
Get Control of Your Social Media with Rignite's New Features
At Rignite, our goal is to make your job easier and help you accomplish more in less time. We're continually building new features geared toward doing just that.
Over the summer (I can't believe it's Fall already!) we launched a completely redesigned look and client interface, and powerful new social features.
Here's What's New
Monitoring Social Media
Staying on top of your game in social media means posting regularly, being quick to respond when your community members engage with you, and finding conversations that you want to jump in on—whether it's to initiate a new relationship or nurture an existing one.
In our new UI, we've packed a lot of monitoring goodness into one tiny place. Take a look at this snip-it of how we've simplified the posting and monitoring experience in Rignite.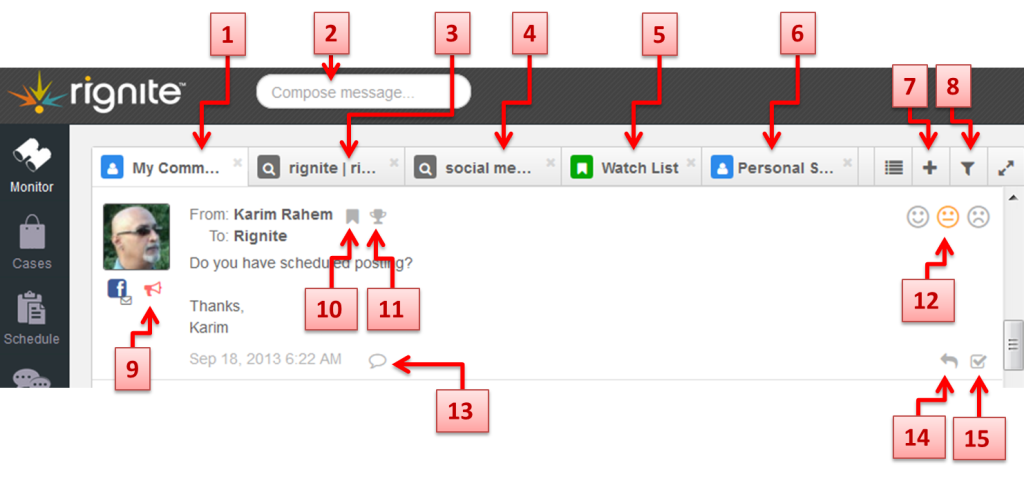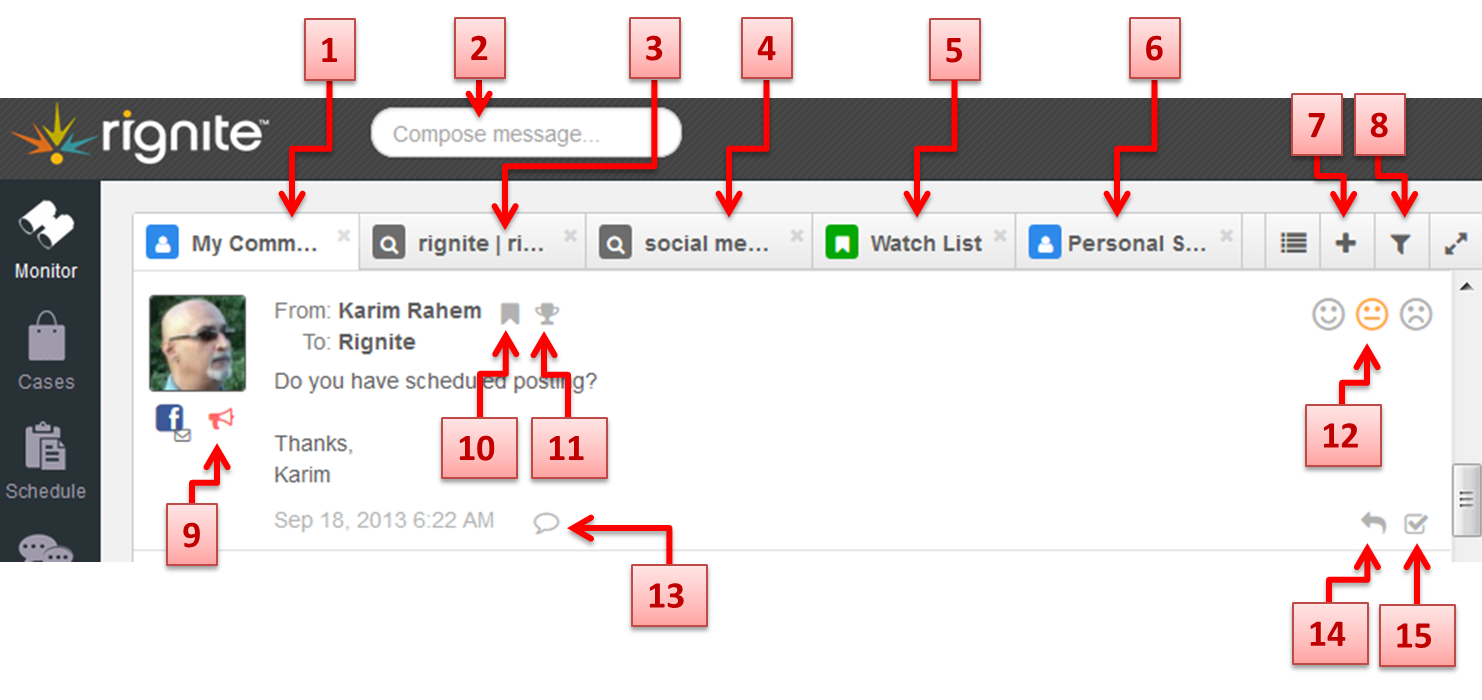 1. Monitor and engage with your fans/followers
2. Post now or schedule to multiple networks
3. Monitor your company, brand, and products
4. Track conversations using search keywords
5. Monitor people on your WatchList
6. Separate your personal social stream view
7. Add new tabs to monitor
8. Filter by social account, post type, VIP etc
9. Identify important social influencers
10. Add people to your WatchList to monitor
11. Designate people as VIPs for special care
12. Easily see Positive or Negative sentiment
13. View comments, replies, & likes on posts
14. Engage – reply, comment, like, re-tweet
15. Assign this post to a team member
Filtering Search Streams
Monitoring multiple profiles can get messy.  Especially when different social profiles have different monitoring needs. Maybe you want to separate personal from professional accounts.  Or maybe you want to keep private messages on your Facebook page separate from the more public engagement of post likes and comments. In Rignite you can now:
Create monitoring streams for one or more social profiles per stream
Segment your monitoring streams by social channel and/or message type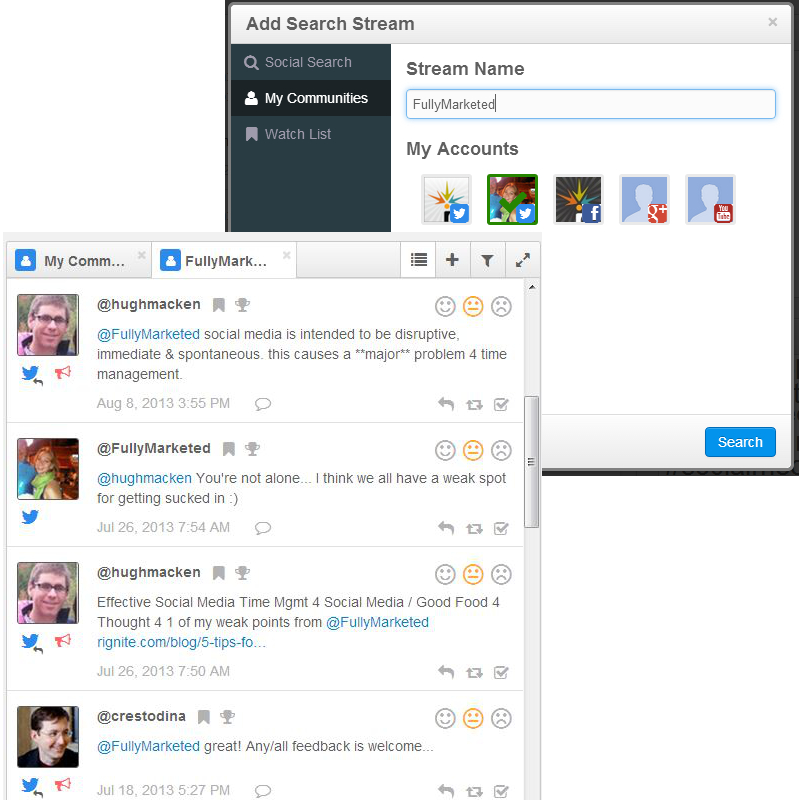 Scheduling Posts
We've enhanced the user experience for scheduling posts with a calendar view, where you can:
Drap and drop to move scheduled posts to a different day and time
Get a snap shot view of what you've scheduled on Twitter versus Facebook with icons to indicate social channel
Click on each post to see a preview of the contents of the post
Quickly edit, pause, or delete a scheduled post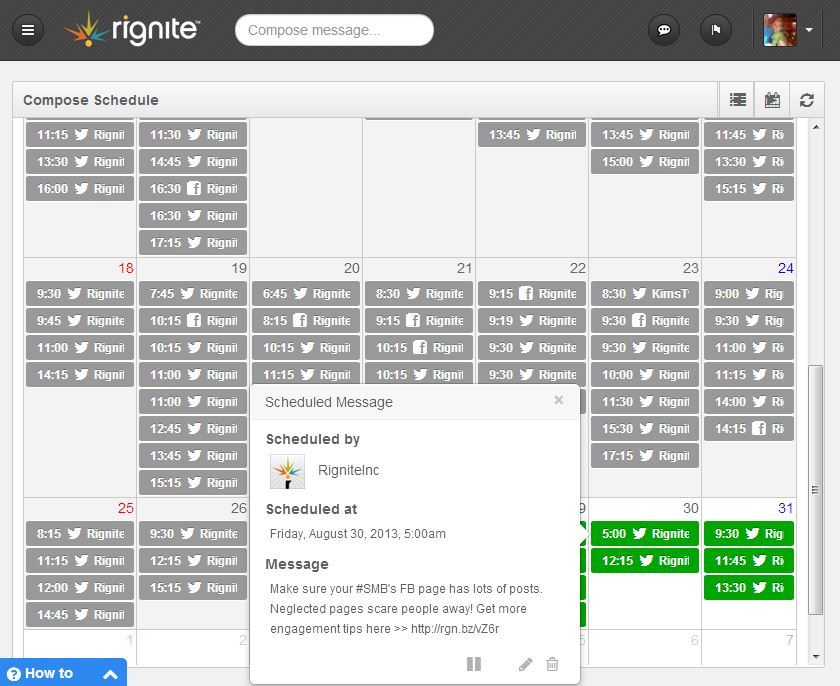 What's Next?
You tell us!
Post your feedback in the comments below.  What features would you like to see us add?