March 22, 2013
5 Lessons From Downtown Abbey in Branding Your Business
It's no secret that the PBS drama "Downton Abbey" has taken this country by storm.
But how did PBS—an underdog network to high budget competitors like HBO—win such a successful following? There are lessons to be learned here for companies who are looking to use social media to increase brand awareness and grow their reach to new prospects.
The Numbers and Social Proof

Downtown Abbey is so embedded in our culture that in writing this post, I came across tons of references without even trying. When the New Yorker publishes a cartoon in which a prison inmate is updated on the latest Downton plot developments you know you've hit a nerve. Now that's the stuff memes are made of.
And when you're getting frequent press coverage by USA Today, The Today Show, and The Huffington Post it's clear you are doing something right.
But it's not just a bunch of fly-by-night buzz. There are real results to show. January's second-season opener drew 4.2 million live U.S. viewers. That number increases to 6.3 million (and counting) when including replays and online views.
But it's the social media story here that gives "social proof" a whole new spin and shows how PBS, not typically known for drawing younger viewers, has suddenly given itself a new acronym: Public Broadcasting is Sexy.
Here's Their Laundry List of Social Media Wins:
During their win at the Golden Globes, Twitter announced a peak of 6,162 tweets-per-second for conversations about the show. That's more than last year's Super Bowl and the Royal Wedding.
Oh, and how many Twitter followers do they have? A mere 200,000 and counting.
Cast interviews on YouTube get about a million videos per week. Season 2 videos have been viewed over 340,000 times. And videos created from a sneak preview event captured nearly 100,000 views.
The Downton Facebook page shows over one million Fans, with loyal engagement, including a steady and continuous stream of reactions to the Season 3 finale, even weeks after the final show had aired.
So how can you emulate this social media success for your brand?
5 Quick Tips on How the Buzz Was Won
1. Use each social channel uniquely, to promote different aspects of your brand
Downton's Facebook Page uses quotes and clips highlighting the cast, and particularly Violet (Maggie Smith), one of the show's most colorful characters. It also has a sense of humor, playing on memorable lines. A fun "Do the Downton" app encourages users to upload photos of them holding a drink "Downton style."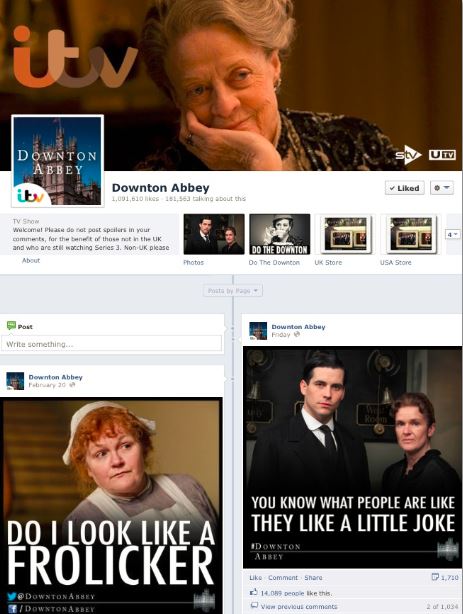 Twitter uses the voice of the servants, and highlights links to videos, news from the set, and makes great use of hashtags, while Google Plus is used for chats about plot and storyline.
YouTube features cast interviews and behind the scenes backgrounders.
2. Seize the moment and piggyback live events
Downton used paid tweets and tweetchats timed to coincide with key episodes, such as season premieres and finales, resulting in record engagement from their fan base and social community. A live chat with Hugh Bonneville (Lord Grantham) had 4,900 live readers and 2,100 comments. The Laura Carmichael (Lady Edith) chat had 4,200 live readers and 1,700 comments. A live event in New York before the premiere of Season 2 was jam packed, and used for video promo as well.
3. Show your fans in action
A recent Twitter stream showed hundreds of fans posting photos of their living rooms and TV sets on Sunday nights, showing their contagious enthusiasm.
4. Give the fans what they want
PBS listened to its fans and fed the growing frenzy of requests for continued content—from recipes, to fashions, to historical milestones—with videos, photos, and chats. In this interview with PBS executives, Olivia Wong and Kevin Dando discuss the role of social media and Downton's soaring popularity.
5. You don't need a huge budget to be successful.
The social media for Downton is highly organic. It's clever but simple, and without a lot of fancy promos or big spend ad campaigns. Proof that you don't need a huge budget to be effective.
So if you're one of the few who hasn't yet grabbed your "Free Bates" t-shirt and started following and sharing all things "Downton," the time has come to watch, learn, and enjoy the social experience.
In the meantime, I must go. Some of us have apparently heard… the dinner bell?
What do you think? Are you a fan of "Downton Abbey" and its social media? What takeaways do you think businesses should consider?