February 19, 2014
4 Steps to Insta-Success: How to Use Instagram For Your Business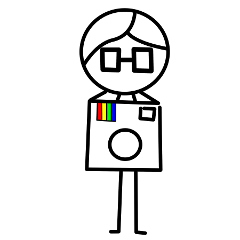 If your company doesn't have an Instagram account yet, hop on your cell phone and fire it up immediately! All you need is a catchy username, and a few photos to get started. These days, more and more consumers are checking their social media on the go, and there's no better way to get their attention and get to know them than through perfectly filtered photos. I'm sure you're wondering how on earth you are supposed to market to your customers solely through images, but don't worry, we've got the answers for you!
We've boiled it down to four main themes. Essentially, your Instagram account should provide your customers with exclusive access to special deals, and an insider's view of the goings-on at your business. Furthermore, your account should be engaging, and most importantly, everything should be done in moderation – nobody likes an overly active social media account, and Instagram is especially sensitive to this!
1

Exclusivity

Our society thrives on exclusivity. Everyone wants the gold iPhone, not silver, not black. Not only do we want what's most coveted, but we want it before everyone else. We're all guilty of yearning for this VIP treatment and first class service, in whatever form we can get it! Instagram is no different. One of the best ways to provide exclusivity to your Instagram followers is posting a special code in the form of a photo and letting your followers enter it on your website at checkout. Giving them, and only them (don't post it on any other social media channels), this special attention is what will keep them coming back. Posting these deals shouldn't be an everyday occurrence – sporadic "Instagram followers only" deals make them that much more desired. Not only is it showing appreciation to your followers, but your website will undoubtedly see a spike in traffic!
2

Insider's View

Instagram hasn't always been about marketing and advertising. In fact, most people view it as sort of a private place to share photos of themselves, their friends, and their surroundings. So definitely steer away from making your company's insta-motto "sell, sell, sell!" Most people following your brand are going to want an insider's view on what's really going on behind the scenes. If I'm following your brand, I am interested in not just what you make (I already know your company, I've "followed" you on my own volition), I want to see more. In other words, entertain me!

Here's a juxtaposition of two companies I follow. One does a great job of showing me around their offices, introducing me to their staff, and giving me a peek into their meetings. The other just shows me the same $800 shoes every day.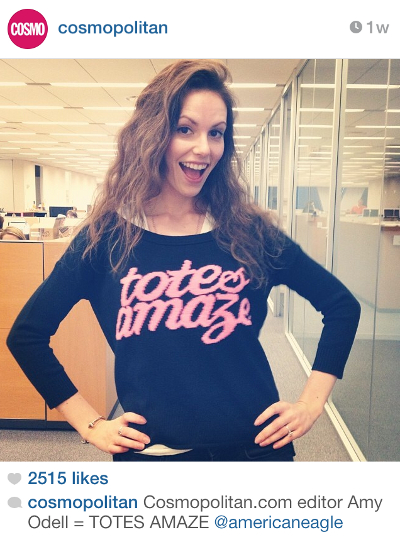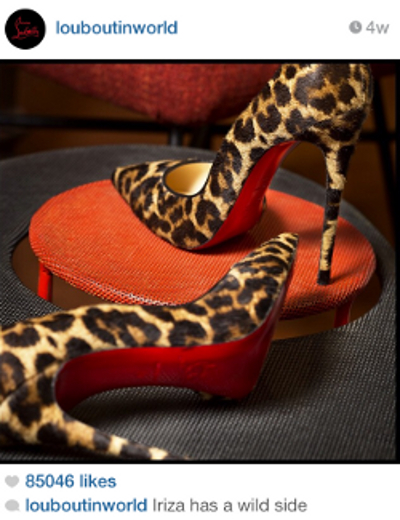 Yes, Louboutins are pretty. But I see no personality, or life within their brand day after day. Their red soles just mock me until I can afford to buy them. Adding personality makes your brand more likeable than you already are. Like I mentioned before, your followers are posting personal photos – assimilate!
3

Engage

Now that we're on the same page about getting on your followers' level visually, let's talk about engagement. You should follow your followers back. Heck, shoot them a like every once and a while. The things I would do for @marcjacobsintl to like one of my photos… Remember, appreciation of customers (and potential customers) is very important! Following your customers back also gives you a better sense of who they are. Which of course, will drive what you should be posting to capture their interest.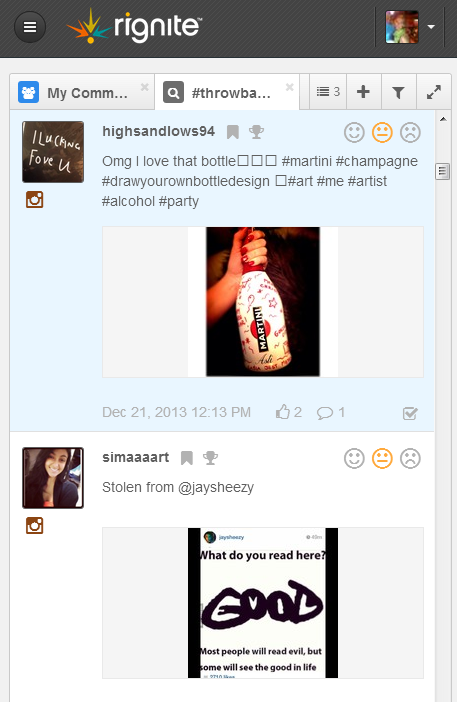 One last engagement tip is to make use of hashtags.
Have you heard of #ThrowbackThursday? Insert it into one of your search tabs on Rignite , and you'll surely be flooded with tons of Instagram posts!
Here's what it looks like in Rignite >>
On Thursdays, it's popular to post an old photo of either your cute, toddler self, or an event / special moment from the past. There are tons of other Instagram hashtags that your business can catapult themselves into the Instagram-sphere with. #FeelGoodFriday #BestOfTheDay #Repost (maybe one of your followers' photos!) – they change frequently, but stay on top of it and you'll fit in perfectly.
Here's an example of a clothing company, Aritzia, jumping in on the #ThrowbackThursday bandwagon: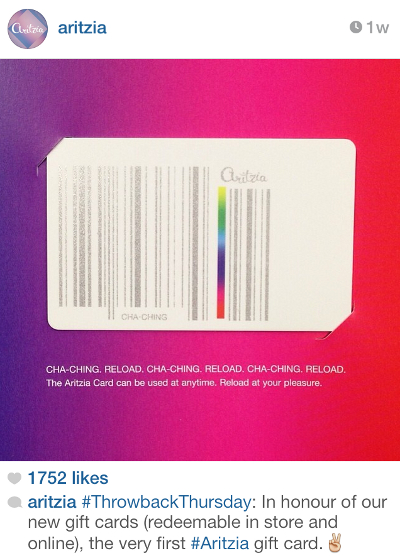 4

Moderation

Everything in moderation is a phrase I hold near and dear. I apply it to most things in my life, and your company should certainly apply it to their Instagram account. On Twitter it is fine to line up posts almost hourly, since they're easier to miss on that platform of social media. However Instagram is a different situation – these posts are much more "in your face." And remember, you are posting photos among your followers' friends and family, don't over-intrude! This whole advertising on Instagram deal is fairly new, and you wouldn't want to overwhelm your followers. Keep this in mind, and you will be set.
10 Second Take-Away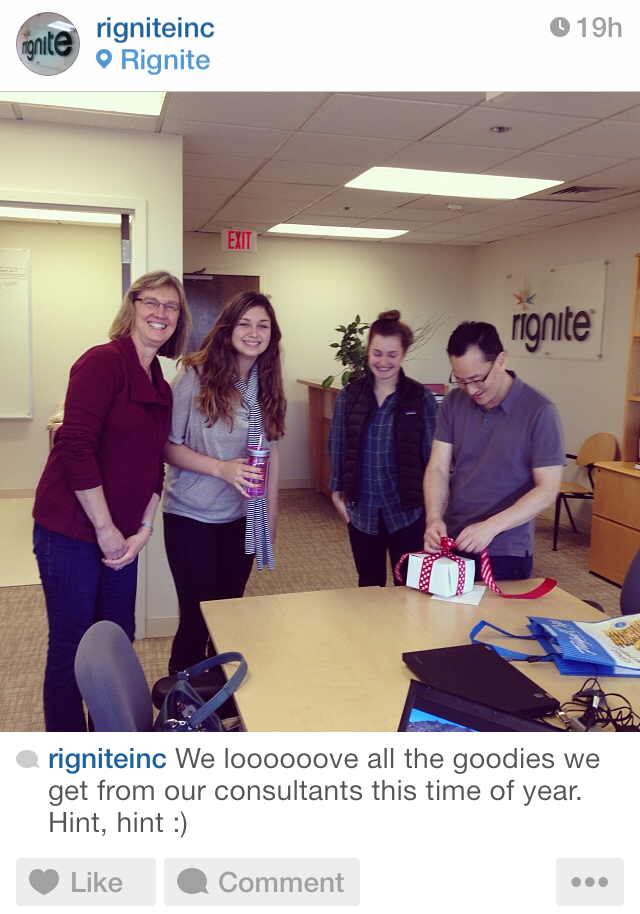 Instagram is one of my favorite forms of social media. I get to share with my friends where I am, what I'm doing, and best of all, whatever filter I choose makes everything look at least 10x better than it actually is. So have fun with your brand's account! Intersperse your advertisements with your more personal photos of meetings , office shots and team members. Don't forget to join the conversation and engage, whether it's liking photos, making use of hashtags, or whatever you choose.
In case you didn't know, Instagram is newly available to monitor from Rignite. If you haven't started your free trial, create an account now to track the success of your posts, and listen to the larger Instagram discussion with our tool!
Tell us… Have you tried using Instagram to promote your business?
Giveaway Advice for Instagram and More