October 19, 2015
12 New Year Campaign Ideas for Social Media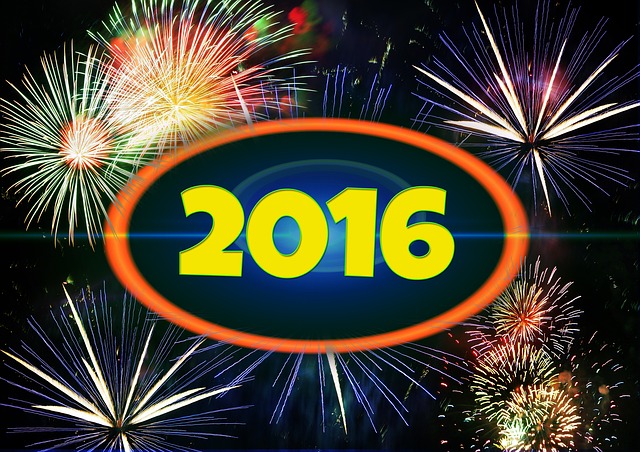 New Year campaigns can be exciting but challenging. How can you get people to engage after the busy holiday season and New Year hang over?
In order to pick your best promotions you'll want to generate a lot of New Year campaign ideas for social media. You should certainly review your previous holiday campaigns like Thanksgiving, Black Friday, Cyber Monday, Hanukkah, and Christmas for ideas as well.
Here are 12 New Year campaign ideas for social media that will help give you tips for promotions that will start your new year off with a bang:
1

New Year Campaign Idea #1: Facebook Comment Giveaway

Warm your fans up with a stimulating Facebook giveaway, like this one from Juice Works: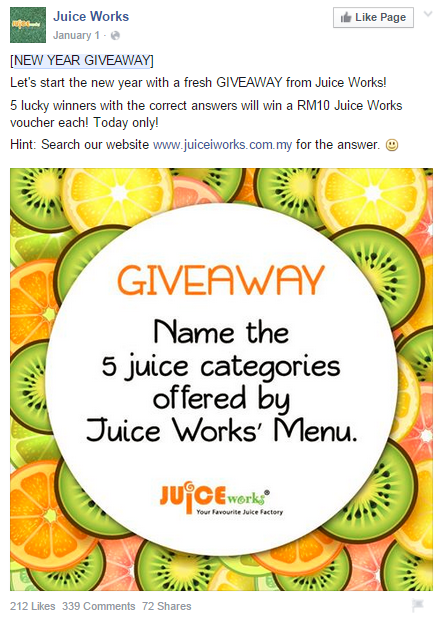 This New Year campaign idea uses many effective techniques:
Challenges people to name 5 categories in the comments to enter.
Directs people to the website for the answers.
Offers multiple winners, so more chances to win.
Has a sense of urgency, with 'today only.'
Includes attractive visuals with giveaway described on it.
With over 300 entries, it's clear that fans wanted the gift cards enough to research the answers on the webiste!
2

New Year Campaign Idea #2: Big Sale With Engagement

You can always run a big new year sale and drive people to your website, like this one from Carnival Cruise Line: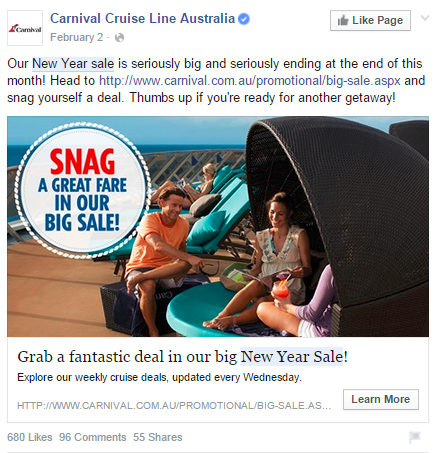 To generate more excitement and reach, they ask for a 'thumbs up' for people ready for a getaway. That's an effective, emotional way to get people to like, comment or share the post.
3

New Year Campaign Idea #3: Instagram Follow & Repost Giveaway

If you have attractive products and colorful photos, consider doing a #newyeargiveaway on Instagram: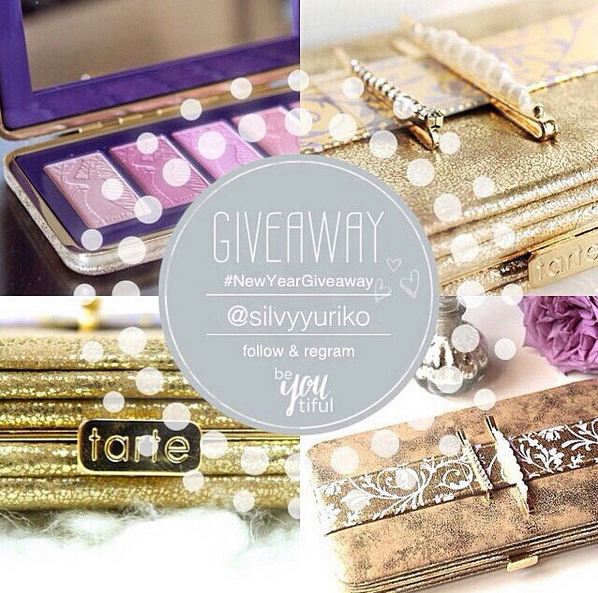 Asking people to repost your photo can be a great way to spread the word for your brand's giveaway, Don't forget to include the instructions on the photo, so when it is re-posted, others know how to enter.
4

New Year Campaign Idea #4: Run a Giveaway for Instagram and Facebook

Here's an unusual promotion which asks for your action on both Instagram and Facebook to enter the giveaway: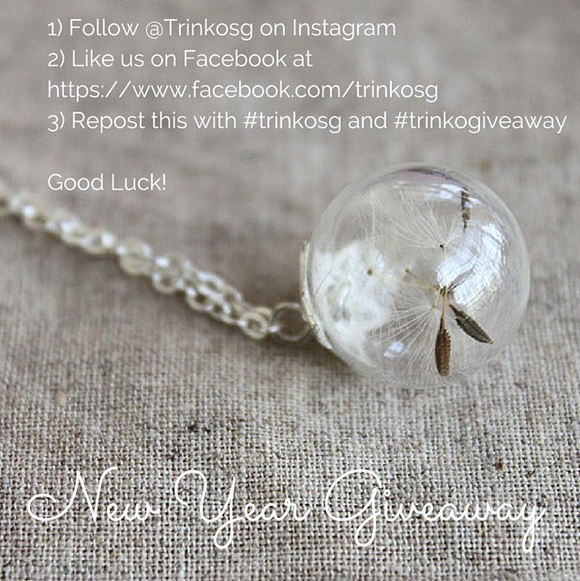 They ask for a follow and re-post on Instagram including two hashtags. In addition, they ask for you to like their Facebook page.
If you're giving away something valuable, rare or desirable, like the necklace pictured, you can ask people to do a lot to enter! But keep in mind that each step adds more friction to your promotion and can reduce entries.
5

New Year Campaign Idea #5: Twitter Follow & Retweet Giveaway

The tried and proven Twitter Follow and Retweet giveaway is always an option to consider: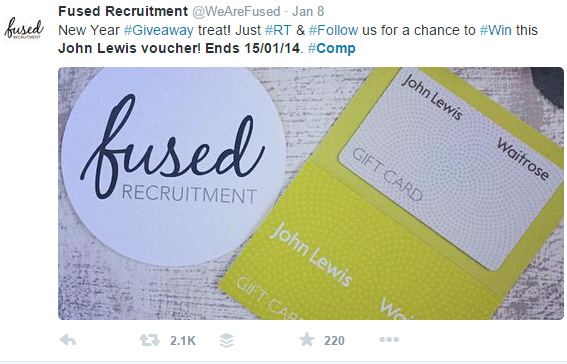 It's easy to run and track entries, and if you've got a desirable gift card or prize, the Retweets will help spread the word and get more reach and entries for your giveaway.
If you want to generate a little more creativity and make people work a little harder to enter, consider a 'Tweet with Hashtag' about a topic like a favorite product or flavor. You can even require a photo for entry, making your giveaway stand out more.
6

New Year Campaign Idea #6: New Year Limited Time Discount

To drum up business during potentially slow periods you can offer a large discount good for a specific time period: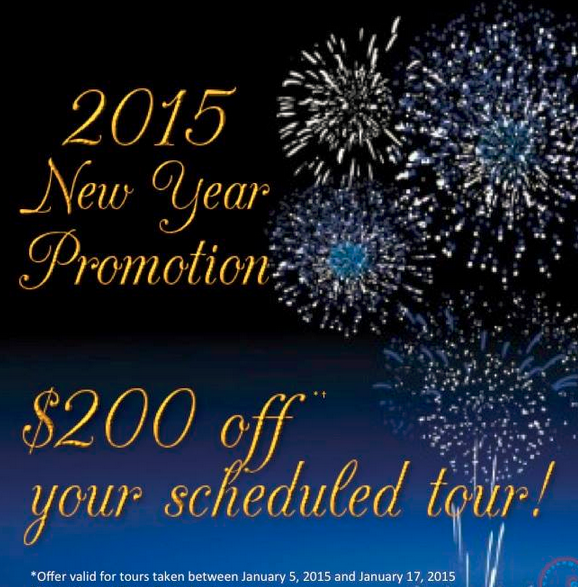 The fine print says the tour must be taken between Jan 5 and 17.
Whether you're running the promotion on Facebook, Twitter, Instagram or all your social networks, there are many ways to entice customers:
One day only, limited quantity sales
Free shipping, BOGO – Buy one get one free offers
Site-wide discounts, special purchase items, category discounts
7

New Year Campaign Idea #7: Grow Your Fans or Followers with a Giveaway

It's always nice to have large fan base to work with, so why not ask people to follow you or like your page to enter a giveaway?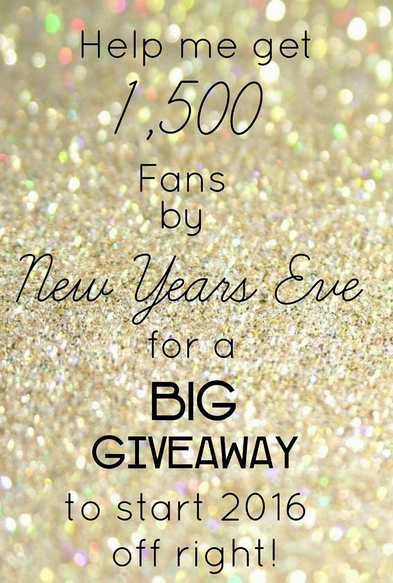 This  one makes it clear what they want, and all that glitter is attractive to make it stand out. There is one twist however. This was posted on Instagram with instructions to Like the page on Facebook.
Here's some tips for this type of promotion:
Try to include the prize description or picture in the image, to make your giveaway enticing
Be clear in the instructions how to get to your Facebook page (or Twitter)
Make sure there's a deadline to create a sense of urgency
Don't forget to cross promote on your other social networks.
8

New Year Campaign Idea #8: Run a BOGO Flash Sale

Some times you have to really have an irresistible offer to get sales-weary people to click, and BOGO sales can do this: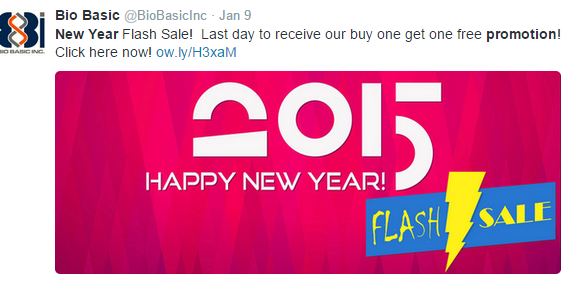 A BOGO – buy one get one free – promotion is an awesome way to get more sales, or perhaps clear out that Christmas inventory.
Adding a sense of  urgency with a flash sale – one day, limited time etc – is always a good way to maximize results.
9

New Year Campaign Idea #9: Simple Comment Giveaway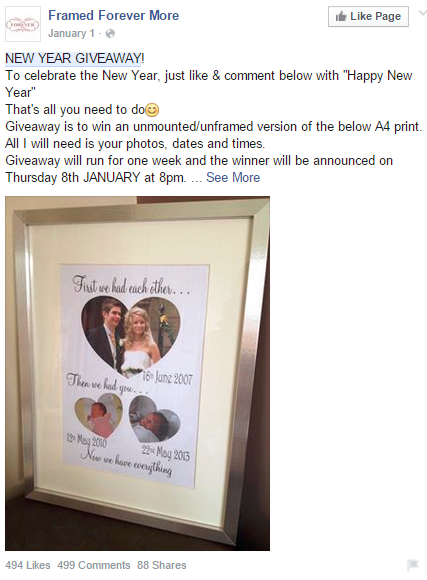 If you don't want your fans to think too much or work too hard, just tell them what to comment to enter, like "Happy New Year." This makes it simple to enter.
In this case, all those Happy New Year comments does also help to generate enthusiasm and positive emotions. It helps to suggest a comment that can generate the type of emotions that you want to support your brand.
10

New Year Campaign Idea #10: Cross Promote a Giveaway on Facebook

Here's a good example of a cross promotion for a Twitter Follow & Retweet giveaway posted on Facebook: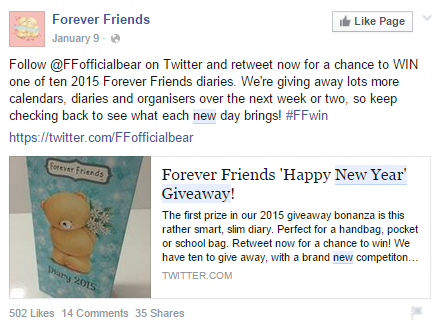 Notice the following nice things:
Link to the Tweet included to make it easy to click and Retweet
The Twitter account to follow is included
There's a cute picture in the post
Multiple winners
Even though this promotion is running on Twitter, you can see that it got over 500 likes on Facebook. So the promotion is spreading not only on Twitter, but on Facebook too.
11

New Year Campaign Idea #11: Tweet Your New Year's Resolution

What's a New Year without New Year's resolutions? Tap into this theme by asking for a tweet with hashtag: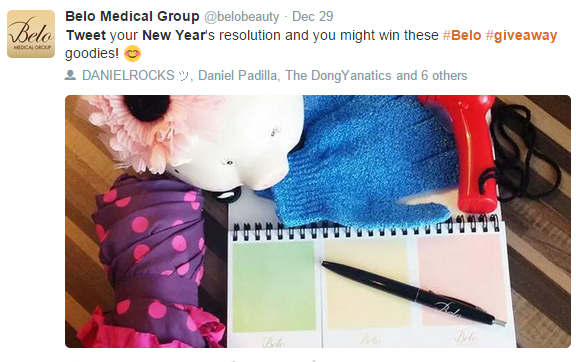 You don't need to be selling consumer products to run an effective giveaway. Even a medical office can give away something that its patients may want! Don't forget to include a great photo in your post.
You could ask them to mention (tag) you to make tracking entries easier. You could also run this on Facebook, asking for a comment to enter.
12

New Year Campaign Idea #12: Like Post Promotion

The most simple giveaway is a 'Like this post to enter' one. You can easily run this on Facebook or Instagram: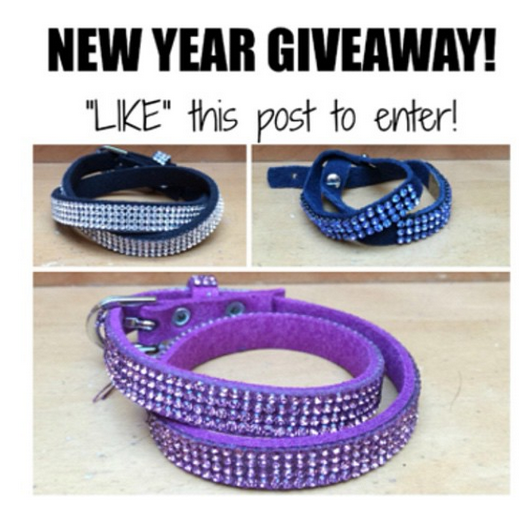 Be sure to include pictures of the prize, and entry deadline and rules in the description. For more variation, ask people to comment on something as well.
Rignite Insight:
For all of your holiday campaigns, make sure you create of steady drumbeat of social media posts to attract as many fans as possible. Don't assume they'll see your one post in a sea of holiday posts. And don't forget to cross-promote your campaign on your other social networks with a link to your promotion post. You can do these tasks easily in a software platform like Rignite.
Your New Year social media campaigns are important to reach new fans, increase engagement, and generate holiday sales. Be sure to have a campaign or two for each of your main holiday season goals.
Easily Run New Year Campaigns on Social Media Using Rignite
Rignite is a software solution that makes it easy to run social media campaigns to promote your business for New Year. With Rignite you can:
Boost engagement by requiring social actions for entry–post likes or comments, tweets with a photo and hashtag
Reward more than one winner to attract more participation
Cross promote across both Facebook and Twitter with a series of posts
Get campaign level reports showing which posts were most effective
Sign up for a free trial today!