November 21, 2013
The Ultimate Facebook Posting Cheat Sheet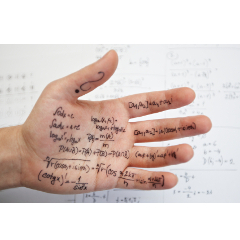 Today's guest author is Lynn McLeod, Product Marketing Consultant at Rignite. She blogs about how businesses can integrate social media into their overall marketing strategy.
Sometimes we think back to high school and remember when the teacher would allow us to bring one sheet of paper with notes on it to the exam. It wasn't enough room to fill out all the answers (unless, of course, you were a master of tiny script), but it was enough to help remember the crucial details at a glance. Such a useful tool should not be left to high school students alone – so we've created one to help you post great content to your Facebook stream.
Bookmark this article and keep readily available when it's time to post – that way you'll be sure not to miss any of the crucial details that will make your Facebook content successful.
Content — Brief, aligned with brand's tone and engaging
Post content that is engaging, relevant, timely, and reinforces your brand.
Keep posts between 100-250 characters.
Include a call to action —

help

your audience take the action that you desire.
Consider posing a question or using a fill-in-the-blank to encourage engagement.
Great images — Complement your content
Images add excitement and draw more people in. Including them increases your content's chances of getting noticed.

Facebook's algorithm gives more weight to posts with images – gotta work the system!
An image will make your post physically bigger and take up more space on followers' newsfeeds – sometimes size does matter!
Using images with saturated colors will make them stand out from Facebook's native white background.
Use clean, simple images to keep the focus on your content.
Your image must be uploaded from your phone or computer. If you use a picture that you found on the Internet (and are permitted to share!), be sure to save it to your desktop before posting.
Adjust the image size to 403 pixels x 403 pixels.
Make sure your image is not distorted or pixelated.
Make your message stand out even more by placing text on the image.
Use Links – Drive people to engaging information
Add a link to share an article or website that you think would be beneficial to your audience while keeping your post short.

Provide just a snippet of the information they will find through the link.
Type or paste the URL of the Web page that you want to share into the text field.

Be sure to include the "http://" section of the URL.
Including quotes from the article you're linking to will help keep the post relevant.
Give a personal touch to the link by sharing a brief comment as part of the post
Post Videos – Add variety and multi-media to your news stream
Videos are a great way to show off how-to instructions and offer a glimpse of "behind the scenes" looks at special events.
Keep the video short, sweet and to the point.
Use these instructions to upload your video.
Add a description when you upload your video – people will want to know what they're about to watch (and search engines can't index video to boot).
Edit to make videos look great before uploading – amateur-like videos make you look like an amateur.
Make sure the video starts with a title screen.
Final Checks – Make sure you're using Facebook like a pro
Mix it up — Use a variety of posts to keep people engaged. Posting an array of images, links, quotes, etc., keeps your audience interested.

Involve them even more — Facebook has a native questions app that is easy to use and allows you to poll your fans. Get them involved, and they're likely to keep coming back again and again.

Be consistent — Post regularly to stay top of mind. Don't disappear from your audience – aim for one post a day so that your audience gets in the habit of seeing (and seeking out) your content. Remember, out of sight, out of mind.
Find inspiration — Keep an eye on outlets that do a great job of posting content. Skinnygirl's Facebook page, for example, does a fantastic job with their content stream.
Measure Your Success – Posting is just the beginning. Be sure to see how effective your posts are (and plan future ones accordingly) by watching Facebook's insights. Specifically, watch for:

Reach – The number of people who saw your post. Increasing your audience size and encouraging sharing will boost this score, as will promoting your post.
Virality – The percentage of people who interacted with your post out of everyone who saw it. Increase this score by posting great content (of course), but also by specifically asking for shares, likes and comments.
So there you have it – the crucial details of posting to Facebook in one convenient sheet (note, we didn't say 'page'). Use this post to help make sure you're getting the most out of your Facebook content and remember that, unlike high school, it's ok to get 'inspiration' from someone else's work.
Wanna share notes? What's on your Facebook cheat sheet? Post yours in the comments below.