May 12, 2014
Social Media Coupons: 3 Twitter Coupon Campaigns to Inspire Your Marketing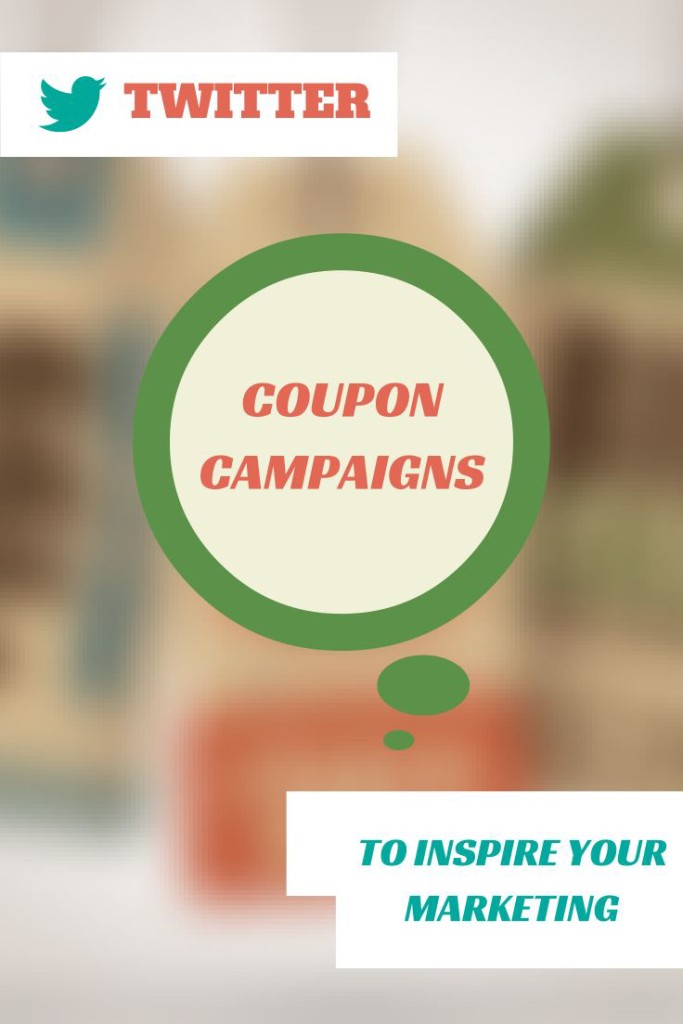 Our new social-media driven lifestyles have a lot of benefits: We get to know immediately which celebrities are dating, what our friends are wearing to the party tonight and which cats are the funniest. Mixed in with this deluge of "thoroughly useful information" though, are tangible benefits like social media coupons.
As a marketer, those digital coupons are an extremely attractive opportunity for social marketing campaigns. Coupon campaigns run on Twitter, especially, have the advantage of being:
Easy to run
Directly tied to driving sales
Great opportunities to engage prospects and convert them into customers
Effective at growing your Twitter following because current customers have a great reason to share
Easy to measure, since coupon redemptions are automatically tracked by your eCommerce/POS system
The coupon campaigns you can run are almost limitless – and that can sometimes be a bit of a challenge. To help you get the creative juices flowing (or just give you a great campaign to replicate), we've compiled some of our favorite Twitter coupon campaign examples.
1

Twitter Coupon Campaign Example #1: Gorjana & Griffin

Goal: Drive Sales
Social Channel(s): Twitter

About the Business: Gorjana & Griffin is a socially conscious lifestyle company that makes fashionable, high quality accessories for men and women. The brand has just under 6,000 Twitter followers.

About the Campaign: During a sale they were already running, Gorjana & Griffin ran a "secret" coupon campaign for an additional discount.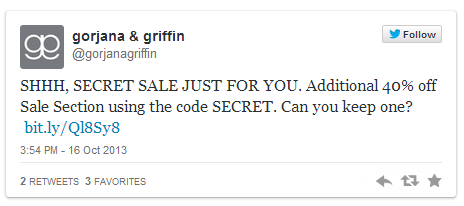 What We Like:
Exclusivity – By offering the "secret" discount exclusively to their Twitter audience (they didn't even post it to other platforms), Gorjana and Griffin rewarded their Twitter followers.
Coupon Code – The coupon code "Secret" is perfect for this campaign. Along with the question "Can you keep one?" Gorjana and Griffin were almost subliminally calling for people NOT to keep it a secret.
Irony – Here's a little secret: This post wasn't actually very secretive. The implication was that Gorjana and Griffin's followers were "in on a secret," when really their goal was to drive further sales through retweets and favorites (and gain maximum exposure of their original sale.)
For Even Better Results:
Include a Photo – Posts that include an expanded photo are more eye catching and increase clicks, retweets and favorites.
Evoke a Sense of Urgency – If Gorjana and Griffin had included a "limited time offer" or otherwise defined the timeframe on this coupon offer, people would have felt an increased sense of urgency to act quickly.
Require a Follow and Retweet – Building on the "secret" theme of their campaign, Gorjana & Griffin could have required a follow and retweet before they'd deliver a coupon code. Those RT's would have extended their reach and acted to grow their following:
"SHHH, SECRET SALE JUST FOR OUR FOLLOWERS. Additional 40% off Sale Section. Follow us and RT to get the code bit.ly/Ql8Sy8"
2

Twitter Coupon Campaign Example #2: Bonobos

Goal: Drive Sales
Social Channel(s): Twitter

About the Business: A repeat-visitor to our "Best Coupon Campaign" series, Bonobos caters to men who are looking for well-crafted and great-fitting clothing. They've built a twitter following that comes in at over 42.5k.

About the Campaign: Bonobos drove sales on Cyber Monday with a series of offers, highlighting different products and deals as the day progressed.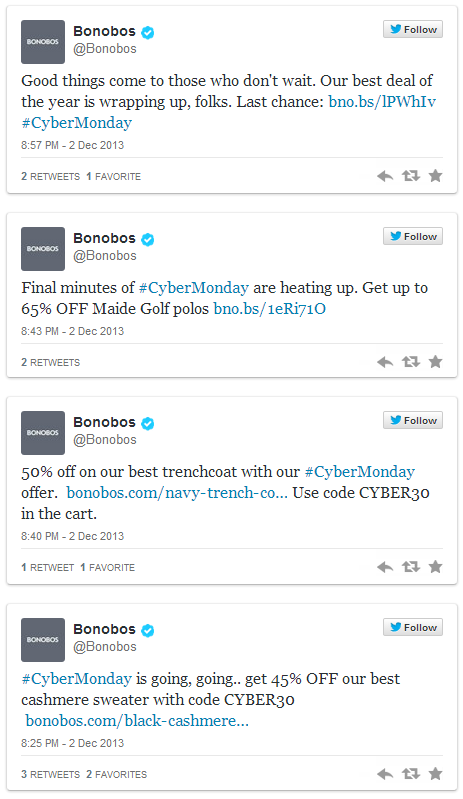 What We Like:
Variety – If Bonobos had offered a discount on just one item, they would have limited the attractiveness of their offer. Instead, by offering a variety of discounts throughout the one-day campaign, they increased their opportunity to drive sales.
Series – By creating a series, rather than offering a single coupon, Bonobos strengthened their campaign by broadening the appeal to a variety of products.
Hashtag – Bonobos' use of the hashtag #CyberMonday (instead of inventing their own) guaranteed that they would show up in searches during the busiest online shopping day of the year.
Coupon Code – The coupon code "CYBER30" connected the coupon campaign to the hashtag/event. By keeping the code consistent throughout the variety of offers, Bonobos kept the campaign simple for their potential customers.
For Even Better Results:
Use Images – Stop us if you've heard this before, but Bonobos' tweets would have been stronger if they would have had an attached photo.
Cross Promotion – Bonobos could have strengthened their campaign by extending the posts to their Facebook and Instagram following.
Incentivize sharing – Bonobos could have reached an even larger audience if they had set "retweet thresholds" to increase the discount. For example, they could have started the campaign at a 20% discount, but then increased it by 5% for every 100 retweets they got on the posts.
3

Twitter Coupon Campaign Example #3: ModCloth

Goal: Drive Sales
Social Channel(s): Twitter, Facebook

About the Business: An online retailer specializing in vintage, vintage-inspired and indie clothing, ModCloth has over 127,000 followers on Twitter.

About the Campaign: ModCloth ran a surprise coupon code for their Twitter and Facebook followers offering 15% off of all tops.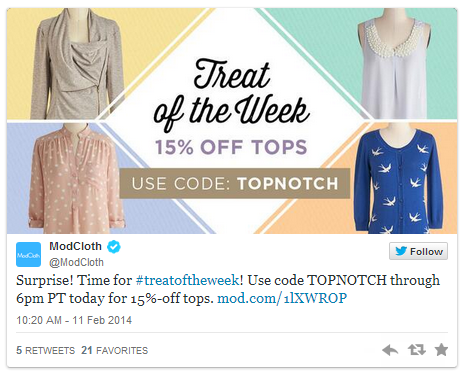 What We Like:
Surprise & Delight – The way the coupon is described as #treatoftheweek, the idea is planted that the excitement of the surprise is just one of many future surprises to come. That's in addition to the reward this campaign is already giving.
Sense of Urgency – The limited-time nature of the discount urged people to act quickly on impulse instead of waiting, which often leads to the loss of a sale.
Post Quality – The coupon campaign was clearly communicated and the image was uniform across Twitter and Facebook.
For Even Better Results:
Schedule a Series of Posts – Given the coupon was available for only one day, ModCloth could have scheduled a post every hour to ensure they show up in their followers' feeds at different times of the day. Each post could have increased in urgency as expiration time neared.
Best Practices For Running Social Media Coupon Campaigns
Now that you've got some great ideas for your coupon campaign, perhaps you're chomping at the bit to get started. Pull back the reins for just a moment and review these best practices to make sure you get the most out of your Twitter coupon campaign:
A compelling offer is the first, and most important step to ensuring success. Make sure you're giving a discount that people will feel is good enough to make an impulse purchase they might otherwise have skipped.
The tendency for buyers is to wait and think before making a purchase, which can lead to not making a purchase. Use your coupon campaign to create a sense of urgency so they know that waiting may cost them your great discount.
Make sure your prospect knows what to do next, and make it easy to buy, by including a clear call to action.
If you're going to post your coupon to multiple channels, avoid confusion by having a consistent message across all channels.
You can gain a larger audience and take advantage of trends by tying your campaign to a popular hashtag, which in some cases is a current event/holiday or in others might be a trendy topic.
In today's economy, pictures are worth exactly 1,627 words, and you will gain a lot more attention for your coupon campaign by including strong visual imagery with your post.
Unlike other platforms, character counts are a real concern when running a Twitter campaign. Be sure to use concise text with easy-to-follow instructions so your message isn't cut off.