April 21, 2014
Our Favorite Facebook Coupon Campaigns from the Last Year
If you'd have asked us 10 years ago, "Name two words least likely to be used together in a sentence", there's a chance we would have said "Extreme" and "Couponing."
Shows what we know.
Aside from the television shows and hoarding-esque hobbies, couponing has become a favored type of social media campaign. Marketers are attracted to the use of electronic coupons, especially on Facebook, for a few reasons:
Coupon campaigns are easy to run
Coupon campaigns drive sales
Coupon campaigns engage prospects and convert them into immediate buyers
Coupon campaigns grow your following by giving potential customers an incentive to follow you
Tracking the results of a Facebook coupon campaign is easy via coupon redemptions
We've pulled some of our favorite coupon campaigns from the last year to show you how they can be done effectively (and give you some ideas for a campaign of your own).
1

Facebook Coupon Campaign Example #1: Homage

Goal: Increase Sales
Social Channel(s): Facebook, Twitter, Instagram

About the business: Homage is a Midwest company selling t-shirts and sportswear online and getting big brand-level exposure on social media with over 141,000 fans.
About the campaign: Homage offered a scaling discount depending on how much customers spent, but the coupon was only active for one day.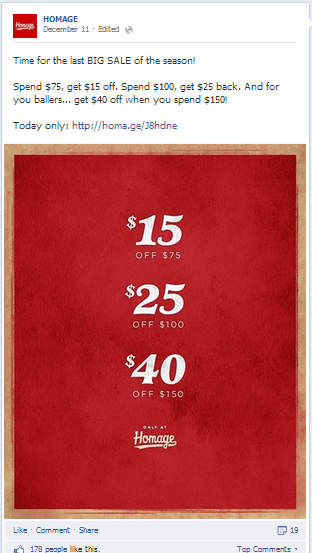 What We Like:
Tiered incentives – We love how Homage offered the option of bigger benefits to bigger spenders. This campaign directly aligned with the goal of driving sales by incentivizing larger order value. And at the same time, it "cast a wide net" by offering a special value for everyone, even those who might be considering only a small purchase.
Sense of urgency – By making this a one-day offer, Homage encouraged people to act immediately, allowing no time to second guess a purchase decision.
Scarcity – Many retailers worry that coupons devalue their brands by "training" their customers to wait for special offers. Homage minimized that expectation by noting it's "the last Big Sale of the season" and by making it a one-day deal.
Integration – Homage shared this coupon campaign across three social channels (Facebook, Twitter and Instagram), increasing the reach of the coupon campaign.
For Even Better Results:
Ramp up the cross promotion – To drive as many sales as possible, maximize the reach of a campaign like this by increasing the sharing on multiple social channels. For instance …

On Twitter – Schedule multiple tweets to post throughout the day with increasing urgency by noting things like "Only 2 more hours to redeem our last discount of the season!"
On Instagram and Pinterest – Share the image with relevant hashtags and keywords to help your campaign get discovered.

Run paid ads – To increase reach beyond your following, you can run ads on Facebook and/or Twitter. With even a small budget and some hyper-focused targeting, you can get good results and draw new eyes to your offering and your brand.
2

Facebook Coupon Campaign Example #2: Bonobos

Goal: Drive Sales
Social Channels: Facebook, Twitter

About the business: Bonobos caters to men who are looking for well-crafted, great-fitting clothing and a top-notch shopping experience. With over 350,000 Facebook fans, they've got their thumb on the pulse of Facebook marketing.
About the campaign: Every Friday (during the summer) Bonobos offered a coupon for a different summer-oriented product or product-type.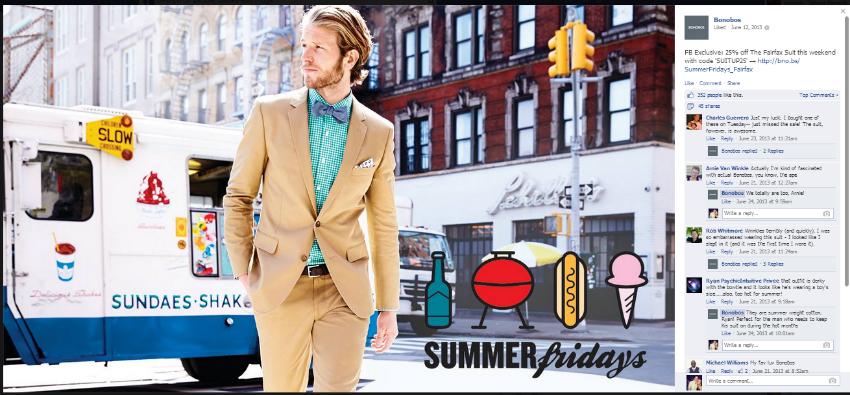 What We Like:
Theme – We love this "#SummerFridays" theme, which offered a weekly coupon code throughout June, July and August on a variety of items perfect for summer.
Series – Rather than offering a single coupon, Bonobos created a series of coupon offers, strengthening the campaign and reinforcing brand value repeatedly.
The Coupon Code Itself – The coupon codes "KNEEDEEP25", "SUMMERCHINOS", and "SUITUP25" were cheeky and related to the coupon campaign. This is a great example of leveraging every element in the campaign to sell product and promote the brand.
For Even Better Results:
Twitter Images – Bonobos' Twitter posts would have been stronger if they had attached photos, preferably the same ones they posted to Facebook.
Exclusivity – Bonobos could have also grown their email list by directing people to a landing page where they could enter their information in exchange for the coupon code.
Creating a Coupon Campaign for Your Brand
Now that you're feeling all inspired and creative, why not run one yourself? Creating Facebook coupon campaigns is easy… but not all campaigns are created equally. To create a great campaign yourself, follow these steps:
Create an image – It's not as easy as finding some clip art and going to town. A great coupon campaign has great imagery to go with it.

Size: If you plan to "highlight" the post on Facebook, 843×403 is a great size. It's a full-width post that's very eye catching on both your Facebook wall and your followers' feeds. Alternatively, 403×403 is the standard-sized post on Facebook. (Use this cheat sheet to make remembering easy)
Copy: If you plan to run paid ads, make sure the text does not take up more than 20% of the image, so your ad will be approved with no problems. If space permits, you might also consider including the coupon code within the image. (Use this tool to test whether your image will meet Facebook's text limit guidelines)
Create other size variations: If you plan to promote on other channels or use the image elsewhere, consider whether you'll need other size variations of the same image. For example, if you are running online banner ads for the same campaign, the image size requirements will probably vary.

Create a landing page – Make it easy for people to redeem your offer. In all of your posts, include a link to either a landing page, a home page, or to the most appropriate page on your site.
Schedule a series of posts – Throughout the duration of your campaign, you'll want to keep reminding your followers that the clock is ticking. Build increasing urgency into your messages so followers don't mistakenly miss out on the deal.
Launch and monitor – Once your campaign is active, make sure you keep your eye on any questions or comments posted about your campaign. Then respond immediately. You want to keep people buzzing about your campaign to ensure it reaches as many friends of friends as possible.
We're still debating whether couponing can ever truly be 'extreme,' but there's no doubt that coupon campaigns can be extremely rewarding. Get yours started this year and let us know what you did – maybe you'll end up in our 2014 favorites!
Coupon Campaign Best Practices
If you're ready to add coupons to your Facebook presence, you'll improve the impact of your coupons when you keep the following in mind:
Make sure you have a compelling offer … something your buyers want at a price too good to overlook.
Build a sense of urgency into your offer. Make sure they know they have to act now to take advantage of this great deal.
Include a clear call to action. Make sure the buyer knows what to do next, and make it easy to buy.
When possible, make an appropriate connection to a current event/holiday.
Add eye-catching excitement to your campaign by using strong visual imagery that's relevant to your brand and products.
Use concise text with easy-to-follow instructions.
Now that you're armed with everything you need to run a kick-butt Facebook coupon campaign, what are you waiting for?
Tell us: Have you tried using Facebook coupon campaigns to drive sales?
Easily Run Facebook Coupon Campaigns Using Rignite
Rignite is a software solution that makes it easy to run campaigns on your Facebook timeline. With Rignite you can:
Drive sales by promoting a coupon campaign
Cross promote on Twitter with a series of posts to increase exposure to your campaign
Get campaign level reports showing which posts were most effective
Sign up for a free trial today!