September 19, 2013
Building Customer Loyalty Online with Social Media and Email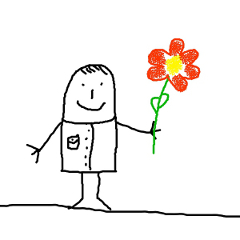 Today's guest author is Nichole Kelly, President of Social Media Explorer. She blogs about social media strategies designed to impact the bottom line.
What do you remember most about family picnics that kept you excited for the next? Gigantic slices of watermelon? Aunt Jane's sloppy kisses? The frisbee rivalry with cousin John (you're going to win one of these times!)?
For us, it was always the pie. Glistening mounds of cherries, succulent slices of banana custard or a hearty wedge of traditional apple, always as good as the last one. Mmmm…pie. While we take a moment to clean the drool stains off of our keyboard, think through this: Pie and customer purchases have one thing in common.
Once is not enough.
Just like with your favorite pie at the family reunion, you want your customers to come back for more. Better yet, you want them to tell all their friends on social media about you so that they come back for more. (Ok, maybe now our pie metaphor breaks down a bit – we don't want more people showing up and making us share.) Since we're not in the business of selling (or eating) pie, let's shift our focus to customer purchases and specifically customer loyalty.
Why Customer Loyalty Programs Are Important.
Customer loyalty programs exist to increase purchase frequency and total revenue. (Obvious much?) But there's more to it than that – loyalty programs help decrease customer complaints, build brand loyalty and increase market share against competition. Sure, a satisfied customer is less likely to stray to your competition, but a satisfied customer who is also incentivized to return? That's a customer who's actively looking for reasons to come back to you again and again, even in categories that typically have little to no brand loyalty (such as the frozen entrée category).
The incentives, or rewards, of a loyalty program give an added-value to your product, which helps your products to stand out against competitors that may be offering a lower price.
Rignite Insight: With the advent of social media, customer loyalty programs go beyond just retention and actually turn your customers into brand evangelists. By including social sharing into your loyalty program and promotions, you can get your customers to sell for you.
Using social media to increase customer loyalty goes beyond just a loyalty program with exciting rewards earned by collecting points for products purchased: It's about engaging with your customers (light, medium and heavy users) to reinforce and reward the evangelist behaviors you're looking for. These 4 tips will help you use social media to increase customer loyalty.
1

Using Social Media to Increase Customer Loyalty Tip #1: Monitor your customers

Use your social media management tools to monitor your current and past customer list on social media. No, you're not looking for them to tell you what clubs are hot or what recent vacation they enjoyed. You're looking for the complainers and enthusiasts.

First things first – help the unhappy ones who are posting negative comments or have questions. Reach out and apologize for their inconvenience. Offer to assist them with their problem and direct them to offline customer service if their problem cannot be easily fixed on social media.

Now reward the folks who are promoting what you do by "liking" their post or thanking them in the comment box (or retweeting!). Also, consider a bit of surprise and delight. A surprise freebie or maybe just a coupon to share with their friends will show an advocate that you appreciate them. This unexpected bonus will deepen the positive feelings about your brand.

Rignite Insight: If you want to go the extra mile, consider a non-digital gift. Twitgift.me is a great option that allows you to give customized, physical gifts. The best part? Your gift is documented on Twitter so other customers can see how you treat your best customers.
2

Using Social Media to Increase Customer Loyalty Tip #2: Post exclusive deals for returning customers

Everyone likes to feel special and exclusivity is a great incentive to buy. Announce a promotion on your social channels, but require people to log in to their customer account to claim the offer. For example, "Our Beloved Customers Can Get 20% Off Their Next Purchase." Or, "Available ONLY to Customers Who Made A $20+ Purchase In The Past 30 Days. Log in to your account to claim your discount."

Not only will you get the extra sales from the promotion, but potential customers will see what's in store for them once they become an actual customer.
3

Using Social Media to Increase Customer Loyalty Tip #3: Incentivize sharing experiences with your brand

Create a program that offers rewards to customers who tell the (hopefully positive) stories they've had with your brand. For example, run a photo/video contest with customers sharing something about your brand/product. You can offer a smaller prize for each video submitted and then a major reward for the best one.

Otherwise, consider running a public poll – through Facebook or Twitter – where customers vote on their favorite products in exchange for a discount coupon on that product.
4

Using Social Media to Increase Customer Loyalty Tip #4: Show your customers that you appreciate them

After some highly scientific research involving asking random people around our office, we have determined that saying "thank you" more than 39 times is too much – but up to that, you're ok. Beyond the thanks, though, you should also involve your customers so they feel like part of the team. You can make sure your customers know they're appreciated a few ways:
Send them a "thank you" email/message after purchase
Post public "thank you's" on social media platforms (i.e., "Thanks to our great customers for supporting our latest campaign. We couldn't do this without you!")
Ask for their opinions on new products and then listen to those opinions (shocking, we know.)
Incorporate their feedback and tell the community that their feedback was vital to making the change, launching the product, or creating the ad

Using Email to Increase Customer Loyalty
Social Media is not the only channel you can use to increase customer loyalty. Though it's far more intimate, email is another excellent channel for converting customers into evangelists.
Email is a great way to reach out with deals for complementary products that are specific to a customer's recent purchase ("Hey Brian, We know that you purchased a wireless keyboard a few months ago. If you ever get tired of buying disposable batteries, here's a coupon for 10% off our awesome ALWAYSON renewable batteries!")
Speaking of always on, you should be "always on" in your transactional emails. For example when your customers receive their receipt/order shipment confirmation/tracking number notification, they should also receive a killer coupon with a deadline. Nothing like urgency to get them to buy again! Especially if they didn't buy everything they wanted the first time around ("Well, we don't need the silver sandals and the blue sandals . . ."). You'd be surprised how many of these coupons are immediately converted ("Ok, maybe I do need the blue sandals after all!").
Rignite Insight: Include a call-to-action in these emails to encourage your new customer to share the message/business with friends for a bonus incentive ("Tell a friend about us and if they purchase $50, you'll get a coupon for 50% off your next order!").
Whether through social media or email, customer loyalty programs are important. You must keep engaging your customers to get them coming back for more — and telling their friends about you. Ok, now we're off to get a slice of pie.
Now it's your turn. Share some of your creative ideas for using social media and email to build customer loyalty.