August 30, 2014
The NonProfit Social Media Strategy That Works For Nashville AMA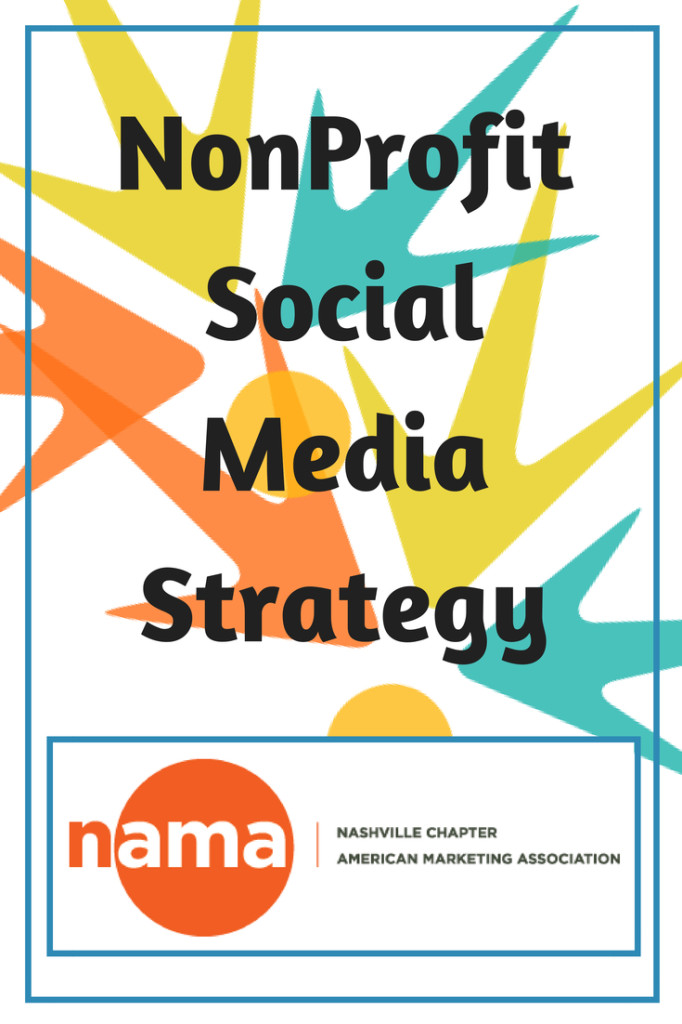 For Julie McReynolds, Social Media Manager for the Nashville chapter of the American Marketing Association (NAMA), maintaining a steady drumbeat of posts on social media networks can be quite a challenge.
At any time, there are many diverse events, announcements, and initiatives going on which all require a marketing campaign to help get the word out about them. For example, their nonprofit social media strategy involves getting the word out about special interest group meetings (SIGs) such as the Healthcare SIG, new member mixers, and new job postings, all of which need some promotion.
"As a non profit organization it is important for NAMA to consistently create great content for the Nashville marketing community. We welcome members and non members to all of our events and social media is where a majority of them are looking for our information. The goal of the social media committee is to help with outreach and communicate the opportunities (jobs, events, content) that NAMA can offer a marketing professional in the Nashville, TN area. Nashville is growing fast and it is always great to hear an attendee say "we heard about this event through a tweet."
–Julie McReynolds, NAMA
How to use social media for non-profit organizations
Managing ongoing campaigns on social media, each of which requires a series of posts across different social networks is a snap with the Rignite Campaigns module. A wizard takes you through the creation process for your campaign, and even schedules multiple posts over the campaign period for you.
"NAMA is a 100% volunteer led organization. Time management is a strength of mine but having Rignite and the campaign feature helps me and my team operate more efficiently."
–Julie McReynolds, NAMA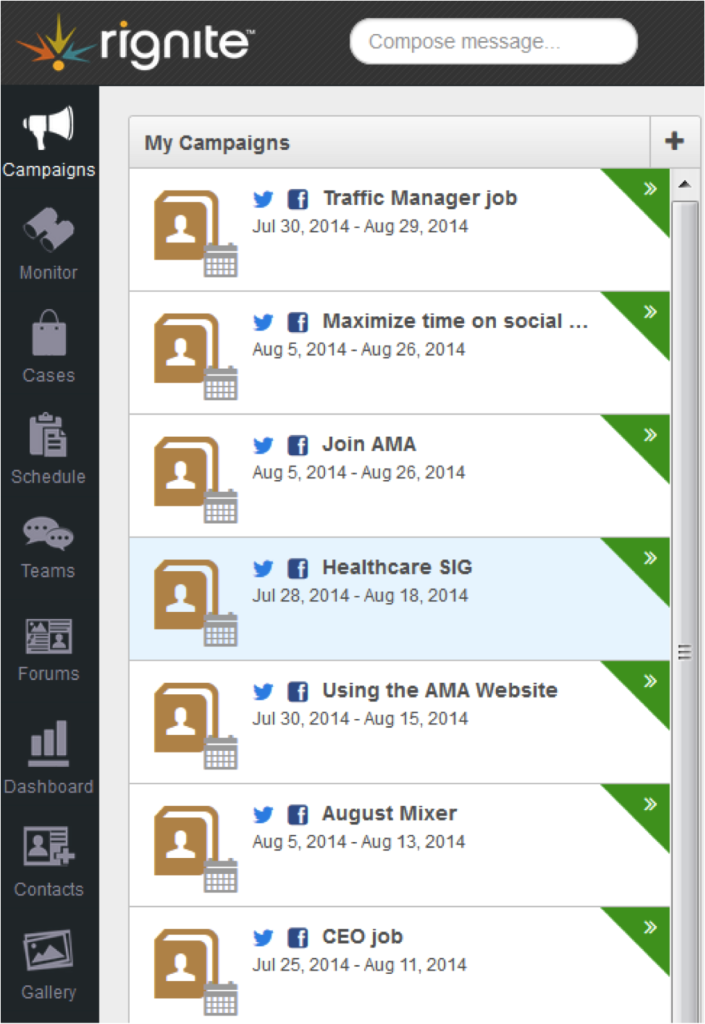 Here are some of the campaigns created in Rignite . These campaigns are all a simple "Series of Posts" type of campaign in Rignite, although there are more complex giveaways, contests, and coupon campaigns possible in Rignite.
All of these campaigns typically have multiple Twitter posts each day and one Facebook post each day. Rignite makes it easy to alternate different posts and customize each one to test different messages and vary your content, not to mention avoid 'duplicate post errors' on Twitter.
Here are two Twitter posts created for the Healthcare SIG campaign. These posts alternate daily over the campaign period.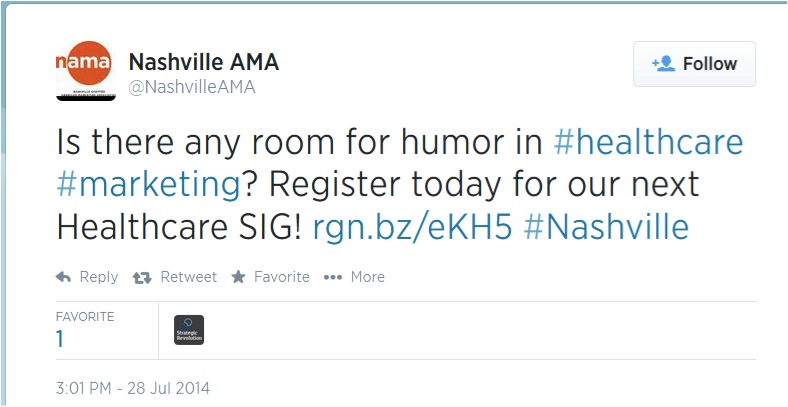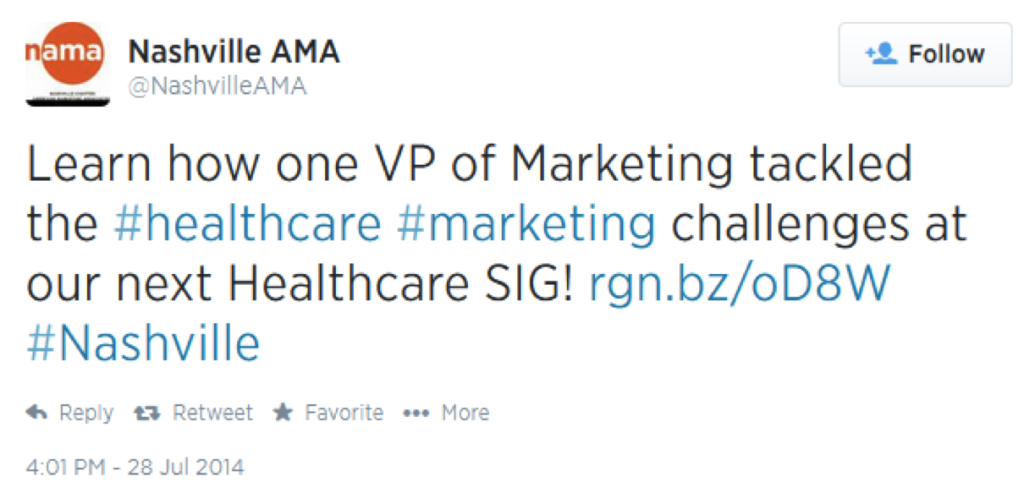 And here is the Facebook post in the campaign.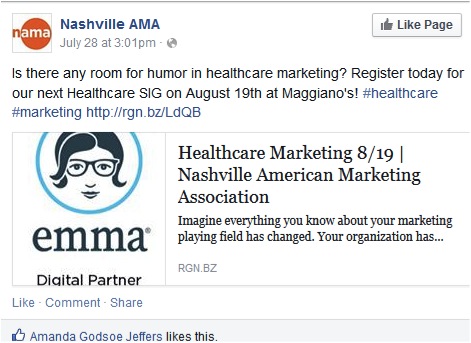 "It is hard to know when your audience is going to be on each social media channel. For example the social behavior of a marketer in healthcare is different than a marketer at a nonprofit or a small business owner. Each also have their preference of channel. NAMA has a Facebook page, Twitter handle, Linkedin Company page and a Linkedin group. Everyone is online at different times and it's hard to post at just the right time. With the campaign feature in Rignite it takes the guessing out of everything. For an organization like NAMA where there are two or three events, a blog post, and a few jobs that all need to be promoted at once on all the channels I can rest easy knowing that if I set up a campaign for each item I'm not over posting or posting on top of each other. Whether our audience is on at 8am on Facebook or 11pm on Twitter we are reaching them, while growing our following, membership sales and selling out our events."
–Julie McReynolds, NAMA
NAMA is able to save time and keep its fans informed by creating multiple campaigns, each with a series of posts across social networks without the pain of manually scheduling posts. The snapshot below shows a typical day's schedule of posts, with content from different campaigns as well as scheduled for multiple social networks. It's easy to maintain a full schedule of posts as well as to edit or reschedule posts using Rignite's Schedule module.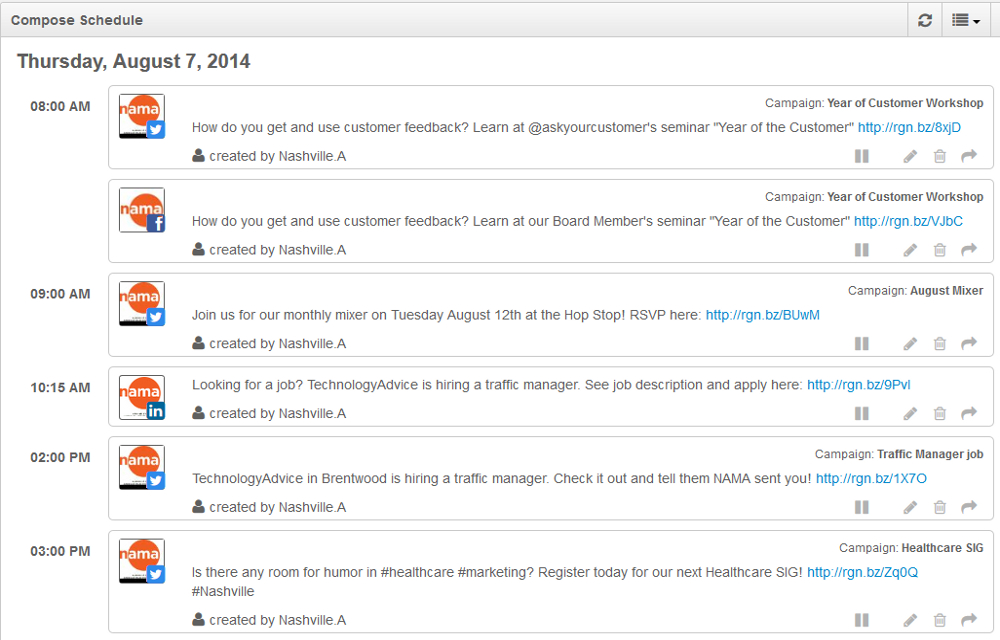 Now that campaigns are running, it's also easy to see which campaigns are getting more reach or impressions in the Rignite Dashboard for campaigns.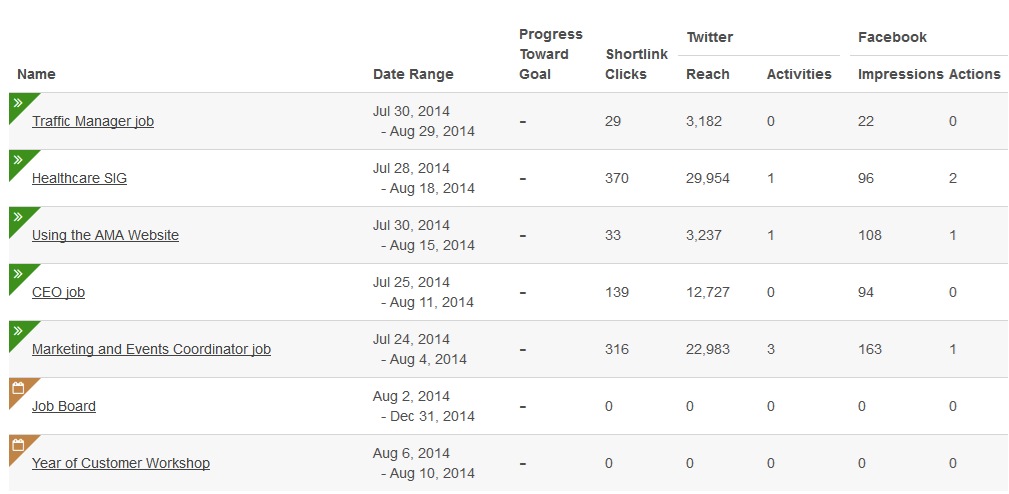 "We know social works but the analytics that Rignite provides are the icing on the cake and really assist us in measuring our ROI."
–Julie McReynolds, NAMA
Getting the word out on social media is critical for any organization, but it's especially important for a nonprofit social media strategy. And for non-profit organizations, Rignite saves precious time and precious funds with special discounts for non-profits.
Try Managing Your Nonprofit Social Media Strategy Using Rignite
Rignite is a software solution that makes it easy to manage social media.
With Rignite you can:
Save time by collaborating as a team
Improve response times by quickly routing social posts to the right person to respond
Run goal-oriented social media campaigns
Sign up for a free trial today!