August 18, 2014
How to Promote Your Blog On Social Media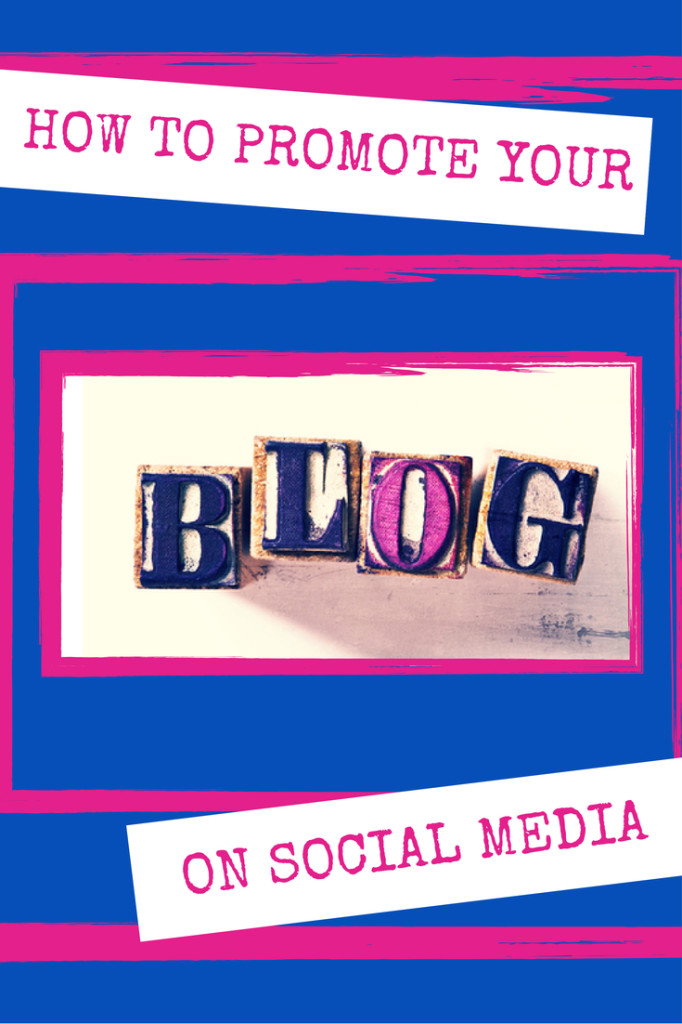 Does this sound familiar?
You put a ton of effort into writing a blog post. And you post it on social media to promote it.  You get a flurry of clicks in that first day or two after publishing. And then silence.  The Twitter birds aren't even chirping.
"But I don't understand. I'm doing all the right things!" you say. "I'm publishing a steady flow of content on my blog and I always share it on Facebook and Twitter and LinkedIn and …" 
Do you ever hear yourself say that?
I'll tell you why you aren't getting the results you'd like.  It's because you posted to all your social profiles…once.  Or maybe twice if you got super ambitious.
The secret (that's not so secret to successful social media experts like Kim Garst and Jeff Bullas) is that you have to keep posting those posts to your social profiles, over, and over, and over again.   Every time you re-share that post, it's going to reach a new set of people, especially at the speed things move on Twitter.
So…don't be afraid to promote your blog posts by re-sharing the same piece on social media 3 times per week for a year (or longer) if the content is "evergreen."  It will boost the reach of that blog post massively.
Here's the math: 3x per week * 52 weeks in a year = 152 more chances to reach people.
Re-sharing evergreen content 3x per week for 1 year increases your opportunity to get traffic to your blog by 152x
How to Promote Your Blog Aggressively, and with Minimal Effort
You're probably thinking that's great and all, but I don't have time to schedule 152 individual posts every time I publish a blog post.  And how will I keep track of which posts I need to go back and re-share.
Rignite has a feature that was designed to solve those challenges and makes this process easy.
This is how it works.
In our Campaign module, create a new campaign using "Schedule a Series of Posts"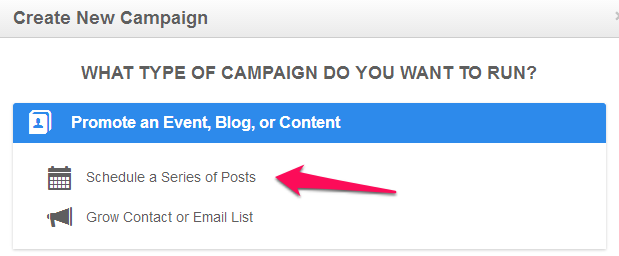 In steps 1 and 2 of that campaign workflow, you'll select the social profiles to promote your blog on and you'll set a duration for the campaign.  I recommend running a 6 month campaign when promoting a blog post that you know will still be accurate in 6 month's time (aka "evergreen").
In step 3, you'll enter the URL to the blog post you are promoting.
But here's the awesome part.
We'll automatically add Google UTM parameters to the end of the URL in each and every post you share.  Now you can track visits from those posts in Google Analytics to measure the traffic you generate over the entire life of this campaign.  In the screenshot below, you'll notice there are a few [[VALUES IN BRACKETS]].  Those are variables that will be different for each social post.  For example, the [[SOCIAL_NETWORK]] will automatically fill that with the social network each post is shared to (e.g. facebook, twitter).  The [[POST_ID]] will be a unique identifier for each social post.  If you notice significant traffic from a specific Post ID, you can find that post in Rignite to see what made it so successful.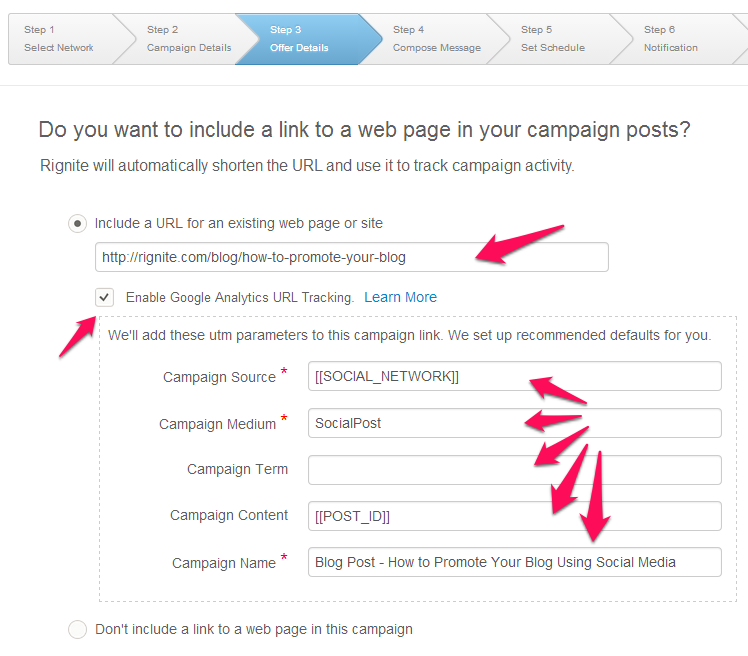 In step 4, you'll prepare a few variations of Tweets and Facebook posts.  In the following step you'll be scheduling many posts to promote your blog, so it's a great practice to create 3 variations of each message so you aren't repeating yourself verbatim too much.
In step 5, you'll set the frequency of posts you'd like to publish.
I recommend for a 6 month blog promotion campaign, that you set it to 3 times per week on Twitter and 3 times per campaign on Facebook.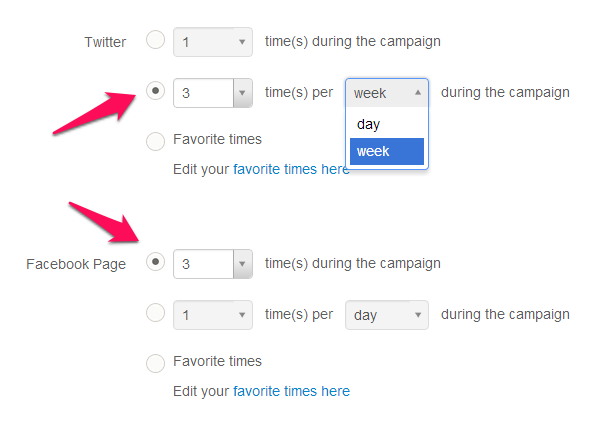 Side note: Alternatively, you could find the best times to post on Facebook, save those as your "favorite times," and use that to schedule your posts at the times that are most likely to get link clicks.
And next, you'll see the calendar magically fill up with all the posts you'll need to fully promote your blog and get it the traffic it deserves. In this example, that's 75 posts scheduled in a few clicks of the mouse.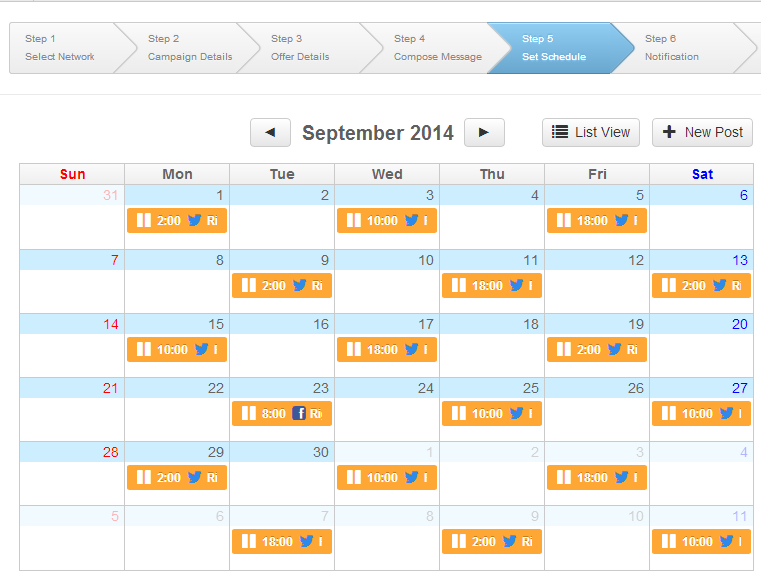 In step 6, you can set notifications.  I recommend getting a notification email 7 days before the campaign ends.  If the blog post you were promoting in that campaign is still relevant at the end of 6 months, it'll be a good reminder to recreate another 6 month campaign to continue driving traffic to that post.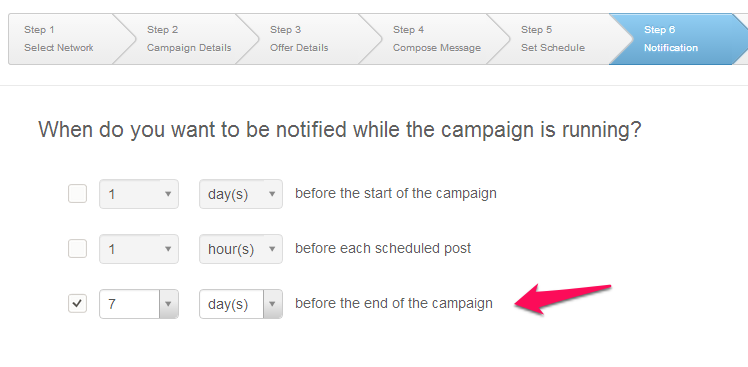 That's pretty much it.
5 minutes of set up time gets you 6 months of traffic to your blog post.  I'd call that a fair trade and a great return on your time investment.
Bonus Tip: How to Promote Your Blog By Getting People To Share It
Scheduling a bunch of shares to promote your blog is a great starting point and is pretty low effort once you have the process down.
Another strategy for promoting your blog is to incentive people to share your post for a chance to win something fun (like a freebie of your product, or a free consultation).
A Twitter hashtag giveaway is a great way to make it easy for people to share, while being easy for you to track entries.
To run a campaign like this, you'd ask your readers to tweet the link to your post and include a specific #hashtag, and @mention your brand.
This is another strategy that Rignite makes easy to set up and track.
Using our Campaign module again, you can set up a Twitter hashtag giveaway in just a few minutes.
Step 1 – Create the campaign using Boost Engagement > Fans Enter a Contest on Twitter To Win A Prize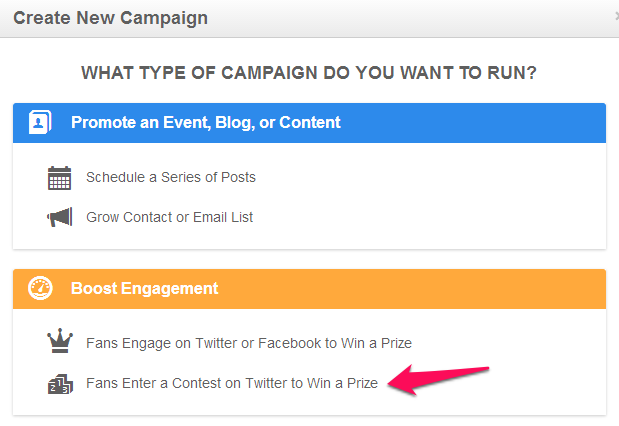 Step 2 – The Campaign wizard will walk you through the basics of setting the campaign name and duration.  For a campaign like this, you could run it for 6 months and award prizes monthly to keep people sharing your content for a long time coming.
Step 3 – This is where you'll specify what you want people to tweet so Rignite can collect the entries and track the results of your campaign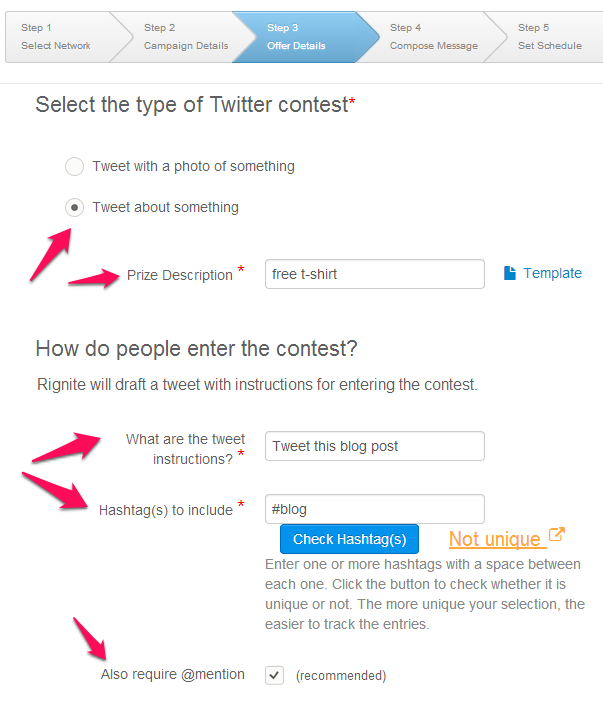 Steps 4 and on – The next steps are simply a matter of scheduling tweets to promote your giveaway.
You'll also want to mention the giveaway in your blog post.  And to make it even easier for people to participate, you can use a "Click to Tweet" to create a pre-populated tweet for your entrants (like we have in our giveaway instructions below).
Now you can let the good times roll as Rignite collects all the entries that meet the requirements you specified in your campaign set up.
Top Takeaways For Promoting Your Blog
We covered two quick and easy ways to extend the life and reach of your blog content:
(1)    Promote your content aggressively by posting several times a week for as long as that content is still "evergreen."
(2)    Give people a reason to share your content by running an ongoing Twitter hashtag giveaway
Now it's your chance to enter our giveaway ;)
Enter to Win this T-shirt! Every month we'll reward another winner.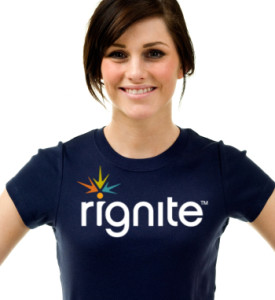 To enter, tweet:
a link to this post
include the hashtag #blog
mention @RigniteInc
Here's an easy tweet to get you started.
Check out these awesome tips on how to promote your #blog using @RigniteInc 
<<click to tweet>>
Try Promoting Your Blog Using Rignite
Rignite is a software solution that makes it easy to schedule a series of posts to promote your blog on social media.
With Rignite you can:
Easily schedule a series of posts to promote your content
Get campaign level reports showing overall performance for each blog post campaign, including clicks, shares, and which posts were most effective
Set up and manage Twitter hashtag giveaways and other social media campaigns to promote your blog
Sign up for a free trial today!