February 9, 2016
How to Create A Social Media Posting Schedule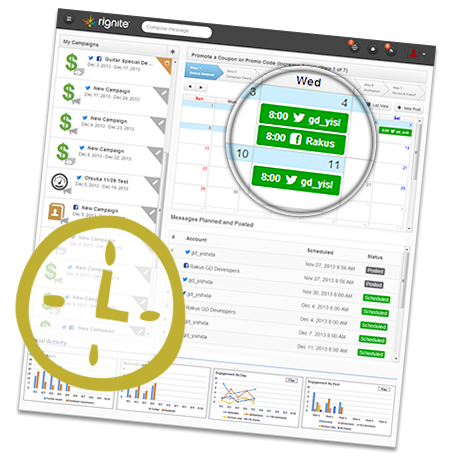 Are you tired of randomly posting to your social networks, whenever you happen to remember? Would you rather have a consistent way to communicate with your followers?
A social media posting schedule can help you get consistent results. A posting schedule can be an informal plan, a formal written schedule, or even just a mindset based on strategic thinking.
Here's what to think about when you create your social media posting schedule.
How to Create a Social Media Posting Schedule
Determine the Best Times to Post
One of the most important things for your social media posting schedule is to figure out the best times to schedule your posts. This will probably be different for each social network on which you're active and for each audience segment.
There's a lot of general advice and specific methods to help you figure this out. You can go into your Facebook Insights and Twitter analytics to see when your fans are most active or most engaged, or use a number of different tools. Your best times will also depend on whether your audience is business or consumer, local or international, and what type of product or service you're promoting.
In any case, you should have an idea of what days and times you'd like to post for each social network. For example, on your Twitter account:
Monday through Friday 12 p.m. to 6 p.m.
Occasionally 9 a.m. to 11 a.m. on weekdays.
Of course, if you're a B-C consumer product, it might be Wednesday at 6pm and weekends 12 p.m. to 8 p.m.
If you'd like to find the best time to post to Facebook for your business and are not afraid a little spreadsheet work, here's a great article on how to find the best time to post on Facebook.
There are a lot of generalizations in articles about the best times to post and these are a good starting point. You can then adjust your times as it makes sense for your business.
Decide How Often to Post
You're not ready to schedule your posts just yet. Next, decide on how frequently to post for each social network. A social media post schedule is not complete without some guidelines about frequency, such as:
Twitter: 5-10 times per weekday, 1-2 times on weekends
Facebook: once per day maximum, minimum twice per week
Instagram: 2-3 times per week
Deciding how often to post depends on the social network as well as what type of posts you typically do. If you have a ton of photo's constantly available, you may elect to post on Instagram once or twice a day. But if you don't have a lot of images or if it takes a lot of resources to create one, you may want to reduce your posting with images (and by default, the frequency on Instagram).
Generally, you'll want to target posting more frequently on Twitter than Facebook IF Twitter is active for you, since you'll need to catch people's attention in their often noisy Twitter news feed.
Create A Posting Calendar
Great, now that you've got the basics down for the best times and how frequently to post, it's time to figure out what content to post. It's time to get the creative juices flowing and start planning what themes and types of posts would get the most engagement.
Once you have some social media content ideas and themes, you can start putting specific posts onto your calendar.  You'll want to include as much details as possible, but don't sweat it if everything is not available or ready. Your post text can be a draft and be finalized when it is actually scheduled, but be sure to indicate that it's a draft so your team mate doesn't accidentally publish it as is.
Here's the main components to jot down on your calendar:
Target date/time, or date range
Social network (e.g. Twitter, Facebook)
Social profile or account name (not needed if you only have one for each network)
Post text
Link to include, such as URL for registration page, article, or website
Image or other media to include (description, link or thumbnail)
A social media calendar template like the free one available for download below can help organize your thoughts and keep your post calendar full of great ideas.
Keep in mind that the process of creating a posting calendar is really to make sure that the most important posts get properly planned and scheduled. You'll probably also be posting other breaking news or sharing interesting articles that you see daily, but you won't need to put all these on the calendar.
Schedule and Manage Your Posts
You've probably realized by now that in order to be successful on social media you've got to be very active in posting content that your followers love. While this may seem like a daunting task, you can make your life easier by scheduling posts in advance. That way you'll only need to spend time once or twice a week to make sure your posts are following your social media posting schedule.
Using a scheduling and social media management tool like Rignite can save you time and increase your productivity. Of course, if you've only got a few posts and one Facebook page, you could schedule posts directly in Facebook. But reviewing, editing, and managing your posts can be difficult without a powerful management tool.
Your regular process for scheduling posts should include:
Review your Editorial and Post Calendar document to schedule posts one to two weeks ahead of time
Evaluate marketing campaigns to make sure that promotions which require a series of posts over time are getting scheduled
Scan blogs, news, and other social media sites for timely or new articles to share, and post those immediately or schedule them
Review the post calendar in your social media management tool weekly to edit or move any posts that now overlap or should be delayed
Look at your post calendar to make sure your targets for post frequency and time of day or day of week are being met.
Scheduling and managing your posts will be a big part of your social media activities, but doing these tasks in an organized, efficient way will keep you sane and give you the best results.
Try Scheduling and Managing Posts with Rignite

Rignite helps you schedule posts across multiple social profiles. You can easily schedule dozens of posts as part of a Campaign to promote sales, events, your blog, a giveaway and much more.
(Advanced) Figure Out What Works by Campaign and Category
You may already know that you can't improve what you can't measure. But what should you be measuring? General statistics like retweets, likes, comments, and shares are nice to know but won't be enough to make improvements in your social media content.
That said, you should start with the basics so you can familiarize yourself how your posts are doing. First by social network, like this for each Twitter account and a similar one for each Facebook Page.

Then, see what were your tops post by social profile, like this:

You should decide what is important to you for measuring post performance: impressions, engagement rate, likes, shares or comments on Facebook or retweets, likes, or replies on Twitter. Also, if you include links in your posts, measuring shortlink clicks to your website could be the most important metric.
Beyond the basics, analyzing your posts by marketing campaign will give you a bigger picture, more strategic view. If you can also analyze posts by type or categories like educational, humor, promotion, events, blogs, or news you'll be able to tell how your strategy is working.
For example, here's an analysis for a retailer comparing different campaigns for shortlink clicks, Twitter reach, and Facebook impressions. Each campaign is comprised of a series of posts, sometimes over 100 posts, across Twitter and Facebook.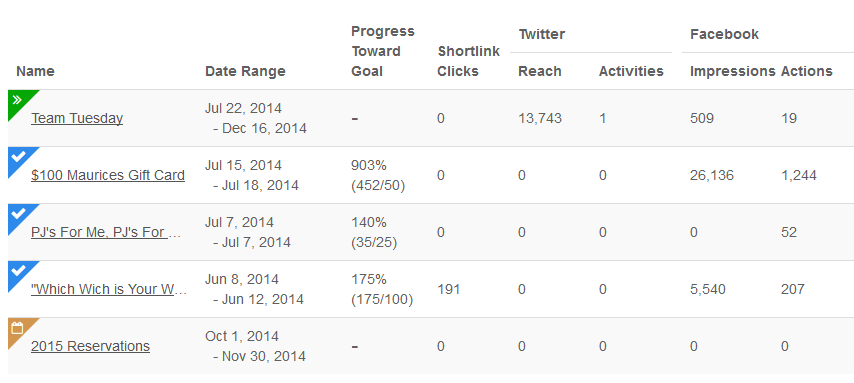 With analytics that show results for a series of posts such as a Campaign or Category it's easier to see what really matters for your audience. Below is an example which shows that Educational posts got 38% of engagement but were only 28% of posts.
At the same time, Promotional posts got only 2% of engagement while they were 6 % of the posts. While these results might be expected, it could be useful to see how one could increase the engagement rate of promotional posts without increasing the percent of total posts for promotions.
Manage Your Posting Schedule and Analyze Results with Rignite
Rignite makes it easy to manage your social media marketing activities.  Schedule posts, run social campaigns, and engage with fans. Analyze your posts by campaigns or categories to get better results and maintain your ideal content mix.
Sign up for a free trial today!