September 14, 2015
Easy-to-Use Social Media Calendar Template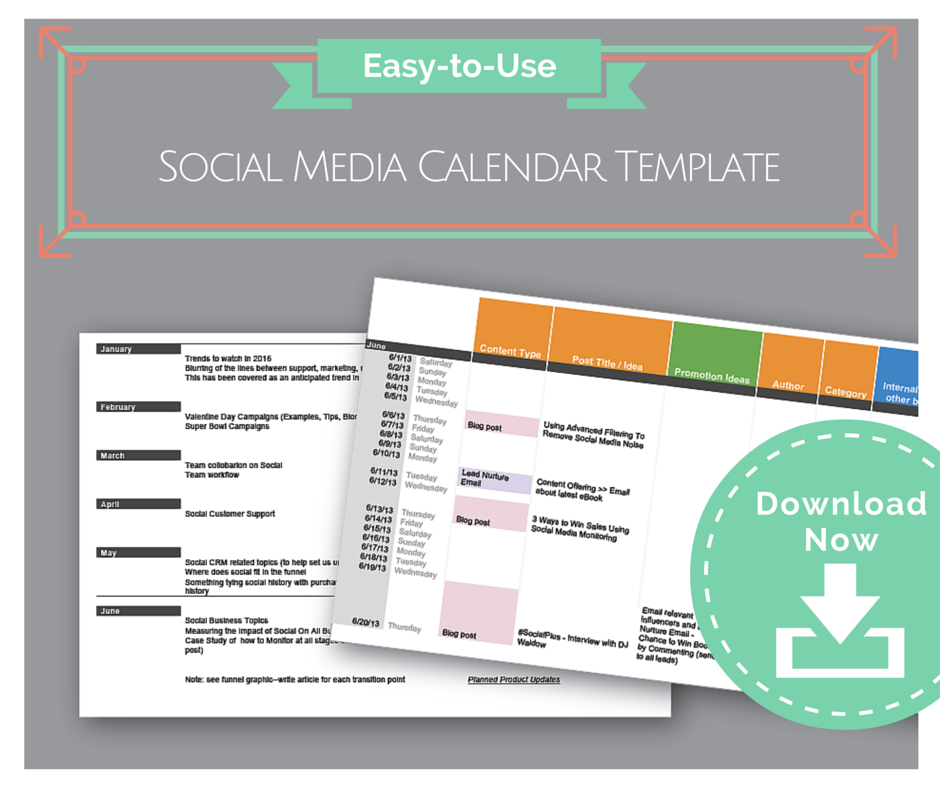 Does your social media posting schedule feel like a chaotic mess? Would you like a social media calendar template to help you stay organized, effective, and efficient?
You probably want to keep your social media profiles full of great content, while maintaining a balanced mix of content types. And you must know how easy it is to lose sight of your social media goals and slip into a post… post… post speed race.
Here's the bottom line: A social media calendar template will keep you on track.
It'll help you follow a well-thought-out plan.
How to Use a Social Media Calendar Template to Stay Organized and Effective
Here are the main elements of a social media calendar:
Editorial Calendar
First and foremost, you'll want to list your major editorial subjects for the next few months. Here are some ideas:
Educational articles – These are great for attracting new fans
Tip series – These might consist of several posts with bitesized tips on a given subject
Product tutorials – These highlight various aspects of your product or service in an educational way
Surveys – These help you learn about your customers and their needs and interests
Sales and promotions – These usually involve major themes, holidays, or product releases
Annual Themes, Key Events, and Promotions
Most businesses have some type of annual or seasonal cycles. Keep these annual themes on your calendar so they don't sneak up on you.
These should include major holiday promotions, conferences, events, sales, or product promotions.
Here are some examples:
Holidays such as Halloween, Valentine's day, Hanukkah, or Christmas.
Major sales days such as an Annual Anniversary sale, or Black Friday.
Events such as industry conferences or your company's own customer conferences.
Product launches such as the Fall Fashion release or annual product updates.
Social Media Post Calendar
The tab you're going to probably be spending most of your time on is the posting calendar.
Here you'll create (almost) final messages which you plan to post. The reason these might be 'almost' final is that you may want to jot down general ideas for posts even if you don't have the exact wording. Think of it as a brainstorming idea dump. Key things you'll want to identify and be able to sort by on your social media content calendar:
Date and time (of course)
Social network: Twitter, Facebook, LinkedIn etc
Social profile: The user id of specific profiles you'll post to
Message text
URL to the article or content you want people to visit
Bulk Import Template
(Bonus!)
Once you've got your posts created (and approved) in your social media calendar, the rest is easy.
All, you need to do now is import them into a social media marketing tool to schedule them.
As a bonus, we've included a format that can be used to create an easily upload posts to the Rignite social media management platform.
Here are some cool things about it:
Set the date/time, social profile, and message contents for your posts
Tell Rignite whether any URLs in your post should be shortlinked so we can track the number of clicks
Set the status of imported posts to Draft, Paused or Scheduled. This is a nifty workflow for teams. Use the Draft status if you want to work on them later in Rignite, or if an intern is uploading them and you need to review them. You could also use the Pause status to put them on your calendar in a paused state until you or a team member releases them.
If you'd like to use it, save it as a CSV file before uploading to your Rignite account. To get a template for our bulk upload post scheduling feature, download it from your Rignite account, or contact Rignite for a CSV formatted example.
Download the Free Social Media Calendar Template
This downloadable social media calendar template will keep you focused on your objectives and give you the big picture. So you won't get lost in the daily grind.
We've used sample screen-shots and formatted fields, including some from the Rignite social media marketing platform. You can sign up for a free trial of Rignite here to try these features out for yourself.
Download the template today! It provides a valuable way to plan out your editorial calendar in advance to keep your social media content plan on track.