November 26, 2013
4 Ideas for Holiday-Themed Social Media Campaigns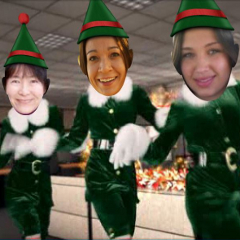 The Holidays are right around the corner. Starbucks is now serving you coffee in red cups, the leaves on trees are slowly trickling down to the sidewalks, and we are now adding an extra layer and stylish, yet cozy scarf to our ensembles. What does this mean for your business? It's time to get into the spirit, and create some holiday-themed social media campaigns, of course! You might be wondering how to do this—well don't worry, we've got four awesome suggestions for you.
Incentives and deals around the holiday season are simply not enough for customers to get excited. Adding that extra holiday touch to your campaigns is always the crowd-pleaser that will result in a sales boost. Sure, it may take a little extra time, but the benefits in the long-run are certainly worth it. Who doesn't want an increase in sales and better community engagement?
1

Holiday Campaign Idea #1: Bounce Back Special
This campaign is particularly beneficial in that it will serve two purposes for your business:
1) customers will spend more money in the short-run
2) they will most likely come back to redeem "part 2" of the deal
Here's how it works: Offer a discount for those who spend over a certain dollar-amount. Say the threshold is $50—if they spend over this amount, they will get a discount code that can be applied to their next purchase.
Here's the catch: You should create a small window of time for them to redeem their discount! Creating a sense of urgency will encourage your customers to come back for more.
2

Holiday Campaign Idea #2: Guaranteed On-Time Arrival

I would say that the only negative thing about the holidays is spending more time driving around the mall looking for a parking spot than you did actually driving there from your house. Luckily, we have a solution for that. Online shopping. Who wouldn't love to sit by the fire, sip on some hot cocoa, and peruse your favorite online shopping websites from the comfort of your own home? While some may worry about their order not arriving on time, you can put your customers at ease with this campaign. Guarantee their order will get there by a certain date, or tell them it's on you. Better yet, give your customers a break in shipping costs too (hey, maybe even ship for free!). This is the best way to capitalize on everyone's lack of enthusiasm for holiday shopping at the mall. It's a win-win!
3

Holiday Campaign Idea #3: Fun Campaigns

It's no coincidence that words like "merry" and "jolly" go hand in hand with the holiday season. Everyone is simply in a better mood, and your company's holiday campaign should incorporate that extra positivity. This sort of campaign doesn't necessarily have to be a direct discount or push a purchase. It can be just for fun! For example, have you ever "Elf'd Yourself"? If the answer is no, you are missing out. Office Max had the genius idea to create a short video of elves dancing around in funny costumes for the holidays. The best part is that they superimpose you and your friends' faces on the elves – you become "elf'd!" Just wait until December, your Facebook newsfeed will be inundated with your friends exchanging the animations. It's a great way to get your company's name out there, and get a good laugh. This is a great opportunity for you to coordinate with both your creative and techy staff–get everyone involved and have fun with it!
4

Holiday Campaign Idea #4: Charity Campaigns

Along with being in a great mood during the holidays, most people are also feeling more generous than usual.
Adding a philanthropic twist to your campaign will bring a sense of good will to your brand and make people even more excited to press "checkout."
One way to do this is to donate one of your products to a relevant cause when a customer spends over a specific threshold. For example, 'Knit Pickler,' a hypothetical company, set a threshold of $50, and when customers spent beyond that, they donated a pair of mittens to a local homeless shelter.
Conclusion
I think we can all agree that any of these holiday campaign ideas will undoubtedly boost customer excitement, and sales. There are many opportunities to benefit from the holiday rush, so the next step is to get STARTED! The holidays are right around the corner, and you'll want to get the ball rolling immediately. That being said, make sure you do take the time to select a campaign that is best for you. Tailor it to your business, and see the results speak for themselves! Be sure to let us know of your success stories, and until next time, happy holidays!