July 21, 2014
Catch A Laugh & New Customers with Jimmy Fallon's Tonight Show: Understanding the Importance of Monitoring on Social Media
Some have dubbed him the current King of late night… but here at Rignite we like to think of him as the current King of social media. You probably know he's good for a few laughs.  But did you know that your business could find opportunity in the buzz he creates?  His constant incorporation of Twitter with the show has caught our attention, and we feel it is definitely something that businesses can use to find customers.
But before we get all business, let's get a quick recap of what we think are #FallonsFunniestMoments.
If you haven't seen any of the YouTube videos circulating of clips of the show – you're doing something wrong. In fact, check out this link of Emma Stone and Fallon having a lip sync battle immediately. Or, if you're more of a Brian Williams type, here he is rapping to "Gin & Juice" by Snoop Dogg. Fallon edited hundreds of Williams' news reel clips to create this masterpiece.
For the past few months, Jimmy has been getting in touch with a whole new audience for his late night show through his use of social media. Millennials like me have been laughing along with Jimmy at his panda named Hashtag, his effortless Putin impression, and the way he coerces every single guest who comes on the show to do something out of character. Who knew Anne Hathaway would be down to turn 'In Da Club' by 50 cent into a Broadway hit? That was actually really funny, Anne. If viewers aren't suckered in by his boyish charm and likeable personality, the constantly trending topics on Twitter are definitely a bonus for their amusement.
Monitoring all this Twitter buzz from Jimmy's social shenanigans could have serious potential for all sorts of businesses.
For example, every Wednesday, Fallon instructs his audience to tweet about a topic of his choice and then he shares his favorite tweets on Thursday's show. It actually becomes hard to ignore – as each of Fallon's hashtags inevitably becomes a worldwide trending topic within 20 minutes. My personal favorite was the stream of #RobFordBaby.
Other hashtags, however, such as #MyWorstCar, #BadSpringBreak and #AwkwardDate had me 'LOLing' and thinking business simultaneously. As I'm sure you know, monitoring social media is a great source of engagement opportunities. And when influencers like Fallon (or anyone, really!) get people chattering on Twitter, the iron becomes hot to strike. For instance, if you owned an auto repair shop and noticed that #MyWorstCar was trending worldwide, Jimmy just did you a huge favor. The same goes for a travel agency with #BadSpringBreak, or a company like eHarmony with #AwkwardDate.
Luckily, Rignite is a great tool for monitoring and engaging on social media.
To put these trending topics to use, all you would have to do in Rignite is set up a search stream that reads "#MyWorstCar" and see if you can reach out to anyone on social!

Boom! Now, back to the owner of the auto repair shop. If that were me, I would definitely shoot @BuddySaanGuy a tweet giving him 10% off horn repair. I'm sure he would be that much more obliged to take his car into my shop when he has a discount to take advantage of. Taking this a step further, if you were a local business, you could make use of the geo-location feature when setting up your search stream. After all, @BuddySaanGuy would only be able to actually put that coupon to use if he was within a few miles of my store. Limiting your search stream by location is great for local businesses to make sure they find only people who really have the potential to become customers.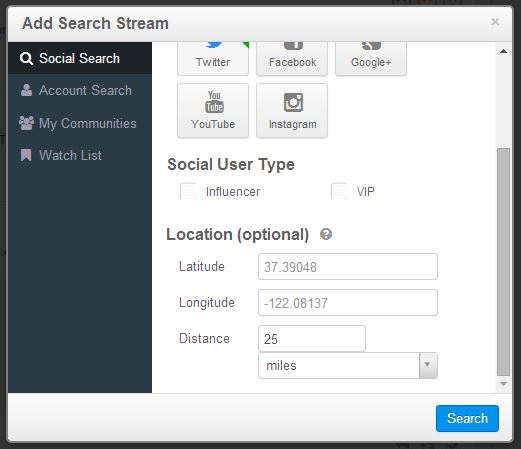 There you have it – the importance of watching the Tonight Show. And monitoring on social, of course! Keep in mind it doesn't take Jimmy Fallon to get people talking about topics that relate to your business. You should always be brainstorming different search words or hashtags that are relevant to your business and keep them in your monitor on Rignite. You'll surely start to increase your engagement on Twitter in no time!
Easily Monitor Social Media Using Rignite
Rignite is a software solution that makes it easy to find opportunities on social media. With Rignite you can:
Create search streams to monitor for people talking about your industry, products, brand, competitors, and more

S

earch by location to find local conversations

S

earch across multiple social networks to find conversations wherever they are happening
Sign up for a free trial today!