October 16, 2016
How to Schedule Tweets to Promote Your Business on Twitter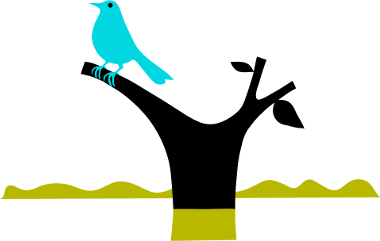 Almost everyone knows by now how to schedule a tweet, but it's how to do it efficiently and effectively that can be a challenge.
Here are some guidelines for how to schedule posts on Twitter to promote your business. I'll use Rignite's social media management tools to show ways to make your life easier using a powerful tool for scheduling tweets.
The Basics: How to Schedule Tweets
You can't schedule tweets directly in Twitter unless you have an ads account, but there are many social media scheduling tools like Rignite to help you publish your tweets. And they do a lot more than that too.
First, you'll find where to create a new tweet.

In Rignite, the Compose Message window is accessible all the time.
Next, compose your tweet in the popup window. You'll want to select a Twitter account first so the character count in the bottom right knows to countdown from 140. Be sure to include an eye-catching photo if you have one.
Also note that if you include a link, it will be shortened and tracked by Rignite by default. You can turn this off, but it does save characters to use a link shortener if you have a long URL.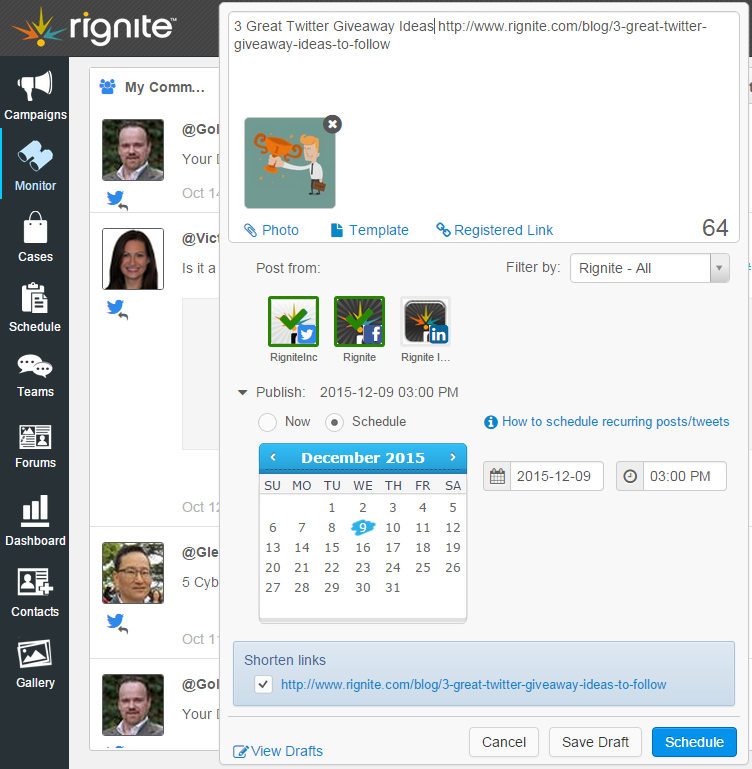 Then select the day and time for your post to be scheduled. You should schedule your posts when your fans are most likely to engage with you.
If you'd like to post the same message to other social accounts – Twitter, Facebook, LinkedIn etc, you can easily select those as well.
Then hit the schedule button, and if you're finished scheduling tweets, you can go to the Schedule module to see your calendar and manage your posts.
General Tips for Scheduling Tweets
Use Visuals To Catch The Eye. Although you may think of Twitter as a text only network, your tweets may get a lot more attention on your followers' feed if you upload an eye-catching photo.
Include Hashtags and Mentions to Increase Visibility. If you include relevant hashtags for your topic, you'll increase the chances that someone will discover your post. And if you mention (tag, using the @ symbol) someone, you'll get their attention when they are notified that you tagged them.
Post When Your Fans Are Engaged. Pick times and days of the week when you know your target audience is online and engaged. This increases the chance that your post will be seen.
Post Frequently, But Not Repeatedly. Don't be afraid to post many times a day on Twitter. But don't post the same thing over and over, or you'll bore your audience and get blocked by Twitter for a duplicate post.
Mix Up Your Topics. Your fans have a variety of interests and will engage with you on some of these interests. Vary the topics of your posts, and keep a healthy mix of post categories such as educational, informative, promotional, humor, emotional and so on.
Ask Provocative Questions for Engagement. Asking people to respond to emotional, controversial, or intriguing questions can increase your engagement.
How to Schedule Tweets for a Twitter Giveaway or Contest
One of the most engaging types of tweets is a giveaway promotion on Twitter. If your goal is to boost engagement and increase brand awareness, a tweet or re-tweet giveaway or photo contest can do it.
Rignite provides goal-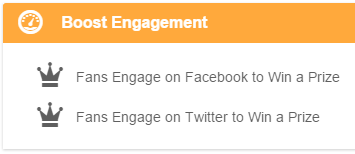 oriented campaigns and a wizard to guide you through setting up your promotion. You select Boost Engagement as the goal, and begin your Twitter promotion setup.
The wizard will guide you through all the details needed for your promotion:
Dates/times, prize description, number of winners, link to rules
Action required to enter such as Tweet, Retweet, Follow, Upload Photo
Hashtag(s) and mention (@tag) required
One to three rotating base messages to post
Cross promotion on another social profile such as Facebook page.
Then you'll select how frequently you want to schedule your tweets and Facebook posts and click Kickoff. Your calendar will be automatically filled with promotional posts for your giveaway or contest. This alone will save you tons of time scheduling your posts, especially if your promotion runs for a few days, weeks or even months.

Tracking entries is easy too! Rignite will automatically search Twitter and collect entries for you. When your promotion is over, view your entries and pick a winner or randomly select one. Then Rignite will guide you through the winner notification tweet posting.
You'll be able to see Campaign-level analytics for your tweets, and compare your campaign to other ones you've run.
How to Schedule Tweets to Promote a Blog, Content, Sale or Event
Even if you're not running a giveaway or contest, you can easily schedule dozens of tweets for a campaign to promote other things. Scheduling a basic series of posts as part of a campaign is also easy in Rignite.

You'll be able to schedule both tweets and Facebook posts for the duration of your campaign, which could be weeks or even months long.
The scheduled tweets for this type of campaign are great for:
Keeping blog posts 'evergreen' for months
Promoting an event with a steady drumbeat and increasing urgency as the event nears
Downloads, ebooks, or other special offerings with long shelf-life
Updates for regular reports, events, sales that need little or no customization from week to week
You can create multiple base messages which will be rotated on your tweet and post schedule, and even automatically add Google Analytics tracking parameters to all your posts. As always, any links you include will be short-linked and clicks tracked by Rignite.
Then you'll select the frequency of posts for Rignite to schedule for you. This can be different for your tweets than for your Facebook posts, and you can specify your Favorite Times for posting if you have some.

When you kickoff your campaign, you'll have a calendar full of your desired scheduled posts. You can easily edit, add, and move your tweets to customize your schedule.
How to Manage Your Twitter Post Schedule
Great, now that you've got your calendar filled with wonderful tweets, what do you do? Here are some suggestions:
Tweet daily any news, updates or time sensitive posts.
Adjust your tweet schedule for daily events or to adjust your post frequency.
Evaluate your post schedule weekly for the proper mix.
In the Rignite Schedule module you can see the big picture calendar of your tweets and other posts.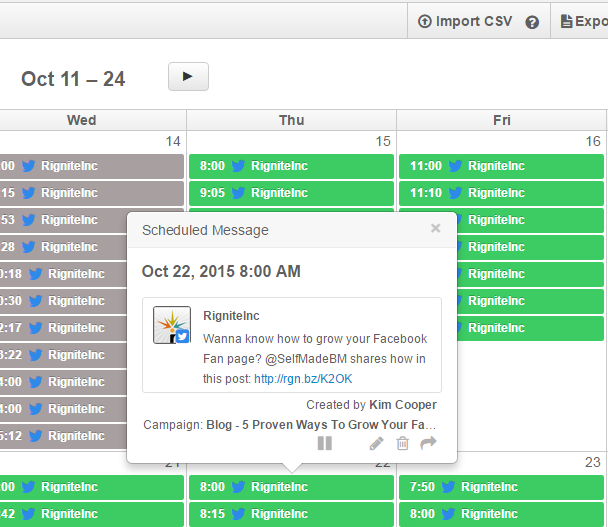 Here's some cool things you can do:
Drag and drop posts to another day
Edit, pause, delete, and reschedule posts
Use the Repost arrow to create an identical copy of a past or scheduled post so you can post it again on a different day/time or to a different account
Filter your posts by client, profile, account, author, date, campaign and more
Import tweets from a CSV file, and export posts to an Excel file
All of these tools will help you become a real power scheduler!
Need to Get More Followers on Twitter First? 
Here are 47 Ways to Get Twitter Followers.
Learn How to Schedule Tweets Easily with Rignite
Rignite is a software solution that makes it easy to schedule, track, and manage your Twitter posts. With Rignite you can:
Schedule tweets across multiple accounts
Easily manage scheduled tweets with a drag and drop calendar
Boost engagement by requiring social actions for giveaway entry such as tweets with a photo and hashtag
Get campaign level reports showing which tweets were most effective
Sign up for a free trial today!