August 23, 2014
How to Organize Your Social Media Team Roles For Success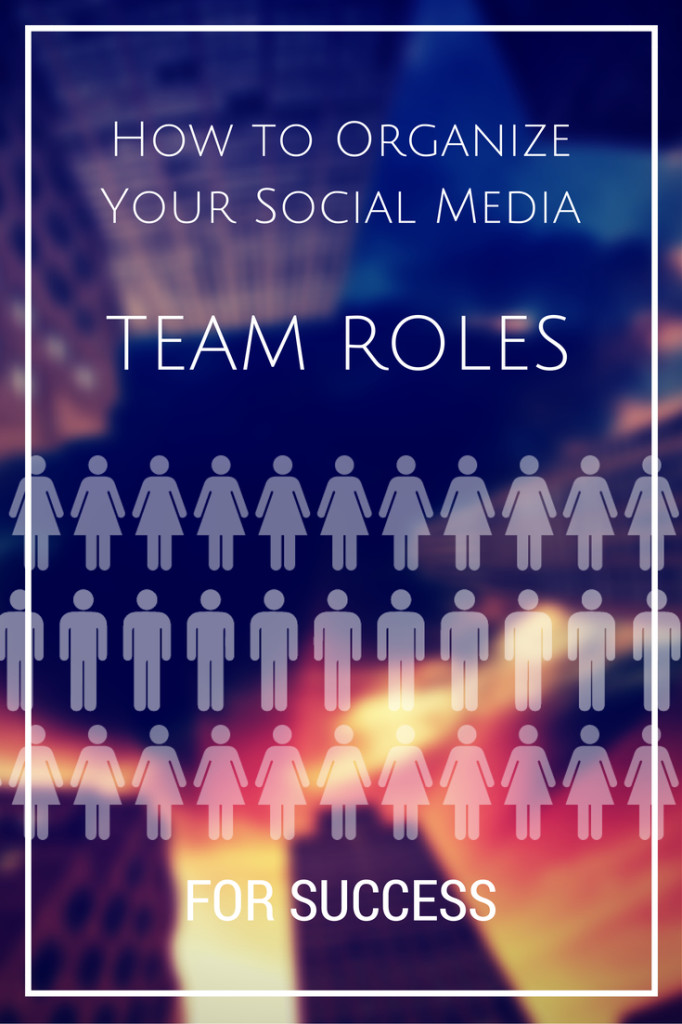 Do you want to get your whole team involved in social media so you can be successful? Do you want to work efficiently so you get more results with less effort?
In this post, we'll cover how to create clear social media team roles, including ways each role can execute their action items efficiently.
Whether you're a marketing agency managing social media for many clients, or a small team managing the social media for a brand, it's important to establish clear social media team roles for everyone. This will help you deliver the best content at the right time and keep your customers and prospects engaged with you on all your social profiles.
Here are the most important social media team roles to consider
If you are a small team, you may have one person play multiple roles.
Social Media Manager – Monitors and engages with fans. Keeps the calendar full of posts.
Subject Matter Expert – Creates knowledgeable responses to questions, comments or complaints using specialized insight into the business or an area of expertise.
Social Campaign Manager – Runs marketing promotions and campaigns requiring coordinated actions across social profiles.
Marketing Strategist – Determines overall social media goals and drives campaigns and tactics to accomplish them. Uses analytics to determine progress.
Customer Support Manager – Monitors and handles customer service cases and ensures nothing falls through the cracks.
Daily tasks and responsibilities for each social media team role
Managing social media as a team can help you be more efficient and get the results you want to grow your business. But without a clearly defined set of responsibilities for each member on your social media team, you'll likely have people tripping over each other, multiple people responding to the same post, or even worse no one responding to important posts.
Below we'll outline the tasks and responsibilities of each role. And we'll show you how these different roles can work together seamlessly and efficiently in Rignite, an all-in-one social collaboration software for teams.
Social Media Manager Responsibilities
Monitor for people talking to/about you or your clients' company
How to do it efficiently
In Rignite, you can set up monitoring streams to follow anyone engaging with your brand's social profiles. The streams can be filtered to show you engagement on a single social profile, or a group of profiles on a variety of social channels. If you are an agency, monitoring a bunch of different profiles for a bunch of different clients, you'll find our "Groups" and "Permissions" features very useful. Using the "Groups" feature will make it easy for each Social Media Manager to focus on only the social profiles that are assigned to them. Permissions allows you to specify which team member can post on behalf of each social profile.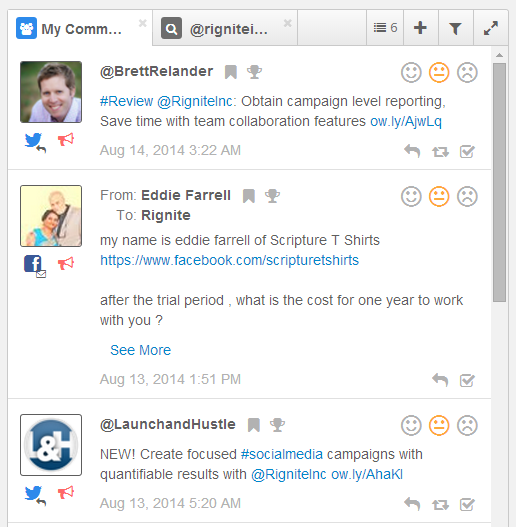 Proactively look for opportunities to engage
How to do it efficiently
In Rignite's Monitor module, the Social Media Manager can create keyword search streams to monitor mentions of keywords that might lead them to a potential prospect for the business.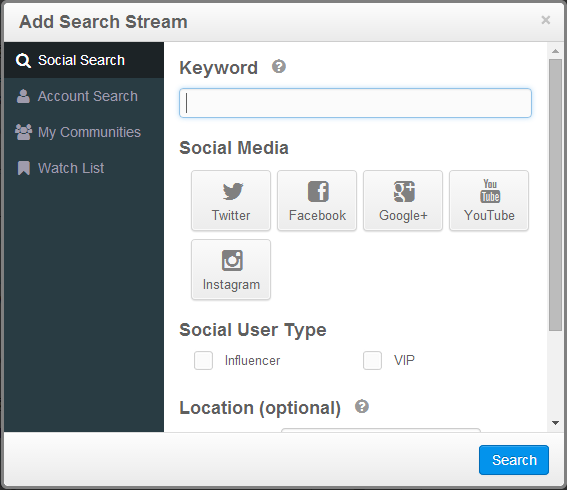 Additionally, they can create streams to monitor specific social profiles. This can be great for monitoring influencers and VIP that you want to stay engaged with on a regular basis.
Assign high-priority engagement opportunities to the Subject Matter Expert or to the Customer Support Manager if they need special responses
How to do it efficiently
In Rignite, the Social Media Manager can assign any post to a team member to respond. That team member will get an email notifying them about the assignment. A new Case will be created for anyone involved in the response to see the communication history. And it will help the Marketing Strategist track response times to measure how quickly their team is resolving cases.

Respond to common engagement types (i.e. shares of their blog post, or simple "tweet love" by customers, or frequently asked questions)
How to do it efficiently
In Rignite, you can use preset 'Templates' for commonly used responses.
The Marketing Strategist might define a few common engagement scenarios and create templates for the Social Media Manager to use as a starting point in his/her response. For example, if someone shares a blog post, you might have a common response that thanks them for the share and then suggests they check out an ebook download on a similar topic.

Schedule posts to keep their social profiles full of curated content
How to do it efficiently
Using Rignite's Chrome extension, the Social Media Manager can quickly schedule shares of articles as they browse the internet and stumble on great content that their audience would enjoy. Also, the calendar view helps them see when they need to schedule more posts to keep a good rhythm of content being shared.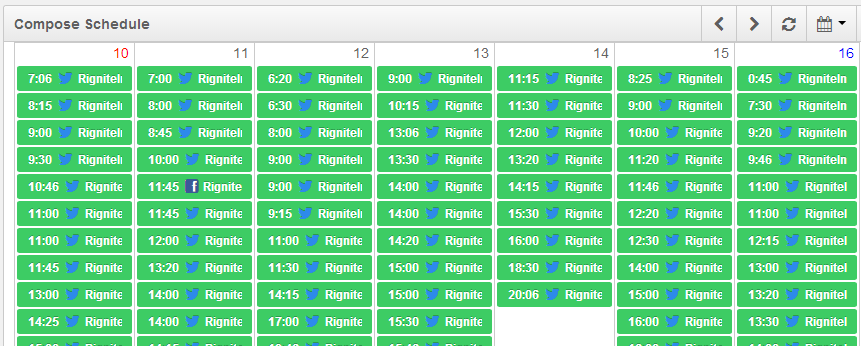 Subject Matter Expert Responsibilities
Respond to high priority posts that need special insight. Subject Matter Experts have in depth knowledge and access to information about the business including products, billing issues, customer data, or industry trends. So they might not be actively monitoring social media, but there will be times they'll need to get involved in social conversations. If you are an agency, the Subject Matter Expert might be your client (the business owner) who you'll want to loop into the conversation on occasion when it requires a deeper level of knowledge than the common scenarios that the Social Media Manager can respond to with the Template messages.
How to do it efficiently
In Rignite, a shared team inbox enables the Subject Matter Expert to respond directly to social inquiries that have been assigned to them. If the Subject Matter Expert doesn't want to respond directly, they might instead give direction to the Social Media Manager via Rignite's Team Chat feature.


Social Campaign Manager Responsibilities
Run creative campaigns on social networks such as Facebook and Twitter to continue growing following, boosting engagement, and driving sales through coupon offers and promotions.
How to do it efficiently
Rignite's Campaign module makes it easy to create goal-driven campaigns—including scheduling a series of posts to promote it across multiple channels; for contests/giveaways, collecting entries and notifying winners; and measuring campaign level results.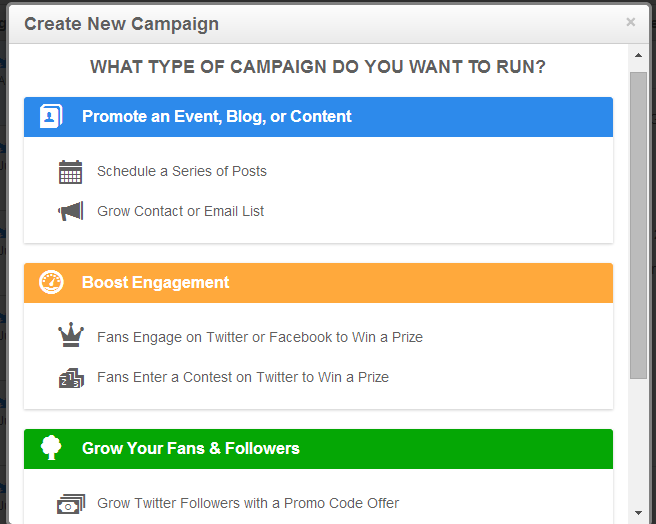 Coordinate campaigns to ensure overlapping initiatives don't disrupt each other. In other words, keep the calendar full of engaging campaigns, but avoid overlap of different campaigns.
How to do it efficiently
In Rignite's schedule module, you can filter a calendar view by many different parameters including campaign, team member, social profile, group, etc. To avoid Campaign collisions, the Social Campaign Manager would filter the calendar view to only show the current campaigns to get a clean view of when those posts are scheduled to go out.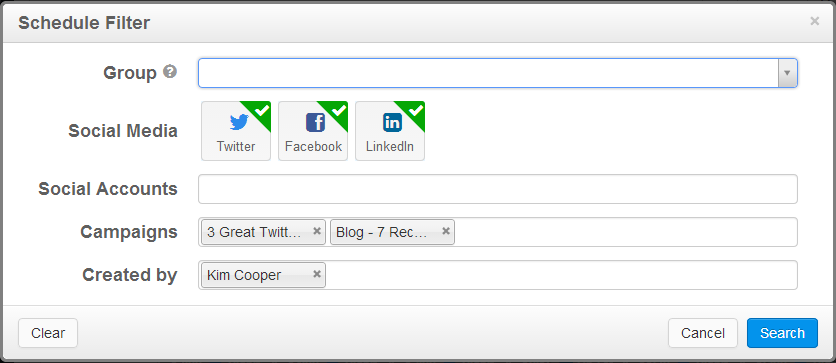 Marketing Strategist Responsibilities
Oversees all social media strategy
How to do it efficiently
Staying up to date on social media best practices is the key to success here. The Marketing Strategist can get weekly emails and blog posts sent straight to their inbox by subscribing to the Rignite Blog. Fill out the form in the sidebar to get tips and tricks emailed to you often.
Direct the team to execute their strategy by creating and documenting protocol.
How to do it efficiently
Our Forums feature is a great way to share protocol to guide the team. For example, we have a shared forum where we've documented commonly used #hashtags that people in our audience use. So everyone knows which ones to use when appropriate.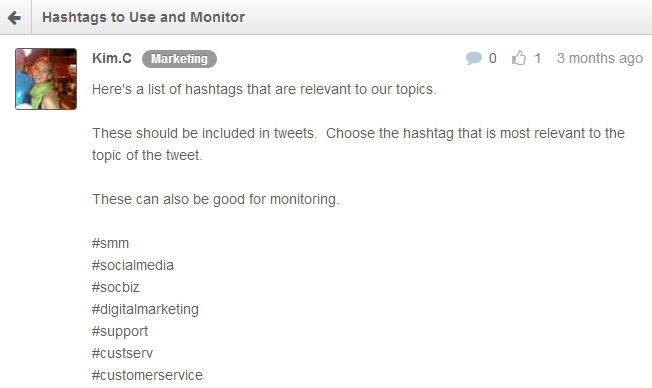 As mentioned above, Templates are another way that the Marketing Strategist can provide direction to the Social Media Manager as a guideline for responses to common scenarios.
Measures performance of the tactics their team executes
How to do it efficiently
Measuring social media can be a challenge because each post can be geared toward a different goal. Some intend to boost engagement, while others hope to capture email addresses, and others drive sales. Having the whole team use our Campaigns module helps the Marketing Strategist track social media campaigns in aggregate. In other words, if you use a different campaign for each tactic, Rignite will provide you with a campaign level report that aggregates activity on all the posts in that campaign. Being able to measure the effectiveness of social campaigns, across a series of posts, can be a valuable addition to traditional social analytics.
Helpful Resource: The best time to post on Facebook is dependant on the behaviors of your unique audience and your marketing goals. The post above will show you how to analyze your Facebook Page's past performance to determine your best times.
Ensure quality of content being shared on social channels
How to do it efficiently
With Rignite, the Social Media Manager can create drafts of posts. And then the Marketing Strategist can go in and review, edit, and/or approve posts. This is an especially great workflow when training a new Social Media Manager. If you are an agency, you might have some clients who want to be a part of the approval process to ensure that you are representing their brand with a tone and voice that they are comfortable with.

Customer Support Manager Responsibilities
Respond to inquiries, comments or complaints from social networks requiring customer service
How to do it efficiently
The Customer Support Manager will spend most of their time in our Cases module. That's where they'll see the history of conversations that are assigned to them. And it's where they'll go to respond to cases, or collaborate with fellow team members until they can resolve any issues.
Monitor response times to ensure cases are closed in a timely manner
How to do it efficiently
In Rignite, the Customer Support Manager can keep an eye on their average response time to ensure they are delivering superior service.

Takeaway
Social media management is much easier as a team sport! To work together efficiently, it's important to clearly define your social media team roles including 'who does what and how.' This will help you avoid wasting time and missing opportunities. And it makes social media much more fun when done together!