November 17, 2014
4 Social Media Coupon Campaigns to Successfully Promote an Ecommerce Business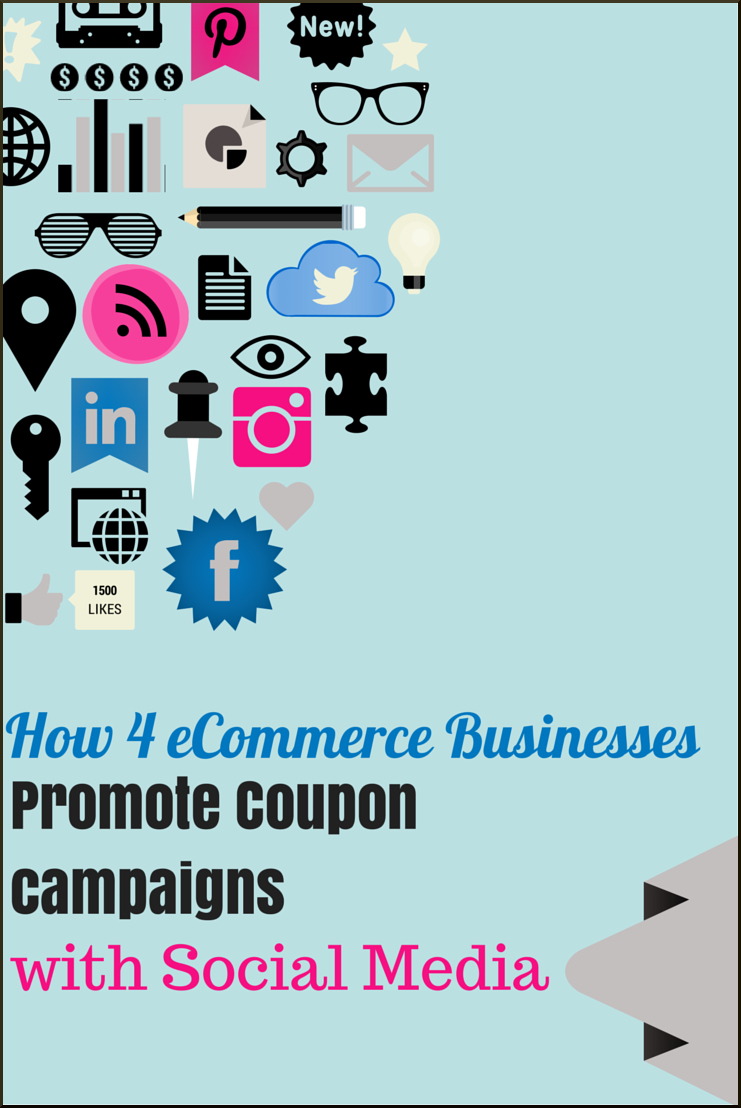 For most eCommerce brands, the main goal of social media marketing campaigns always comes back to getting more customers and driving more sales.
In a crowded online ecommerce arena, how do you attract customers and retain them so they keep purchasing from you?
Today we will talk about how to do exactly that using coupon campaigns. And we'll share examples of campaigns that successfully engaged customers on social media to:
Drive revenue
Increase customer loyalty
Unleash the powerful weapon in an online merchant's arsenal: Coupon Campaigns.
So Why is it Important to Offer Coupon Campaigns?
Don't coupons and discounts devalue my brand? Not necessarily. In the four examples below, you'll see that not all coupon offers use heavy discounts or loss leaders. A creative offer can entice customers to spend more than they would without a coupon.
It's important to think long term and focus on your goals of customer acquisition, retention, and increasing average order value.  When done right, coupon offers can be effective triggers for acquiring new clients and bringing back customers who haven't purchased recently.  Coupon campaigns are easy to implement, track, and analyze if you have a social media management platform like Rignite.
Don't expect to get your best results on your first campaign. Experimentation will be the name of the game until you find what offers increase your profitability, conversions and customer loyalty.
Types of Coupon Campaigns
Before jumping into the variety of coupon campaigns, let's quickly review the types of coupon offerings you can and should experiment with:
Dollar-based coupon – a dollar value amount discounted from the original price.  To receive the discount off, some merchants will require the customer to spend a minimum amount.  This incentivizes  the customer to spend more to get the discount.
Percentage-based coupon – a percentage discount off the original price.  This is a popular offering because it gives merchants the flexibility to liquidate older products or push products that are moving slower. The larger percentage discounts are used for these cases and smaller percentages are great incentives to attract new customers.
Coupon code for store credit – useful for offering discounts in the form of store credit. The offer can be dollar or percentage discount. We recommend a dollar discount positioned as store credit because it yields higher redemption. This makes customers feel like they are wasting money if they don't jump on the offer.
Using Coupon Offerings in Campaigns
After you choose your type of discount and create your coupon code, you can now get creative with the types of campaigns that will be the vessel for your newly crafted coupon offer. There are a variety of campaign types to drive customer acquisition and increase customer loyalty. You want to choose the campaign that will be most beneficial for your brand and, let's not forget, your sales. Here is a quick list of some sample campaigns for coupon offers:
Weekly/monthly offer
Pre-launch offer
Holiday/seasonal offer
Offers for liking/following/sharing on social
Volume/cart size offer
Exclusive social offer
Customer loyalty offers
Influencer offer
Promoting coupon campaigns with social media can be very effective for these industries: Fashion, Cooking, Food/Beverage, Entertainment, Travel, Retail, and Specialty Gifts.  Let's see how well some of our favorite Shopify eCommerce businesses used social media to promote a coupon campaign.
4 eCommerce Coupon Campaign Examples
Example:  Cookbook Village went with a dollar-based coupon offer for their volume/cart size coupon campaign where the offer is based on the value of the total purchase.  This is a great strategy to encourage customers to spend a minimum amount to increase sales.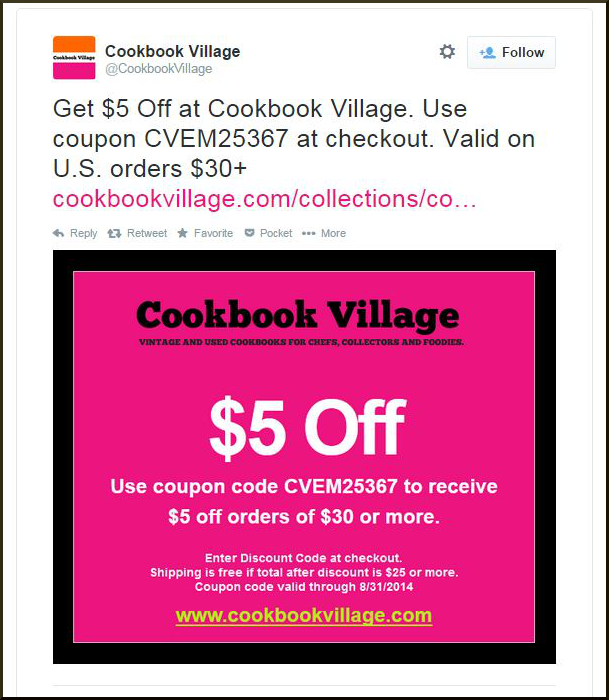 Goal of coupon campaign: Boost sales and Average Order Value via dollar-based coupon.
What they did right: They added an offer of free shipping to provide an incentive for new or returning customers.
How it can be improved: Better visual. This online store specializes in cookbooks that are vintage, used, and collectible. It would be great to appeal to cookbook collectors, foodies, and chefs by posting a photo of a cookbook to go with this coupon campaign.  Doing so would enhance the brand image, unique factor, and more likely increase sales with an actual visual of the product.
Example: LuhseTea is a loose leaf tea eCommerce shop that specializes in yummy unique tea flavors like Butterscotch White Tea or Marrakesh Fresh Mint Green tea.  Using a percentage-based discount, they ran a holiday coupon campaign which used the power of hashtags and incorporated the holiday theme in the coupon code.  Not to mention, their clever image was reminiscent of long lines on what is historically the busiest shopping day of the year, Black Friday.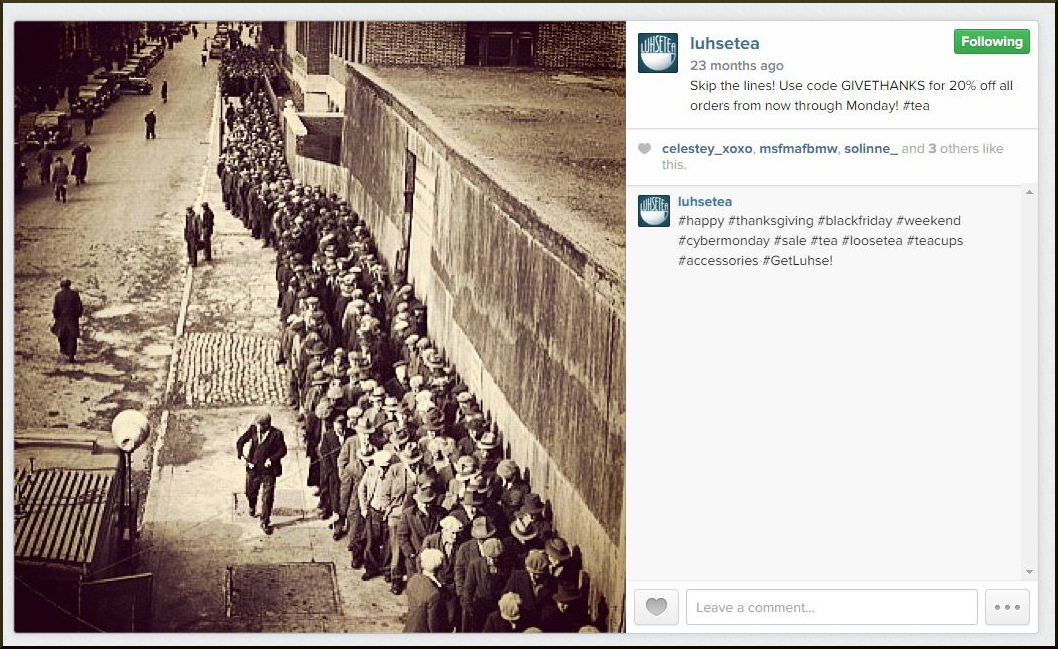 Goal of coupon campaign: Boost sales and generate brand awareness via percentage-based coupon.
What they did right: Visual content and leveraging Instagram.  Luhse Tea couldn't have picked a better image. For a holiday campaign, it illustrates the timing of Thanksgiving perfectly. Aside from successfully using nostalgia, they also provide a sense of urgency with a discount period, urging the customer to take advantage of the offer.
How it can be improved: Shorten link to include another hashtag. This post was also cross-promoted on Twitter and included a long URL from Instagram. The link should have been shortened with bit.ly or Rignite to make room for their awesome brand focused hashtags #GetLuhse or #loosetea. These are mentioned in the comment box and therefore not searchable on Twitter.

Example: Lonesome George Co. This is an awesome sustainable apparel company, using high-quality organic Peruvian pima cotton and cutting-edge design elements for their garments.  How cool is that?  What we love more is how they also effectively use social media to promote their percentage-based offer in a seasonal coupon campaign like the one below.
Goal of the coupon campaign: Can you guess? Yes, increase sales! But here we have an example where the retailer is also hoping to sell products priced over $50 by offering free shipping.
What they did right: Lonesome George did a number of great things here. They created a sense of urgency by including the end date to the sale and offering free shipping to give that extra incentive for customers to spend more. They included #FathersDay in the tweet itself, making it easy for new customers or last minute shoppers (yes, I'm calling you out) to find this company. Not to mention, the actual coupon code is easy to remember when it's to enter it in the checkout page! But best of all is this great picture–Father and son wearing the brand name. The tweet perfectly captures the essence of the picture and I'm sure we can all remember telling our dad "Look, Daddy, Look!"
How it can be improved:  Be more clear on the offer. Is this 15% off just Men's apparel or is it store wide? What about children's apparel?  The image suggests these products, but the offer itself is less direct. If it's store wide, merchants will often tweet '15% SW' to abbreviate in order to fit the Twitter character limit.  If this is cross-promoted on Facebook, more details on the product can be mentioned.
Example:So Worth Loving is a great example where the product and message of the brand are synonymous with each other. The story of the brand moves the product off the "shelves," so to speak.  As an eCommerce business, we love that this fashion brand ties a new blog post to every tee they launch to further promote the product and brand image. Here, they offer a percentage-based discount with a coupon code that is symbolic of their brand.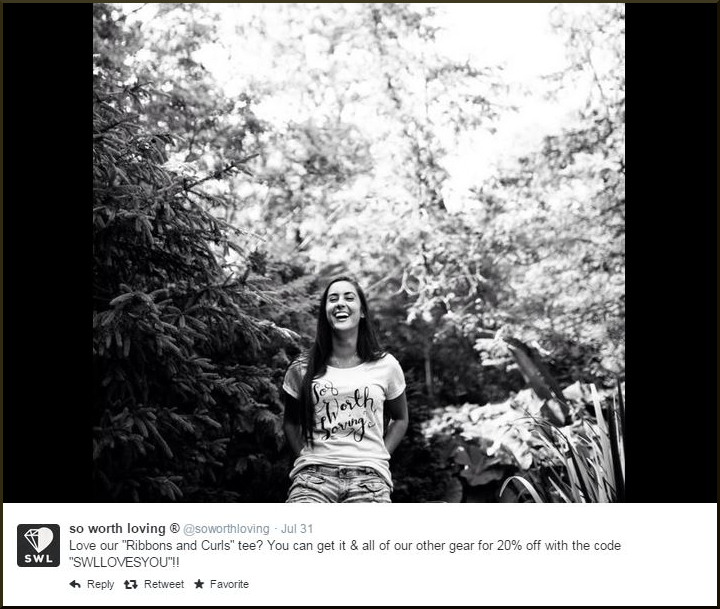 Goal of the campaign: Increase sales of this product and create awareness of their brand.
What they did right: Choosing a percentage based coupon and brand-focused image. The fashion industry is competitive and even more so online.  With tighter margins in mind, So Worth Loving is offering a percentage discount, not a dollar discount, to move their product faster. This allows SWL to make a profit from the tee yet also entice loyal customers with a great offer. Coupled with a brand-focused and engaging image, new customers can see how the tee looks, giving more incentive to check this shop out.
How it can be improved: Add a sense of urgency. When does this sale expire? To maximize response, SWL should include a coupon expiration date.
Getting Started and Measuring the Results
Creating a coupon campaign doesn't have to be hard.  Now that you have a sense for the different types of offerings you can promote, you can start your own coupon campaign easily with Rignite. Rignite's friendly social media management platform allows you to easily and quickly set up a social media marketing campaign that can be monitored, tracked, and analyzed.
Our coupon campaign feature allows you to easily enter in the percentage or dollar discount, coupon code, and track the results.  If your online store is run on Shopify, you can use our integration to track the social media ROI for coupon redemptions. What can be better than measuring the return on your investment in social media campaigns?
You should also leverage the power of Twitter to promote your campaign! Remember to be social with your social media marketing! Rignite enables you to do this when composing your campaign.  You can set a threshold number of new followers required to RT the campaign post before making the code available. Doing so will increase your follower count, spread the message further and increase sales.
In this example you can see the goal of the campaign was to increase the number of followers and sales. The coupon code for the discount was only published after the threshold of 100 new followers was reached.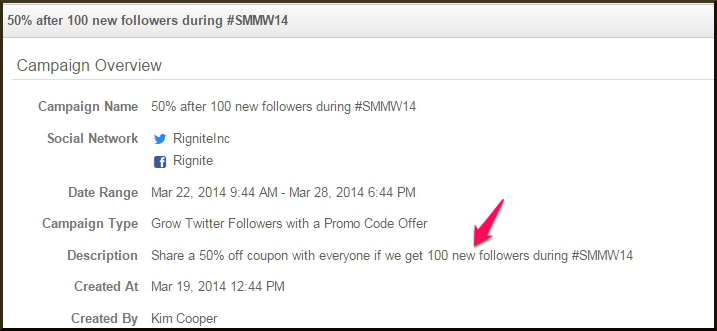 Rignite makes it easy to track your campaign by capturing the progress toward your threshold for new followers and also the goal of your campaign. In this campaign the goal was 200 new followers.
After running a campaign, the next step is to review your analytics.  We as marketers love to measure performance and see the social reach of a post, along with other KPI metrics. Here are some KPIs Rignite tracks and reports:
Coupon Results To Date (Shopify)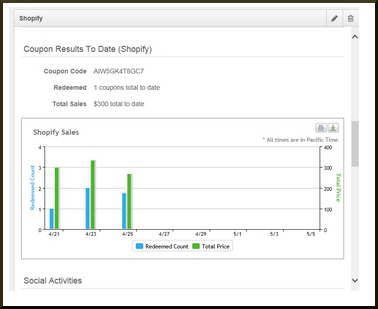 Engagement per day

Campaign Reach (Twitter Reach, Facebook Impressions)

Engagement by Post (ReTweets, Replies, Likes, Comments, Shares)

While fluctuation in the data is natural, Rignite shows the metrics for individual posts to help you see exactly which post had the highest engagement.  For example, you might have put a 'sale ending' date in one of your tweets that increased the number of retweets and engagement for that day. The day and time of the tweet could have also affected it's reach and engagement.
Rignite enables you to examine these metrics closely to help you optimize your next campaign.  To improve results, you could try different post times or put a sale ending date to increase urgency.  Just make sure that whatever changes you make to your campaign keep your campaign aligned with the goal of your campaign and your brand strategy.
Key Takeaways
Remember what these 4 eCommerce Businesses did right and follow these simple key points to craft your own offer:
Determine how a coupon or discount offer fits with your marketing strategy
Determine which social media channels to use for your promotion
Identify the goal of your coupon code campaign: New customer acquisition? Increase sales, conversions, and average order values? Move an old product off the shelves? Increase customer loyalty?
Pick your offer type. Dollar-based or percentage based discount? Free shipping or free gift?
Decide how will you use your offer in a campaign? Prelaunch or seasonal offer? Twitter following offer?
Create and run a campaign comprised of a series of posts with increasing urgency as the campaign nears its end
Gather results, analyze your KPIs and make any adjustments to your strategy for your next promotion.