January 14, 2014
3 Ways Into the Hearts of Your Customers This Valentine's Day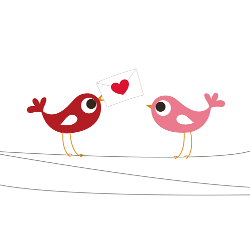 As February approaches, drugstores everywhere have lined their shelves with various hues of pink, purple, and red candy boxes. Paper-crafted hearts are strung in children's classrooms, and Hallmark is eagerly awaiting their annual boost in sales. Subtle hints are omnipresent and remind marketers of one of the most loved/hated holidays of the year: Valentine's Day. Luckily for businesses alike, this holiday presents us with a chance to create some hype and stand out. But with so many brands in the mix, a surefire way to get ahead is through running an attention-grabbing social media campaign.
We've detailed a few examples below, but before we get into that, there are a few general tips that will apply to any campaign:
• Make sure your campaign is easily accessible via mobile. More and more consumers are starting to prefer their social media on the go, so increase your reach by making sure your campaign works on a cell phone.
• Be sure to promote your promotion! You've put in the work, now don't let it go to waste. Our new "easy campaigns" feature will work wonders on getting the word out about your campaign – check it out!
• Don't be discouraged to join in the fun even if you think your business isn't the typical Valentine's day retailer. Lots of unique businesses can get in the mix. If your company really doesn't have the time to set up a whole campaign, be sure to add some subtle holiday touches to your profiles, perhaps by changing a cover photo or profile picture to jazz them up.
For those of you who are ready to take on the whole campaign challenge, check out these ideas below!
1

Valentine's Day Campaign # 1: Barney's New York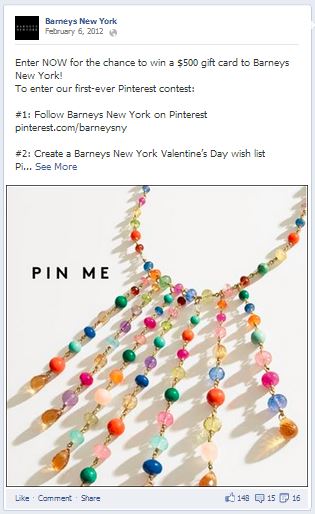 Here is an example of an incredibly simple campaign – great for an SMB who is looking to have the consumers to do most of the work. Barney's New York asked consumers one question: what do you want for Valentine's Day? The task was straightforward – to peruse their website, and pin their favorite items onto a "Valentine's Wish List" board on their Pinterest page. The only catch to qualify was that at least 5 items on the board had to be from Barney's. After a review of the different boards created, the best board received a gift card to the store. Their gift probably paid for itself! This campaign is great on a few different levels – first, it will drive tons of traffic to your website. Second, your consumers are essentially advertising for you to all their Pinterest followers. Creating a whole board dedicated to your store will surely increase your presence on Pinterest! And lastly, consumers will appreciate your store for taking the guessing game out of gift giving. Their significant other has created a public wish list, making Valentine's Day shopping a breeze.
2

Valentine's Day Campaign #2: Spotify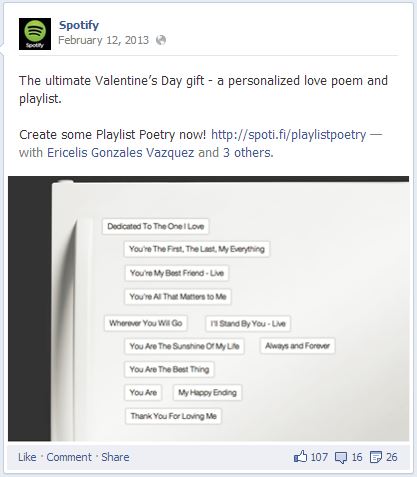 Spotify would be considered an atypical retailer for the Valentine's Day scene, but still they still nailed it! For those unfamiliar, Spotify is a very popular digital music service. They got involved by inviting couples (and everyone, really) to create a special playlist for their loved one… for free! Spotify then enabled the user to share their playlist with not only their loved one, but on all the user's social media channels. Talk about casting a wide net! Spotify is smart in that although they aren't a chocolate or flowers vendor, they used some creativity and found a way for their product to connect to the holiday. They gave tons of users a free taste of their product, in the hopes that they would come back. Not only did they engage users in a creative way, but they encouraged them to share their work with everyone who follows them – this will surely garner a lot of attention.
3

Valentine's Day Campaign #3: Virgin Mobile

Now here's a road that not many businesses go down: the anti-Valentine's Day campaign.

Some may call it cynical, but after you see how Virgin Mobile approached this, you may be first in line to emulate it. A combination of comedy and viral images & memes helped this campaign skyrocket to superstardom. On top of that, they targeted an audience who typically feels slighted on this exclusive holiday. Virgin Mobile partnered up with Buzzfeed to compile a list of 17 reasons why Valentine's Day "sucks." And as unorthodox as it sounds, even the biggest romantic would get a chuckle out of it. Virgin Mobile made large efforts to raise awareness of their compilation of dark humor, promoting it on Twitter, Facebook, and getting a custom badge on Buzzfeed. Although their budget may be large, a smaller business could promote this type of campaign via hashtag on Twitter, as well as Facebook. Humor spreads quickly, so as long as you plant your seeds and share with as many people as you can, perhaps you could garner as much attention as Virgin Mobile did!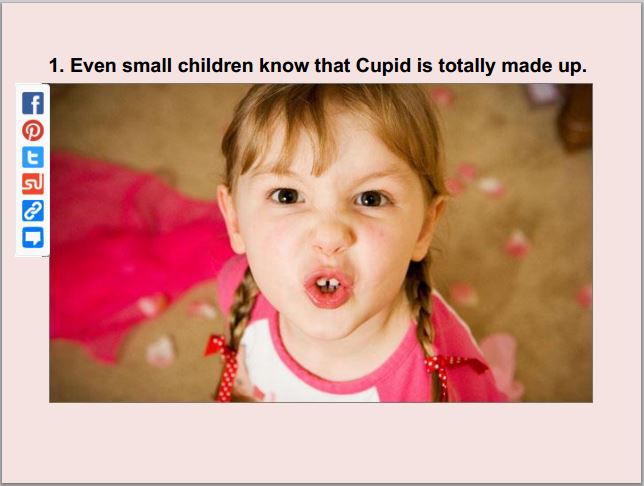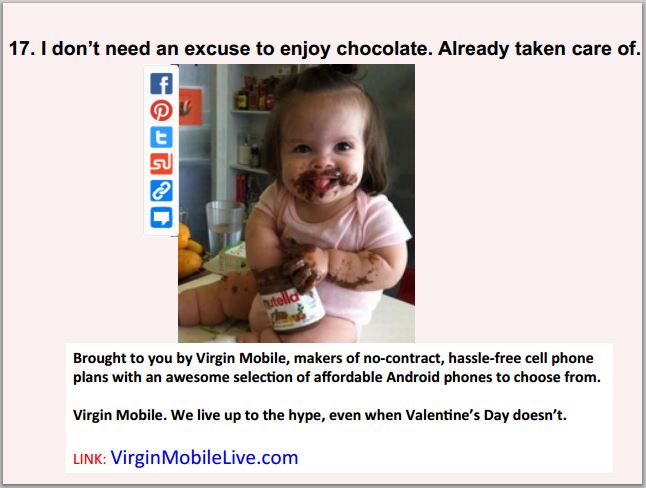 With so much love in the air, we're hoping a little extra rubs off on your business. And if you employ any of these ideas for a social media campaign, your chances increase exponentially. Don't forget the most important part once you've created your campaign, promote your promotion! Remember, using a tool like Rignite can help you keep track of how your campaign is doing from a monitoring perspective, as well as scheduling posts to raise awareness about it. Don't let it slip through the cracks, you've worked hard. If you can make sure that it'll be visible on mobile, you're in an even better spot. And don't forget to jazz up your profiles with some festive photos or colors – get into the spirit! We wish you luck with your campaigning endeavors.
Xoxo,
Rignite