December 3, 2013
Preparing for Social Media Customer Service in the Chaos of the Holidays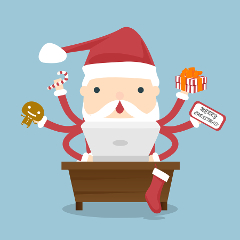 Today's guest author is Nichole Kelly, President of Social Media Explorer. She blogs about social media strategies designed to impact the bottom line.
Congratulations Mr. or Ms. Marketer, it's time to put on a holiday record and sip some eggnog. The holidays are a time of chaos and frenetic energy, but not for you – you've gotten your marketing plan put together well ahead of time. Your website is ready to handle the extra traffic, your fulfillment team is ready for the extra orders and your social media customer support plan is in full effect…
*record screech*
You do have a social media customer support plan, right? The holidays are an important time for sales, but they're just as important for customer support. Don't let a lack of planning prevent you from showing your customers just how awesome your support can be.
Assemble Your Social Customer Service Team
Controlling the chaos of the holiday season is best done with a plan – and that goes double for your social customer support. Social customer service is a great opportunity for active listening and reacting to your customer's needs, and being a company that provides great support during the holiday season can help win you long-term customers (after all, they're stressed too – relieving some of that stress makes you an oasis in the storm of holiday "cheer").
Before the holidays hit and you start to scramble, make sure you've checked these items off your holiday to-do list (oh, and it's not enough to just have a handshake agreement – write these things down so there's no questions about who's doing what when the fur starts to fly):
Designate a specific person/team to handle the questions, comments or complaints that come through your social media accounts.
Create an escalation flow-chart for each type of problem/complaint that may come up. This will be invaluable so that your response team knows who can actually solve the problems/answer the questions that arise.
Get enough hands on deck to handle the expected increase in customer service.
Train your team on the details of holiday promotions you plan to run, including what the offer or special is, the dates of the promotion, any requirements like quantities, etc.
Plan for How to Respond to Social Media Comments
You have a great group of people ready to manage your social media comments and… do what? Chances are, your social media customer service team knows how to manage your social media community on a day-to-day basis. In the blizzard of comments you're likely to get during the holiday season, however, you need to give them a shovel. No, we don't mean a literal shovel for fighting off the zombie-like hordes of Black Friday shoppers. Instead, create a plan for how they should respond to comments on your social media platforms.
Your social media customer service response plan should include instructions like:
Anticipate questions and confusion your customers might have on your holiday promotions and prepare your team with the right responses.
Respond to every customer comment, good or bad. You don't have to solve the problem immediately, but the customer should know that you're listening. A simple "Let us look into it" can go a long way to defusing a negative comment. (Social media customer service math 101: Negative + Positive = Positive)
Investigate the problem. This one may fall into the 'duh' category, but after you've said you'd look into it, do so. Use your escalation flow-chart to know who can resolve this issue and get in contact with them to resolve the customer issue.
Be "antisocial" if you must. Not all conversations are best resolved in a public setting. If the customer is angry or upset, or if the problem is of a sensitive nature, invite them to interact via chat, email, or phone to resolve their issue.
Put a bow on the issue. Regardless of how you resolve the customer issue, be sure to wrap it up in the original social channel. If you resolved the problem privately, a simple message like "We were glad to be able to help you solve this issue. Happy Holidays!" will let the rest of the world know that this customer didn't just fall into a holiday morass.
Reward the positive. (Hopefully) not all of your comments will be negative in nature. Some people will share their great experience with your brand – reward those people with small gift to surprise and delight them. Be sure your response plan includes acceptable gifts that your team can give brand evangelists and promoters.
Troll Control 101: We'd like to believe that every complaint is a customer with a genuine concern that can be resolved, but unfortunately some of them are trolls – people who derive pleasure just by making trouble for brands. You can banish the most virulent trolls by displaying, and enforcing, a short disclaimer noting that you reserve the right to remove abusive or irrelevant posts. Before sending a troll back under the bridge, make sure you're not dealing with a frustrated customer in disguise. Be sure to monitor your channels frequently for repeated posts that feature the same complaint while escalating in tone, and address them.
Stay Proactive as You Execute Your Social Customer Service Plan
Your plan will get you going and keep you running, but there are some things you just can't plan for. The key in these situations is all in how you respond, and how you make your customers lives easier after they happen. Watch for situations like these:
Delivery Delays – Whether its weather, overloaded warehouses or some other reason, you may have to deal with delayed shipping. As soon as you know that there might be a delay in shipping, get on your social platforms and let people know. Most importantly, let them know what the deadline is to receive their delivery by Dec 24.
Sold Out Products – When a product sells out, it's a bit of a holiday wish come true for you. Unfortunately, it's also a holiday nightmare for your customer. When you have to deliver the bad news, tell them about alternative options and maybe even offer a discount for any orders of those alternate products.
It's true, the holidays are a swirling vortex of chaotic energy, but with the right plan, you can be ready to thrive. What's more, you can make your customers experiences just a bit less chaotic too – and they'll appreciate you for it. Lastly, now that your social customer service plan is ready, it's time to return to that holiday music and eggnog.
Where did we put that brandy?