The Best Hootsuite Alternative
Are you looking for a good alternative to Hootsuite?
Have you found limitations in making Hootsuite work for your business needs?
If you…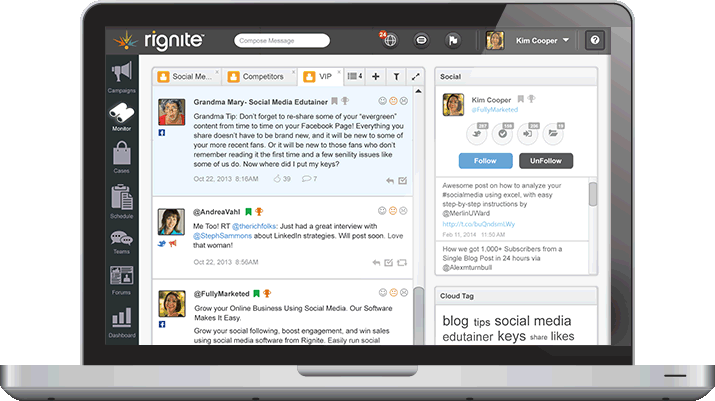 Are overwhelmed by Hootsuite's clunky interface
Don't like the way your posts look when scheduled through Hootsuite
Feel like you're paying for features you don't really need and getting nickle and dimed for each and every feature you do need
Need software that does more than just manage daily engagement
Want a solution that helps you get and prove real business results
…then you might want to consider Rignite as your best Hootsuite alternative
Here's why Rignite is the best alternative to Hootsuite
…especially for small to medium sized businesses
Rignite helps businesses get results
Our Campaigns module was created to help businesses get results by "baking in" social media strategies that accomplish different goals. 
Rignite's guided campaigns help you accomplish those goals—everything from growing your following, to boosting engagement, and driving sales.
Boost engagement by running contests and giveaways on Facebook and Twitter
Generate brand awareness by running hashtag photo contests
Drive sales with coupon campaigns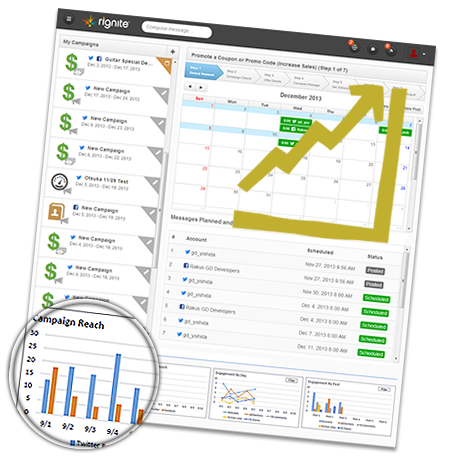 How does Hootsuite Compare?
Hootsuite does not have a comparable campaign feature.  Their focus is mostly on monitoring features that are suited for full-time community managers at large enterprises.  Sure, you can set up more search streams than you have time to monitor.  But will that help you get results for your business?

Rignite offers more value for your money
While Hootsuite has a long list of monitoring features that most businesses don't have time to put to use, Rignite has a broader mix of features that are more appropriate for the needs of a small to medium sized business.
With Rignite, you can:
Manage daily engagement with our social media monitoring tools
Run end-to-end social media campaigns across multiple networks
Get campaign level reporting to know what's working
Monitor and engage from a single dashboard
Schedule posts — individually, or as a series
Save time spent on social with team collaboration features
All of that in one easy-to-use platform
How does Hootsuite Compare?
With Hootsuite, you pay for a complex array of monitoring features—probably more than you really need.  For analytic reports, you'll need to pay quite a bit more for each and every report you want. Do you really want to limit your insight into how well your social marketing is performing by carefully picking and choosing which reports to pay for?
Customers Who Switched to Rignite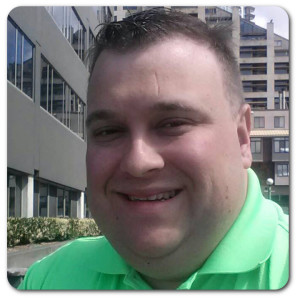 "Rignite has revolutionized the way I monitor competitors on behalf of clients. The ability to monitor multiple platforms in real time on a single stream makes the process much simpler than it was in the past.  What used to take me hours, now takes minutes."
Grant Hewitt, Red Point Strategies
Switched from Hootsuite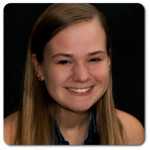 "I prefer Rignite to Hootsuite, because of the easy-to-use interface and ability to "connect the dots." Rignite helps me see the big picture of what I am doing, while also attending to the smaller details, where I felt like Hootsuite was only a quick way to post content to multiple accounts at once."
Brittany Shaffer, Proximo Marketing Strategies
Switched from Hootsuite

Here are the "wow!" features that made our customers choose Rignite vs Hootsuite
Scheduling posts in Rignite has many advantages over Hootsuite
Our drag-and-drop calendar makes it very easy to get a glimpse of what posts you have scheduled and make changes on the fly, fast
Using our Campaigns feature, you can schedule a series of recurring posts in just 3 clicks — perfect for promoting your ebooks, newsletters, or blog posts for many months after publishing
Our draft feature makes it easy for one team member to compose a post and another team member to review and approve the post before it gets published
How does Hootsuite Compare?
Hootsuite's bulk upload feature attempts to make it easy to schedule a bunch of posts at once. But it has some glaring disadvantages.
When you use the bulk upload feature, your link posts on Facebook don't show preview images or link descriptions. Links shares without a preview and description get much less engagement.
Anytime you include an image in your Twitter posts, Hootsuite turns it into an ow.ly link, so the image preview does not show up in your followers' timeline.  It simply shows up as a link, which defeats the purpose of using images to grab your followers' attention.

Working as a team in Rignite makes social marketing manageable for small to medium businesses
Even small teams can be successful on social media—tag team your efforts to make social media marketing more manageable and less time consuming
Don't drop the ball on social media engagement—assign posts to team members to respond
Streamline team workflows with approval processes
Keep images and policies for social sharing in one centralized location for the whole team to access
How does Hootsuite Compare?
Hootsuite's team plans can be quite costly and it lacks some of the team features that Rignite has, including Case handling, forums, and the image gallery.

Simple, Easy-to-Use Interface
We've cut the complexity out of social media management, and it shows in our interface. Many customers who switch from Hootsuite tell us how they love the simplicity of our interface. We help you stay focused on your goals by cutting out distractions.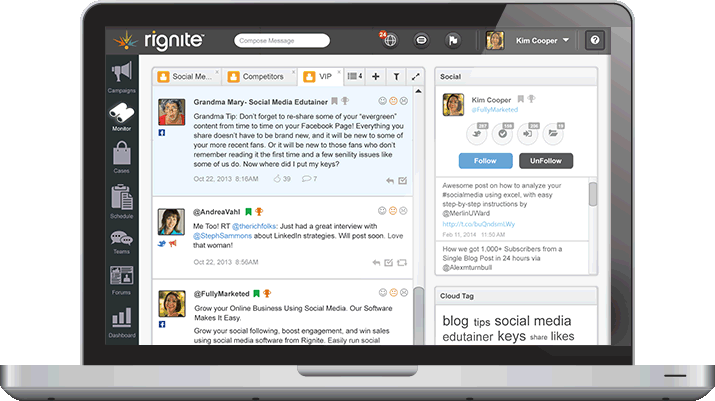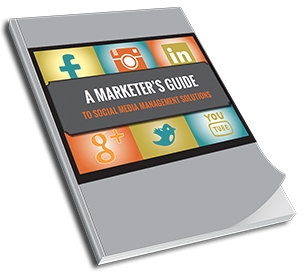 Download Our Free eBook
Marketer's Guide to Social Media Management Solutions
Discover how to select the right solution to help you manage social media marketing.
You'll discover:
What to look for in a social media management tool
How the right solution can help you manage campaigns on social media
What features will save you time and get better results