June 23, 2014
Digging for Social Media Gold: Now and Then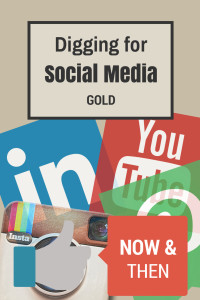 Today's guest author is Sherry Hayes-Peirce. She blogs about tips, tools, techniques, and trends of Social Media and Mobile Marketing.
Did you know that there is a celebration of all things Social Media? June 30th has been designated Social Media Day – so much to celebrate! Let's think back to when the term social media became a buzz phrase and what it has translated to for your business? For most, it meant something their kids were doing on the internet called Friendster and MySpace. Then the tweens and teens went away to college and their soccer moms joined the new craze too. Facebook became the premier way of "socializing" with your friends and family.
While we still call communicating with others via Social Media channels socializing – its usefulness now goes way beyond just connecting with friends and family. It's also about sharing, caring, building, changing and most importantly making money for your business!
How It's Changed
Emarketer, the leader in surveying social statistics, illustrates that the number of companies using social media for business has more than doubled in the last 7 years.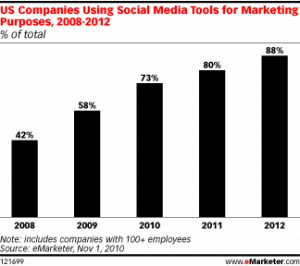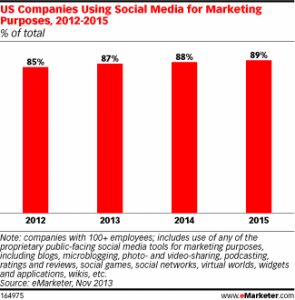 As a workshop presenter and social media consultant to businesses for the past five years, seeing the boon in the number of companies effectively using social media to grow followers and dollars is incredible. With so many companies now flocking to this new frontier like gold prospectors to the Gold Rush of 1849, many attempt to capitalize on this opportunity without the skill or tools needed to strike gold and are striking out! Why???
The Golden Rules
The golden rules for success in social media marketing are much the same as mining for gold:
• Stake your claim
• Have a budget of time and money
• Use the right tools for prospecting
• Be resourceful
• Measure your success and failure
• Secure your treasure
1

Stake Your Claim

Staking your claim in social media is all about knowing where the gold is for your business.

Facebook is the largest social site with over 1-Billion users and is shifting its focus from the "social network" to a marketing vehicle for business.

Twitter trails Facebook with nearly 700-Million registered users, but less than half of them are consistently active on the site. However the use of the #Hashtag, which was formerly exclusive to this platform, has become a catalyst for generating billions of posts unifying our world around many events. <Click to tweet>

YouTube has on average 1-Billion views per month and sparked the iconic "viral video" phenomenon. It currently has over 1-Million channels with many creators making six figures as a result.

Google+ has over 540-Million users with over half of them consistently being active and male in gender.

LinkedIn bodes 300-Million users and is the best social site for B2B, Non-Profit and Industry Networking. It also has 3-Million Company Pages hosted by small, medium, large or Fortune 500 companies.

Instagram, fueled by its photo driven engagement strategy, grew to 1-Million users in just a few months. Then they were acquired by Facebook less than two years later and now have 200-Million active users that post 60-Million photos daily.

Pinterest, also capitalizing on a photo driven engagement strategy, has 70-Million users that build boards to promote their product, service, expertise and or dreams and aspirations.
2

Have a Budget for Time and Money

Having a budget of time and money is integral to successfully using social media to strike marketing gold. One of the most attractive reasons for using social was because it was considered "free." But, the trend has now become "Pay to Play!" The number of eyes who see your posts and marketing efforts organically is being manipulated by the platforms. Many of them are now publicly traded corporations with stockholders to repay for their investments. So we are seeing new features to get more views and target the people we want to see the posts – for a fee.
3

Use The Right Tools For Prospecting

Companies who are regularly finding nuggets of gold are putting in time to create content, schedule posts, monitor activity and engage followers. Rignite is one solution that will save you time with managing your social activity.

Those gold miners needed to have shovels, pics, axes, pans and so on to dig for the gold that would make them rich. As social media marketers, we need tools to help us to find fans that will become gold to our businesses by becoming customers.
4

Be Resourceful

Be resourceful in finding people to help you with your social marketing. Build a team of people who understand your strategy and goals for using social media to market your business. That might mean collaborating with a consultant, agency or group of co-workers to develop campaigns to make it happen.

Also, take advantage of free educational opportunities offered via webinars, eBooks from industry leaders like Rignite, and podcasts from SocialMediaExaminer.com.  These will help you sharpen your skill-set and stay on top of trends.

Many of the social platforms also have dedicated resources to help marketers:

https://www.facebook.com/business

http://youtube.com/yt/creators/

http://www.google.com/business/

http://blog.linkedin.com/topic/linkedin-for-small-business/

https://help.instagram.com/505708626120335/

http://business.pinterest.com/en/get-pinterest-business-guide
5

Measure Your Success and Failure

Prospectors would measure everyday if their digging was profitable. As we close in on a decade of this new channel for personal and professional communication, marketers unlike prospectors fail to measure how valuable their work is to their business. Andy Crestodina says it best, "Traffic = $" and if you don't know the value of the traffic from your social channels and can't monetize fan engagement you will never strike gold!
6

Secure Your Treasure

Securing your treasure means keeping the fans and customers you have by giving them what they want!

Number one is convenience – most people are now accessing social via their smartphones and the data available to marketers through these portals is solid gold. By knowing behavior patterns for people interacting with your brand, you can offer them customized marketing offers based on their individual preferences.

Imagine you are in a store trying on a pair of shoes and a coupon for 50% off comes across as a notification from the retailer. Maybe your birthday is near and you are doing Google searches for spa locations in a geographic location and you not only see ads for spas, but package deals that include the spa, hotel and dinner.
Where It's Going
So what will social media look like in 2024? One thing is for sure it will be different and will continue to evolve in ways we can't anticipate. So stay on top of the changes and follow the golden rules for success!