How to Get More Shares on Social Media By Using
Emotional Triggers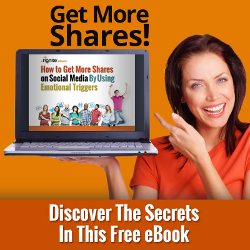 Is your content getting no social love?  And by "love" we mean shares.
You work hard to post high quality content on your social channels and then—silence.  (But your mom really likes it!)
Don't get discouraged just yet. Help is on the way (in the form of this eBook).
In fact, you should pat yourself on the back if you are regularly posting content on your social channels.  You've already taken the first step toward a successful social media strategy.  All you need now is a little tweak to your posting strategy to focus on the emotions that trigger people's willingness to share content with their networks.
For the secret ingredient to creating share-worthy content, download this eBook to discover:
What types of emotional triggers cause people to share
Successful examples of posts that target each emotional trigger
How your unique tone and style can get you more shares
Getting more shares on social media can help your business:
Improve brand awareness
Create a sense of community on your social channels
Breed brand evangelists who love your content