September 8, 2014
3 Examples of Using Social Media For Tourism Marketing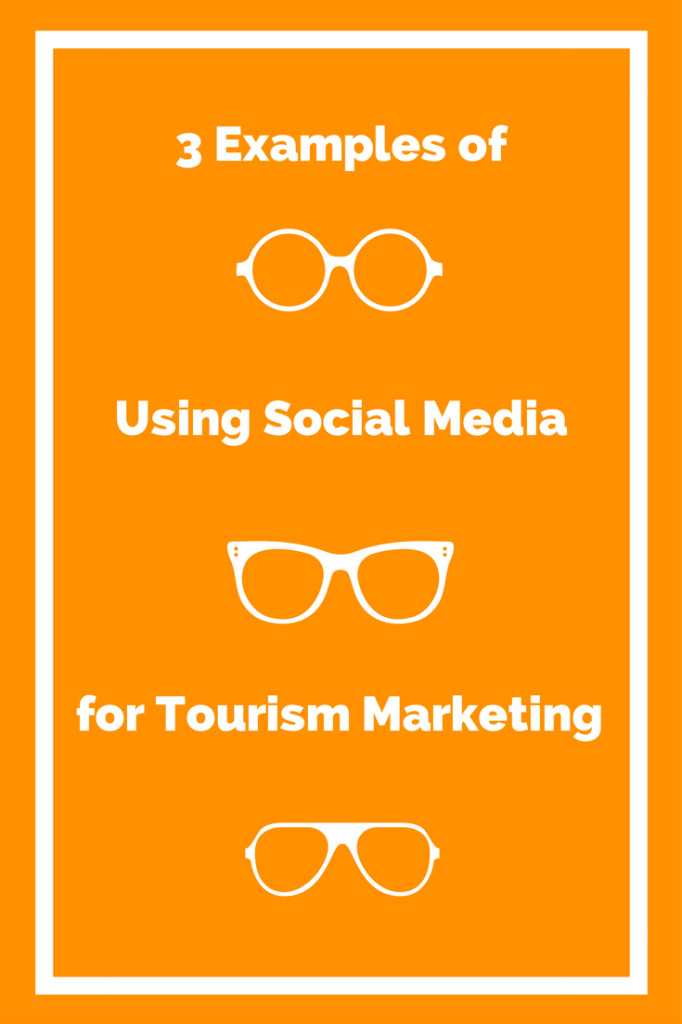 When you've got a steady stream of promotions for events, attractions, and travel specials to manage, you've got to be efficient in your social media tactics.
Whether you're a large city's visitor bureau, a local hiking and biking trail system, or an independent, eclectic movie theatre, you've got to keep a steady drum beat of information, specials, and promotions running. When using social media for tourism marketing, it can be quite a challenge to keep your social media networks active and engaged.
How to Use Social Media For Tourism Marketing Efficiently
Here's a few examples of how business owners and social media managers stay efficient in their social media activities.
Visit Detroit – Detroit Metro Convention & Visitors Bureau


Dan Fuoco manages tourism marketing campaigns on social media for Visit Detroit, with the mission of getting both consumers and businesses to visit Detroit for conventions and leisure travel. With 4-5 social media campaigns running at any point in time, Dan keeps busy making sure all events and promotions are getting the posting frequency and visibility each deserves.
"It's a challenge to be constantly monitoring and engaging with fans. Trying to juggle that with a content calendar and a busy schedule of posts on social networks can be a struggle. I'm often analyzing the data, reviewing priorities, and rescheduling campaigns or individual posts." Dan Fuoco
Rignite's Campaigns module makes it easy for Dan to schedule a series of posts for each campaign and to track results. The wizard takes him through setting up the series, frequency of posting, base post messages to rotate, and even will automatically insert Google Analytics tracking parameters.
"In my evaluation of social media management software the lack of a campaign feature was a deal-breaker. I knew that if I was going to manage the social media for my organization and keep my sanity, I needed to have Rignite Campaigns on my side. Using the campaign feature, I can schedule a specific promotion for a given duration and sit back and watch the analytics. Rignite gives me the freedom to alter the campaign message if I see a dip in my data." Dan Fuoco
The Schedule then makes it easy to see all posts for all campaigns in one view to ensure an even flow of posts.


If posts overlap, it's easy for Dan to drag and drop them to another day or edit them for a different time.
"The ability to drag and drop posts in the calendar feature makes planning a content calendar a breeze!" Dan Fuoco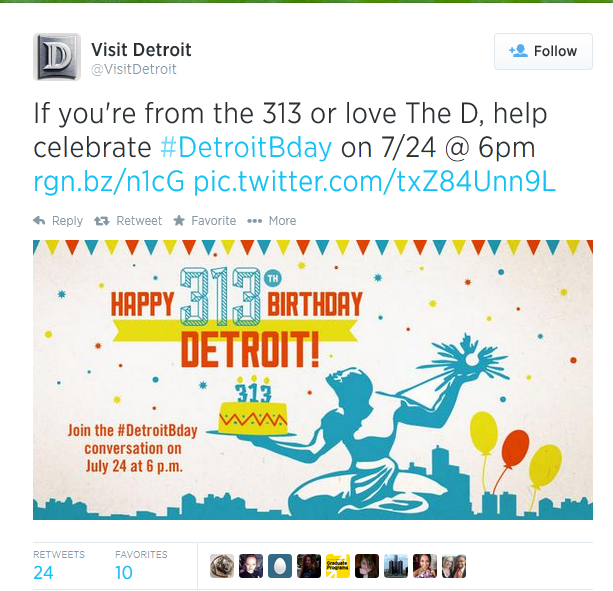 With Campaign level analytics Dan is able to see which series is getting the best reach and engagement. This one from the Detroit Birthday Tweetup was huge, getting a reach on Twitter of over 260,000 and impressions on Facebook over 11,000, without any ad driven boosts!
Building on that success, the 5 Media Outlets campaign currently running looks like it will overtake the Twitter reach of the Birthday Tweetup (see screenshot below).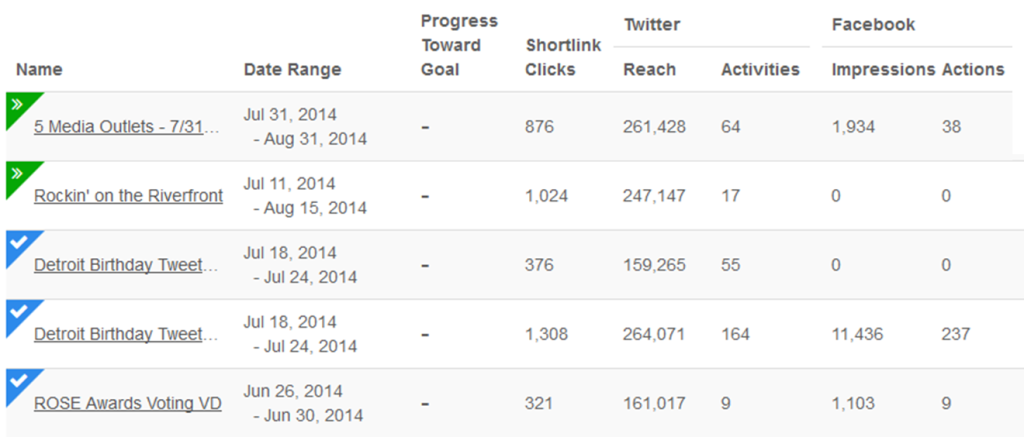 With Rignite Campaigns, it's easy for Dan to schedule anywhere from 2 to 10 posts per day and a total of 15 to 60 posts for the duration of the campaign, with rotating messages to keep fans engaged. It's no wonder the campaign analytics are able to show tremendous reach, impressions and engagement for Visit Detroit. Here's a snapshot of the Detroit Birthday Tweetup campaign analytics.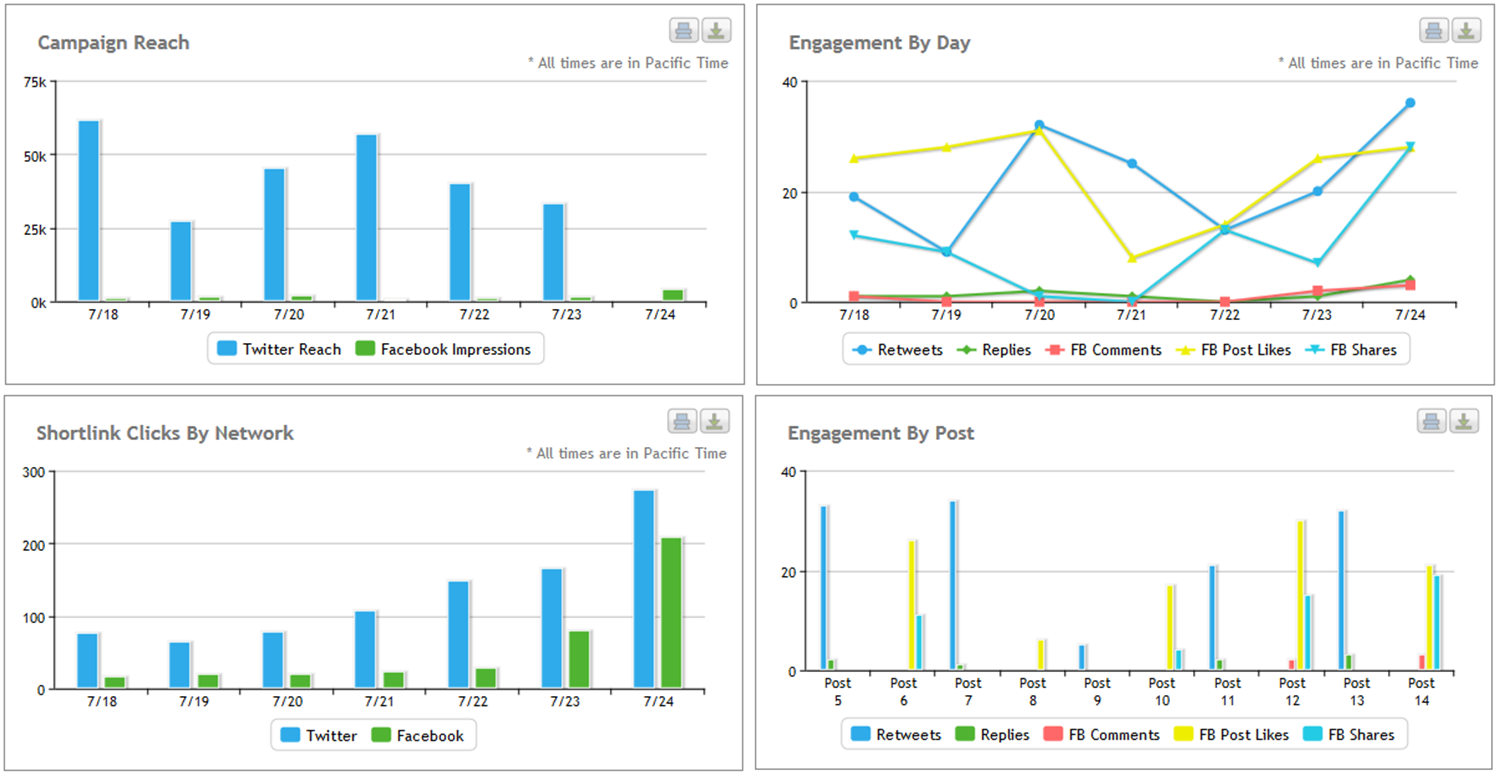 You can see above that it's useful to see analytics on the entire series of posts as well as by each individual post in a campaign.
"When I create contests or sweepstakes, I use Rignite's URL shortener feature to monitor link clicks in each social platform to know which audience the message performs best with. I can monitor hashtags with Rignite and respond to conversations when necessary." Dan Fuoco
Sparta Chamber of Commerce – Elroy Sparta Bike Trail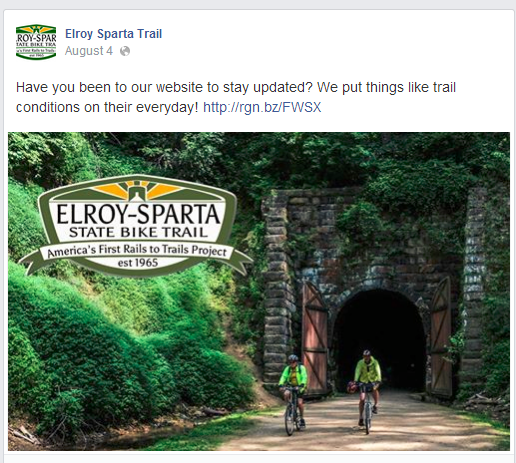 Ike Rebout manage's social media for tourism marketing at this chamber of commerce, which focuses on a diverse range of activities in the area. These include economic development, community outreach, and tourism. From Golf outings to business events, this creates a unique challenge for managing what gets posted on each social media channel. There are 7 facebook pages, 2 Twitter pages, and 2 LinkedIn pages being managed through Rignite.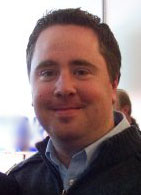 "The largest pressing issue we have in the social media world is time vs. money. We are a small non-profit organization that depends on only a few staffers. We have 11 social media channels because of the diversity of what we do in the community. It can be overwhelming determining what goes where when we post updates. We tried other social media management systems but the posting calendar always got confusing. Also monitoring your brand and responding in real-time can be tedious, so how do you stay on top of things that are happening in your community without spending too many resources on it?" Ike Rebout, Social Media Manager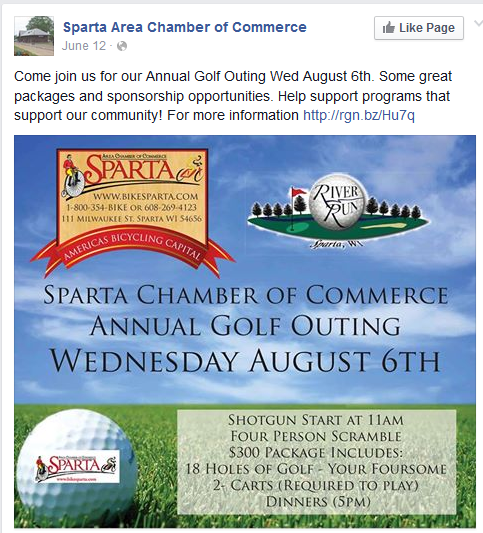 In order to grab the attention of fans, Ike leverages the powerful visual imagery available from the destinations around Sparta. The Elroy Sparta Trail has both great imagery as well as a unique story. Events such as the Annual Golf Outing are also popular activities being promoted by the Sparta Area Chamber of Commerce.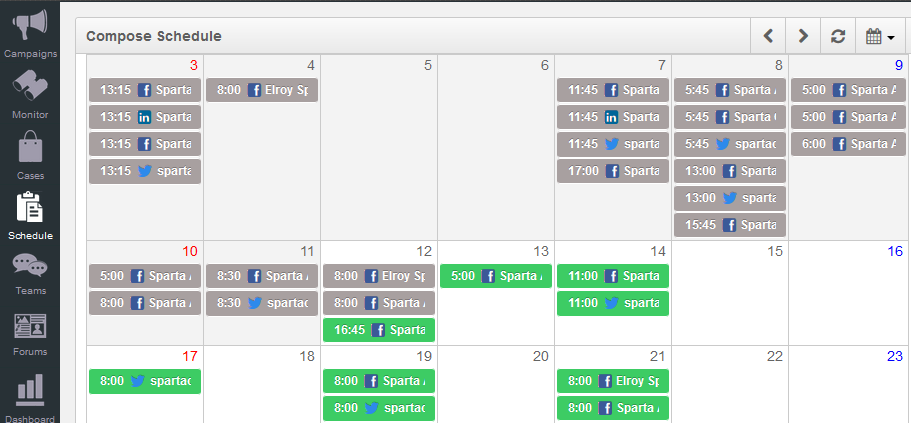 "Our goal was to find a social media platform that allowed me to have a life instead of my life revolving around our social media channels. Rignite was the perfect solution with the ability to run campaigns, schedule posts, and monitor keywords that are relevant to our organization. The Golf Outing campaign had content that wasn't going to change daily. However, we needed to keep reminding our members to sign up. It saved us easily an hour or two by being able to create one campaign, then move on to our next projects.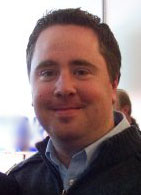 The nice thing about the campaign posts was that as you inserted scheduled posts you could move the posts around to fill in gaps on your schedule. This was huge for us as we have different priorities in our organization that get scheduled in our posts — sometimes it's events, sometimes it's news, sometimes it's economic development. With Rignite's ability to "see the calendar" and make those adjustments it helps us make sure that we are spreading posts out over a reasonable time and not just bombarding users." Ike Rebout, Social Media Manager
Organizing posts into Campaigns helps Ike keep track of each promotion separately to make sure that each campaign is customized for the social networks selected, campaign length, day and time of postings, and other critical factors.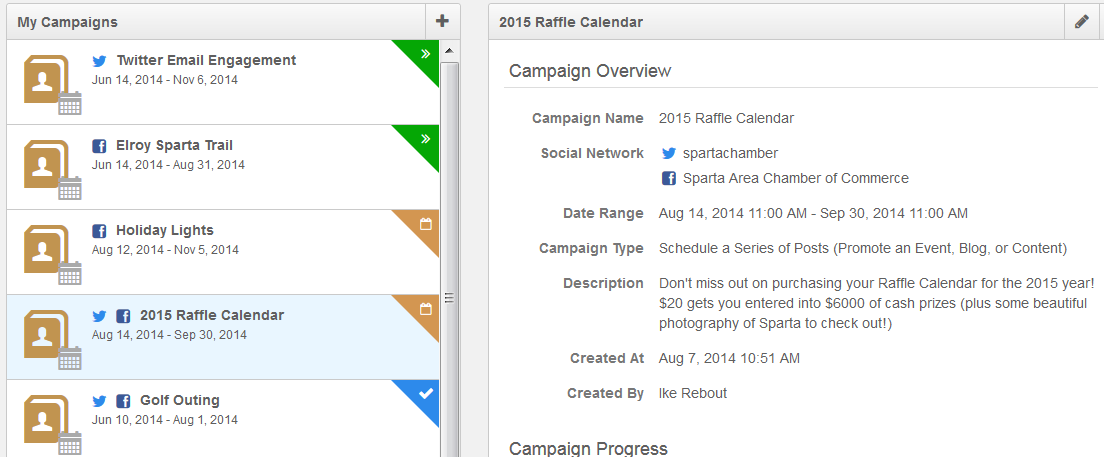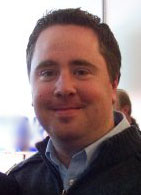 "We had a small non-profit that was working on a fundraiser. This is a huge community project and we needed to remind people every chance we got that funds were needed. However with multiple events happening each week sometimes those campaigns need to be shuffled to make way for other things. The amount of time that we saved using all of the tools Rignite offers means that our social media channels are keeping people engaged and content is rolling out, even if I'm sleeping in late on a Sunday morning!" Ike Rebout, Social Media Manager
Cinema Detroit – Independent, Eclectic Theatre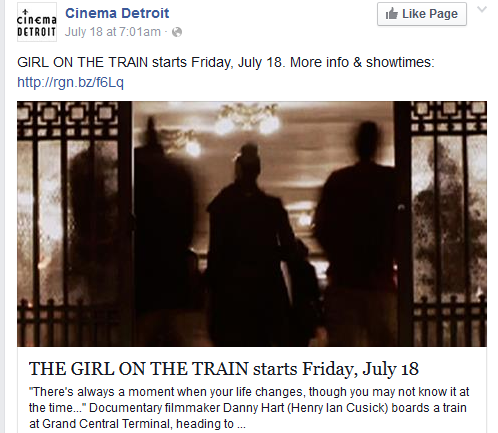 Paula Guthat is the co-owner and founder of Cinema Detroit, an independent theatre delivering a quirky and quality mix of contemporary, indie, cult, genre, and classic movies in the heart of the city. With a business to run and no time to waste, their social media activities need to bring attention and enthusiasm to their lineup.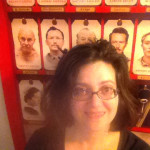 "My main challenge with social media is lack of time…in addition to doing marketing, PR and promotions for our theater, I'm also the programmer, booker and projectionist. But Rignite does help a bit with the time crunch, as it's the easiest way to manage multiple posts over time periods ranging from a few days to a few months. The drag-and-drop scheduling is great." Paula Guthat, co-owner
Paula is able to efficiently schedule a campaign for each new movie using the campaign "Schedule a Series of Posts" in Rignite. This enables her to schedule a rotating series of several posts across her Facebook and Twitter networks for multiple days or weeks.

With the Campaign Dashboard Paula is easily able to see current and past campaigns and see which ones generated with most interest. In many ways, this reflects which movies were more popular, but it can also reflect how each movie was promoted in the campaign posts.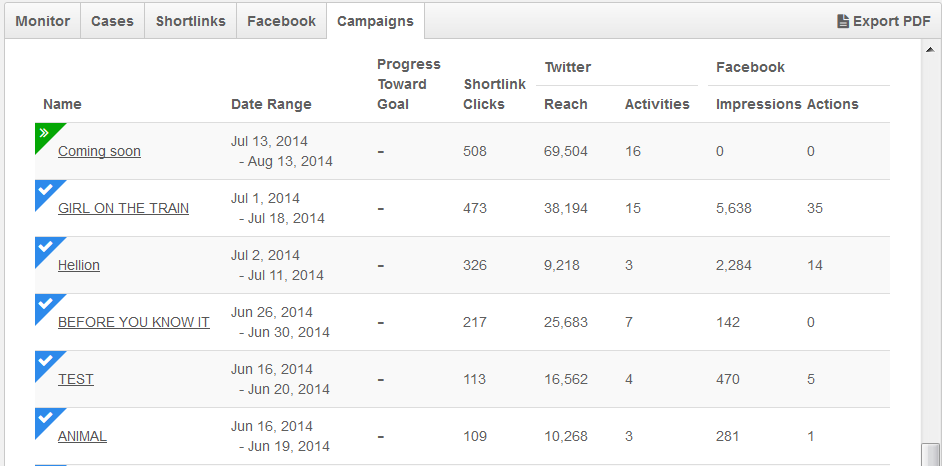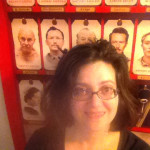 "I also find the Dashboard in Rignite very helpful, I can tell right away what's working and what's not. I like being able to schedule up to three variations of a tweet at once as well. Registered shortlinks save time too." Paula Guthat, co-owner
Going forward, Paula would like to experiment with a few Facebook and Twitter giveaways to boost engagement on Cinema Detroit's social networks.